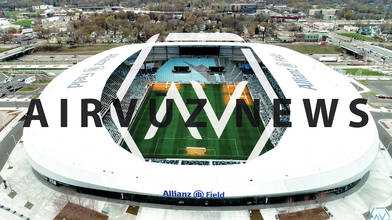 DRL Race Allianz (Behind The Scenes)
Published 11/08/2019 08:36

The Drone Racing League is a big production. Before the day of the race, crews are hard at work setting up the track, rigging up lighting and much more. Part of the crew responsible for the 600 drones on site are making sure each aircraft is ready to fly.

Not all of that is seen on the DRL broadcasts, but the behind-the-scenes work is what makes the races run smoothly — and it starts well before race day.

The race at Allianz Field in St. Paul was a homecoming for two of the DRL pilots, who also both happen to be Team AirVuz FPV pilots as well. Chris Spangler, aka Phluxy, is a current Minnesota resident. Paul Nurkkala, aka Nurk, was born and raised in Minnesota but now lives in Indiana.

Allianz Field is the brand-new home to Minnesota United, the Major League Soccer team based in St. Paul. This stadium was a bit smaller than some other stadiums in previous races, but it still provided a good challenge for the pilots.

The switch from ESPN to NBC, as well as streaming the races via Twitter, has helped DRL's popularity grow. The league hopes that trend continues.
over 1 year ago
396 VŪZ
19

8
Report
Description: The fourth season of The Drone Racing Leaguecan currently be seen on NBC Sports and streamed live on Twitter. The show features many familiar faces — like two-time champion Jet and defending champion Nurk — as well as some new faces like Team AirVuz pilot Phluxy. But what all goes into a DRL race, both for a pilot and for those behind the scenes? We tried to answer that question when the DRL came to our backyard for races at Allianz Field.