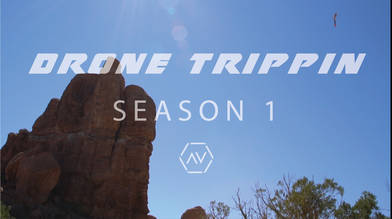 DT S1E4: Moab Mania
over 6 years ago
16.0k VŪZ
31

23
Report
On this season of Drone Trippin, AirVūz Pilots Zoe Stumbaugh, Shaun Taylor, Shelby Voll and Colby Curtola head on the road trip of their lives. The pilots travel through scenic destinations across the western USA with FPV whiz, Trey Player, in a droned-out R.V. to test their skills in quad building, freestyle flow, drone racing, and pilot accuracy. What better way to show off those skills than with some Star Wars challenges? See what ZoeFPV as Chewbacca, Nytfury as Kylo Ren, Shelby Voll as Darth Vader, and SFPV as Obi Wan Kanobe can bring to the table and get the scoop on what these pilots are like once the goggles are off!

After a long night of driving, the Drone Trippin crew finally makes it to Moab, and they can't wait to burn some batteries. With the incredible landscape all around them, the side of the road is a convenient place for the pent-up pilots to stop and drop their goggles for some rocking freestyle - and a few lessons in natural landscape vs. technology.

For more Drone Trippin action, head to Drone Trippin on AirVuz.com! VIDEO TRANSCRIPT: Narrator: ( [00:00:30] music) This is Drone Trippin: Moab. Speaker 2: This episode, AirVuz's pilots are mending their pie and mustering up their force powers for an FPB extravaganza in Moab. Sean: Uh, leaving the salt flex, we showed up in Moab the next morning and we were blown away. Taylor: Pulling into Moab, we saw some really [00:01:00] cool scenery. We started to get really excited so we told Trey, you know, you gotta pull over and let us fly or otherwise we're gonna go crazy here. So he pulled over just outside of Arches National Park and found some nice cool red rock, kinda sandy terrain. Sean: Dude that's like a 500 year old f*cking stump. [00:01:30] F*ck. Colby: My first flight up in Moab was, it was cool up until I decided to fly kinda behind one of the large rocks and literally the second that I lost direct line of sight with the quad, sh*t, both telemetry and video were instantly gone. Sean: Well, we're... alright, I'll be back in an hour. Taylor: Yeah yeah, see the top of the boulder? Now we can get that. Sean: Okay, just let me [00:02:00] know. Okay. After that crack. Keep going. He's gonna know not to fly behind solid rock. Taylor: He has to know. Sean: I learned that lesson in Arizona. Colby: Yeah, you can't go behind those big rocks and I learned that... Alright, [00:02:30] wish me luck guys. (music) Help me fly in between. Nice. And [00:03:00] this rock to your left. So we can get right in through here. Awesome, awesome. Right there? Taylor: You're [00:03:30] right here to the left. Colby: No damage. Taylor: No damage at all? Colby: Nope. Taylor: Holy crap dude. Colby: [00:04:00] I was goin slow. Taylor: Awesome. Let's get outta here. Let's get back in the air. One of the first shots we got near Moab, I was really anxious to get out and fly and I know we were all anxious to get out and fly. Let get, kinda hit that boulder and that nice little gap in front. So, hopefully there's not... Colby: Let's take that one right there. Taylor: Put me down then. Colby: We went up for the second time in two weeks, I had to steal my [00:04:30] thunder. Where are you at? Sean: Oh that's epic right there. Speaker 2: Being out there, you know, in a new space, everything looks that same. I went out a lot farther than I thought I was and I couldn't really find my way back and ended up losing telemetry the second time and I had no idea where I was. Sean: We were up on the boulder, [00:05:00] I was flying out and I notice the takeoff was a bit of a hissing noise and the guy was telling me "bring it in, bring it in". Taylor: There it goes. Alright go ahead and land. Sean: As I was bring it in, Sean Taylor ends up crashing [00:05:30] out in the distance. Taylor: Go high, go high! I don't see you. Sean: And nobody had eyes on him. Taylor: We're trying to help you man. Sean: I think she was a little bit upset. Colby: F*ck. Again I found the quad and learned from another mistake which is to make sure that you always have a spotter. (music) Taylor: [00:06:30] We did a couple spots for the quad guys, you know, I am a quad racer. But, my main thing [00:07:00] is wings now. We found a wing spot for me. This beautiful rock that's ju- just huge. God, had been easy 250, 300 foot tall minimum. Got a prop on this one, guarantee that. Sean: Yeah, that's what I'm f*cking talking about. Taylor: It's the first time I got to do anything like that with a wing. I love it. That was really cool. I knew we were onto [00:07:30] something. I was like, this is gonna be sick. (music) Shooting up rock face then going on top into kind of an inverted roll and then I was trying something new. I had basically my blinds down and I was trying to be like- incorporated what I did with the quads in the wing, somehow. So that's where I was starting to test this one move I was doing. Colby: I did kind of [00:08:00] a freestyle session on a couple of those huge huge rocks but the hug dives that we had and- yeah it was just flowing together, getting me channeling force and hopefully it turned out, you know, as good as I hope. ( [00:08:30] music) Sean: [00:09:00] Yeah. That was f*cking awesome. (music) I would try to hug the crevice of it and go right up and over it and then just turn and drop straight down. I would try different maneuvers. Try to maneuver fast and other times do it slow to give the audience the- the idea that the real picture of just how massive, how [00:09:30] high it really was. (music) We got it, yay! (music) Narrator: [00:10:30] Next episode, more Moab. ( [00:11:00] music) Taylor: One of the coolest things we go to do on this trip was the formation diving of the cliff. So Sean and Colby and I got on our quads and we got, I think this like a 400 foot cliff, in formation, take off at the same time, go up and come back down on the same shot and it was some of the most fun I've had on this trip and I cannot wait for [00:11:30] everyone to see that footage.