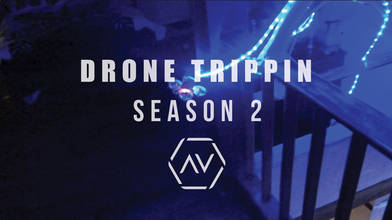 DT S2E5: Micro Mania
over 6 years ago
4.9k VŪZ
26

15
Report
The quads are back in action on Season 2 of Drone Trippin! This season, a world-class crew of FPV pilots headlined by ZoeFPV, JohnnyFPV, SFPV, and FlyingBearFPV heads to Oahu, Hawaii to shred the island's beautiful coastline, breathtaking cliffs, epic beach parks, and abandoned structures in between competition at the World Drone Racing Championships.

The sun may be setting on Drone Worlds, but the competition is just heating up back at the AirVuz Drone House. Team Colombia is over to challenge the Drone Trippin crew to an epic micro FPV quad race through the house, and they're not just racing for bragging rights - Horizon Hobby has put $500 on the line for the top team. And as anyone who has flown a micro drone knows...anyone can come out of a race the winner.


Looking for more freestyle and racing action? Want to check out the pilots' own edits of their stops on the trip? Get your FPV fix, along with special edits and personal content from your Drone Trippin crew, ZoeFPV, JohnnyFPV, SFPV, and FlyingBearFPV on their personal AirVuz pages! Or re-live all of Drone Trippin Season 1 and past episodes of Season 2 on the Drone Trippin homepage.




Music:
Free / Ikson https://soundcloud.com/ikson
Such Fun / Tobu http://www.soundcloud.com/7obu
Tonight / FortyThr33 https://soundcloud.com/fortythr33-43
Island / MBB https://soundcloud.com/mbbofficial VIDEO TRANSCRIPT: Angie: For pilots at the Drone World Championships, sunset means the end of races and the end of the day on Oahu, Hawaii. But that doesn't mean the Drone Trippin crew is ready to call it quits back at the drone house. Colby: This one's on fast track one- Angie: Zoe, Colby. You guys have been racing all day. What are you still doing awake? Zoe: We're just getting ready for an epic Inductrix race, Colby: We got full tracks set up, we got Team Colombia coming over, we're going to challenge them to a race against Team [00:00:30] AirViews. It's going to be awesome. Zoe: Team Colombia, hey, guys. Angie: It'll be a team race. Each of the pilots' fastest lap times will be added together with the rest of the team's best times. And whichever team has the lowest combined time will be the winner. [00:01:00] But they won't just be flying for bragging rights. Horizon Hobby has donated four Inductrix micro FPV quads for the race along with a 500 dollar cash prize for the winning team. Now that's a lot of tiny props. Speaker 4: I've got the timer. Ready to hit it when you are. Colby: Okay, can you give us the call, Angie? Angie: Is everybody ready? Colby: Ready. Angie: Three, two, [00:01:30] one, go. SFPVs clean lap clocked in at 30 seconds, setting a [00:02:00] challenging time to beat for Team Colombia and the rest of Team AirViews. Who's up next? Ken Loo. First time flying a course. Ken: First time flying Tiny with one race track. No problem. Angie: Three, [00:02:30] two, one, go. You got this, Ken. Colby: Yeah, come on. 30 seconds. Angie: Ken's in the zone. Ken: In the drone zone. Colby: 35. Ken: Does this thing have full throttle? Angie: Here we go. Ken: It doesn't have enough power. I can't get it up, guys. Dude. I just added like [00:03:00] 20 seconds. Zoe: 58 seconds total. Angie: With one race left and batteries running low, the pilots decide to take turns flying timed laps in their last race. Pedrone from Colombia and then Zoe FPV from AirViews. Zoe: It's going to probably come down to me, and that makes me kind of nervous. This is going to be a really close one; although, that being said, with Ken's run, I'm going to have to really make up some time, I think. Ken: I'm putting some sticky tape on your shafts. Zoe: That sounds nasty, Ken. Ken: It's going to help your props stay on. Zoe: Okay. Colby: Alright, let's do the total is. Angie: [00:03:30] Where do we standing right now? Colby: 94.7 plus 52. 146. That's our total time right now. It's close, anyone can win. Colombia is about ten seconds behind AirViews. Zoe: Things are getting intense, oh my gosh. Colby: Oh, this [00:04:30] is a good lap time. Smooth. What did you get? 43.97? Zoe: This is going to come down to the very last few seconds, I think. Colby: All right, Zoe. You got this. Zoe: Whenever I'm ready? Colby: Yup. Angie: I'll start it when you go through the gate. Zoe: I'm more stressed out with this tiny race than I was flying freestyle. Colby: I'm so sick, man. Zoe: [00:05:00] Seriously, I had less stress on me doing freestyle. Colby: This is intense. Zoe: This is really intense.