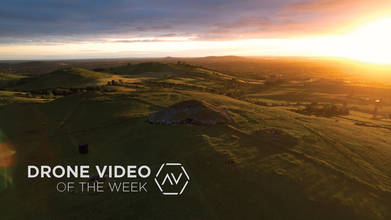 Drone Video of the Week, Episode 35 (2022)
AIRVŪZ STAFF NOTE :
Every week, our team reviews every video uploaded to the site to pick the Top 5 videos. Then, we name our favorite as our Drone Video of the Week and send that drone pilot $ 250. (The winning video is also then a contender for Drone Video of the Month.) AirVuz proudly features these Top 5 videos are both here on AirVuz and across our social platforms ... we love to celebrate this amazing content from our community of drone pilots! Wondering how to become eligible? Simply upload your drone videos to AirVuz; it's that easy!
24 days ago
2.0k VŪZ
19

14
Report
Below, you'll find our picks for the top 5 videos uploaded to Airvuz.com last week, as well as links to watch them in their entirety. We at AirVuz picked the Drone Video of the Week from those top five and are giving away $250 to the winner! (The weekly winner is then in the running for Drone Video of the Month [DVOM].)
Here are your top 5 videos from last week:
#5: Sappada's Dolomites by Dream To Fly
#4: La Isla Bonita 4K by AmanitoMuscario
#3: Waterfalls by brendanbeale
#2: Ruskeala Express: Retro Train, Steam Locomotive, Karelia, CINEMADRONE, 4K by CINEMADRONE
#1: (and $250 winner) Mythical Ireland by Drone photography ireland
How do you get your chance in all of this? It's easy! Simply upload your best drone videos here on AirVuz.com and you're in!
See a great collection of all of the Drone Videos of the Week Ep. 35 top 5 videos HERE!