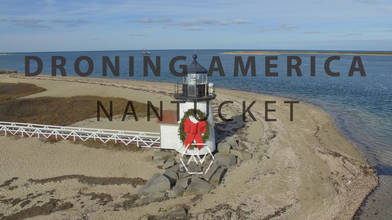 Droning America: Nantucket, MA
AIRVŪZ STAFF NOTE :
In this episode of Droning America, hostess Angie Avestruz heads to Nantucket, Massachusetts. Nantucket is a small island off the southern coast of Cape Cod, about an hour's drive southeast of Boston. Angie and AirVuz contributor Ryan Smith (PO3SMITH) will take you around and show you some of the sites of this beautiful spot, by drone. They travel all over the island checking out Main Street, the historic Whaling Museum, famous landmarks and sprawling beaches…all decked out for the holidays!
almost 5 years ago
11.2k VŪZ
35

19
Report
Happy Holidays! This episode we visited the tiny island of Nantucket! Normally a summer destination, Nantucket goes all out in the winter for it's annual Christmas Stroll. We travel all over the island checking out Main Street, the historic Whaling Museum, famous landmarks and sprawling beaches…all decked out for the holidays!

Click HERE to see more videos from Ryan Smith (aka PO3SMITH). VIDEO TRANSCRIPT: Angie Avestruz: Hello everyone, and welcome to Droning America. Today, we're on an island off of Cape Cod. It's the former whaling capital of the world, and it's considered one of the top places to visit for the holidays. Welcome to Nantucket Massachusetts. To [00:00:30] show us all around the island, we're hanging out with New England drone enthusiast and pilot, Ryan Smith. Ryan, thanks for ferrying over here to hang out with us. Ryan Smith: It's not problem at all. I appreciate you guys coming over to see us. Angie Avestruz: How did you get your start in droning? Ryan Smith: I've always done a lot of photography in my spare time as a hobby, and it's grown into a bit more than that. I always felt that I like a challenge, so the drones seemed like the next logical step. Angie Avestruz: Now, you're not from the island of Nantucket, but you are from the Cape Cod area. We've seen a lot of your videos on Airvuz [00:01:00] from that area. Where are some of your favorite places to drone? Ryan Smith: I live in Plymouth, which is pretty historic when it comes to New England or the country in general, so I'd put that pretty high on my list. Going to New York City, that was probably my favorite. It also posed the biggest challenge too. We had to plan a lot of things out, make sure I flew in the right areas, that kind of thing. Just being able to say that I have some of the most unique views on camera of the city, is pretty cool. Angie Avestruz: Right now we are on Nantucket island. Where are we walking? Ryan Smith: We're actually on main street, one of the key locations [00:01:30] here in the town. In fact, the cobblestones that make up the roadways in this area have been around since about the civil war. Pretty historic. The shops are all local. They're all mom-and-pop places. Angie Avestruz: Do you have any idea of the size of the island or the population? Ryan Smith: The island's a little bit smaller than Martha's Vineyard, but its population's actually a little bit larger most of the year. Yearlong residency is about 10,000. It can climb up to about 50,000 during its peak summer months. Angie Avestruz: Obviously, Nantucket is known as a summer getaway, but it's also been voted one of the top [00:02:00] places to visit for the holidays. Looking around, you can't help but notice there's this Christmas trees that line the street. We have decorations on all these storefronts. What goes on here for the holidays? Ryan Smith: Obviously, during the holidays it's wintertime. The population kind of goes down, so one of the things that the towns have decided to do is called the stroll, which all the storefronts, residences, they deck out their locations with Christmas trees, decorations, try and make it look as Christmasy as possible, to try and help out the local businesses during the off season months. Angie Avestruz: That took place last weekend. Ryan Smith: Yes. Angie Avestruz: How many [00:02:30] people would you say were here? Ryan Smith: Oh, thousands easily. People come in from all over the country to see it. It's one of the most popular things to see in the island, especially this time of year, obviously. Angie Avestruz: The streets are filled. I'm sure there are carolers. I've even heard Mr. And Mrs. Claus are escorted by the coastguard to arrive here. Ryan Smith: Yes. It's quite a show. Angie Avestruz: The annual Christmas stroll is held the first full weekend in December every year. This year marked the 43rd stroll, which was originally designed to keep islanders from leaving Nantucket to do their holiday shopping. All of the festivities [00:03:00] are part of the monthlong Nantucket Noel celebration, which is now an internationally renowned event. Next, we're heading to another part of downtown to see the most visited attraction on the island. Nantucket is arguably known and put on the map for its rich history in whaling, and right now we're hanging outside the whaling museum. Ryan Smith: Mm-hmm (affirmative). It's actually one of Nantucket's most visited attractions, if not the biggest thing to see on the island. I [00:03:30] mean, this entire area has rich history with whaling. In fact, it was its biggest form of work back in the day. Fortunately, it died out, but there's a lot of history to be learned about it. Whaling is a very touchy subject, but it was the living back then. It's just how the world worked. Angie Avestruz: Speaking of the rich history here on the island, you also have one of the oldest, if not the oldest, windmill in the country. Ryan Smith: Yes. In fact, it is considered the oldest operating mill in the country right now. It's been around since, I think it was 100 years before the country was even founded, so [00:04:00] it's quite old, yet it's still up and running. Angie Avestruz: Another old place we check out today is the oldest house in Nantucket. Ryan Smith: Yes. It used to be, I believe it was a farm, and now it's a national landmark. It's protected. It's still standing. In fact, everything is original. Obviously a few things have been modified, but it's all old school, very quaint. Angie Avestruz: That is the death row coffin house. Ryan Smith: Yes. Angie Avestruz: Right now where we're standing, we're not too far away from where the ferries come in and out. Ryan Smith: Mm-hmm (affirmative). Angie Avestruz: That's a pretty busy place. Ryan Smith: Yes. In fact, over 3,000 people easy, can embark, disembark on the ferries [00:04:30] every day. That can go up quite a lot during the summertime. Angie Avestruz: Speaking of ferries and ships, you have some pretty popular videos on AirVuz, of some boats you captures, what, the Mayflower II and the Viking ship? Tell us about those. Ryan Smith: Yes. The Mayflower, which the original pilgrims landed back in 1620. The Mayflower has left Plymouth to go to [inaudible 00:04:49] Connecticut for the next two years, to be repaired and modified for the 400th anniversary of them landing. Of course, the Viking Star, one of the largest ships ever to go through the canal, [00:05:00] was able to capture that as well at night, which looked pretty cool, if not a little hairy now and then. Angie Avestruz: It's a bumpy ride to our next destination. If you're visiting Nantucket, a four-wheel drive vehicle is a must. Well Ryan, we're on an island after all, so we had to check out a beach. I can honestly say this is the first time I've even been on a beach with a coat and a hat. [00:05:30] I imagine it looks pretty different here during the summer. Ryan Smith: Yes. This is Jetties Beach. It's one of the most popular beaches on the island. Most definitely, this would be crowded end to end with tourists, locals, anybody just looking to get some sun or go in the water. It's a great location. The water gets very warm during the summer months, so yeah. It's one of the more popular beaches here. Angie Avestruz: Nantucket's known for having some beautiful light houses, some landmarks. Tell us about some of those around the island. Ryan Smith: Well, you have Brant Point, which is like the gateway to the island, especially if you're coming in off the ferry. [00:06:00] It's been there for quite a while, and of course from the footage we've seen, it gets decked out for the holidays with its own wreath. You also have Great Point Lighthouse, also known as Nantucket Light. It's been around since the 1700s. It unfortunately had to be rebuilt a few times, but it's still there, it's a great attraction, great area too. Angie Avestruz: I can honestly say this is one of the most charming places I've ever been to in my life, and I'm just in love with all these old cottage houses. Ryan Smith: Yeah, it's actually a pretty cool location, especially here. You have prime real estate. In fact, it's one of the cool traditions [00:06:30] out here, where people buy property or move in, a lot of the times the houses have already been named by their previous owners, or if they're building it, they get to name it. A lot of times, they take it from the names of vessels, ships, et cetera, that have unfortunately wrecked or sank off the coast, or even the wreckage washing up on shore. Sometimes the name will be on it, so they'll take that name and give it to their homes. Angie Avestruz: Wow. Very cool tradition. Ryan, we can't thank you enough for showing us around this island. Ryan Smith: No problem at all. Angie Avestruz: Special shout-out to your Jeep. Without that, honestly we'd be stuck. Ryan Smith: Yes. Angie Avestruz: Thank you so much. Ryan Smith: No problem [00:07:00] at all. My pleasure. Angie Avestruz: Now as the sun sets, we're going to cruise around the island to check out some of the holiday lights before our final stop. We've had the most wonderful time [00:07:30] here at Nantucket. This tiny quaint seaport town sure knows how to get people into the holiday spirit. We're ending our trip by checking out the famous 20 foot Christmas tree that talks to everyone that comes to visit it for the annual Christmas stroll. From everyone here on the Droning America crew, Happy Holidays.