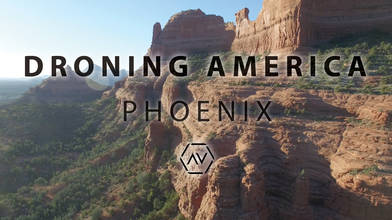 Droning America: Phoenix, AZ
AIRVŪZ STAFF NOTE :
In this episode of Droning America, host Angie Avestruz heads to sunny Phoenix, Arizona. She meets up there with award-winning drone pilot Jay Worsley, who hails from the great city in the American Southwest. Together they explore the greater Phoenix area and the surrounding desert, capturing the highlights with Jay's DJI Phantom 4 drone. Highlights include shots of Camelback Mountain just outside the city center, some of the area's famous golf courses, and some great shots of downtown Phoenix.
almost 5 years ago
8.7k VŪZ
32

25
Report
Hello from sunny Phoenix! This 4K episode features filmmaker Jay Worsley, who was recently nominated at the New York City Drone Film Festival for his short film Perspective. We check out some of the amazing landscapes surrounding the greater Phoenix area.

You won't want to miss this special episode of Droning America!

Gear used to film this episode:
DJI Phantom 4
DJI Phantom 3 Advanced
DJI Inspire 1 with the X5R Camera
Panasonic Lumix G7 (with 14mm and 35mm Rokinon Lenses)

AirVūz would like to remind everyone to fly safely and to check your airspace rules before flight. To keep up on current UAV rules and regulations, visit KnowBeforeYouFly.org

Music (in chronological order):
Clouds / Joakim Karud www.soundcloud.com/joakimkarud
Punch / Dj Quads www.soundcloud.com/aka-dj-quads
Flight / Kid Ocean www.soundcloud.com/kid_ocean
Kontekst / Buddha www.soundcloud.com/kontekstmusic

More episodes of Droning America:
www.airvuz.com/user/Droning-America VIDEO TRANSCRIPT: Angie Avestruz: Hey everyone. I'm Angie Avestruz and you're watching Droning America. Today, we are in the Southwest. It's known as the Grand Canyon State, and it's the Valley of the Sun. Welcome to Phoenix, Arizona. From the top of South Mountain, we've got a great view of the entire city. Now it's time to head out there [00:00:30] to meet our special guest drone pilot. We are so excited to be joined by Jay Worsley here. Jay, we're big fans of your work at AirVūz. Jay Worsley: Thank you. Angie Avestruz: Tell us a little bit about your start with flying drones. Jay Worsley: Well, a couple of years ago I had bought the DJI Phantom 2, and I didn't know how to fly it. I brought it down, and didn't know how to work the gimbal, I couldn't see anything 'cause I didn't have a screen set up. But that's kind of what started it, I did this adventure film and it was a great film, [00:01:00] but then, once you start droning, you get more into it. Angie Avestruz: Yeah, you've come a long way since then. You actually turned it into a business, what kind of projects do you work on now? Jay Worsley: So right now I do a lot of commercial work. Drones are really in demand right now, so having that experience and that capability, it just really helps me out to give that different perspective. Angie Avestruz: Now you've lived in the Phoenix area for the majority of your life. Why did you choose this spot for the Droning America crew to check out? Jay Worsley: Oh, okay. So, Four Peaks is right [00:01:30] over there, and Four Peaks is super iconic for Scottsdale, the Phoenix area. We've got the saguaro cactus here, we've got these palo verde trees, we've got these weird bugs making sounds. So just ... I feel it really kind of gives that desert feel. Angie Avestruz: Absolutely. Now, you mentioned these cactus. They're a pretty big deal out here. What can you tell us about them? They're kind of sacred here in Arizona. Jay Worsley: Yes. Saguaro cactus, they are the cactus in Arizona. You can actually get fined for cutting down a saguaro cactus. I'm [00:02:00] not sure why you would cut down a saguaro cactus, but it's a pretty big deal here, you get fined and you could possibly face some jail time. Angie Avestruz: Jay, if someone's coming out here to Arizona, would you recommend this time of day to fly? Jay Worsley: I wouldn't necessarily recommend it. You've got to have ND filters, and luckily I have ND filters, but it's just so hot out. Angie Avestruz: Yeah. Jay Worsley: You'd wanna do it probably at sunrise or sunset. Angie Avestruz: Yeah, definitely. Pro tip there, don't come out, it's very hot right now in the middle of the day. Well, we're loving this vast desert land that we're in right now, but where do [00:02:30] you think we should head next? Jay Worsley: So, the next place I wanna go is actually the Salt River. And it has still a desert vibe, but just a very unique desert vibe, so I think that'd be a good spot. Angie Avestruz: Let's check it out. It's heating up in Phoenix, so we're in search of some water to cool off next to. Jay, you brought us to another beautiful, picturesque location in the Greater Phoenix Area. [00:03:00] Where are we hanging out now? Jay Worsley: So right now, what you see here is the Salt River, and right at the other side is Fire Rock, also known as Mount McDowell. And it's just a really beautiful area. One thing that's great about the Salt River is when you're flying a drone and you're doing a bird's eye view, you can really get some great textures and colors coming from above, because the water it's not very deep in this area, so there's some really cool rock formations that you can see that you wouldn't really see just from looking at it from [00:03:30] here. Angie Avestruz: I'm sure with heat like this people are often trying to cool down or retreating to these lakes and rivers. What kind of outdoor activities do people do here? Jay Worsley: Yeah, right now, while we're filming this, it's 104 degrees out, and we're all sweating like crazy. So a lot of people they'll do ... the paddle boards on here, just in this area, because the water is pretty calm, but there's also a Salt River Tubing. And people would just get into the inner tube, and bring beer, and they all kind of hang out, just have a good time. Angie Avestruz: Sounds like it's a lot of fun. [00:04:00] I even saw some people fishing down there as well. Jay Worsley: Yeah, yeah definitely. Angie Avestruz: Well, I do love how serene and beautiful this location is, but as you mentioned there are so many spots to see. So where should we head next? Jay Worsley: We're going to the Superstition Mountains. Angie Avestruz: Let's do it. Superstition Mountains it is. And on the drive over we take in more breathtaking desert sights. [00:04:30] Jay, we're at our last stop with you, Superstition Mountains. What is it about this spot that is so iconic to Arizona and Phoenix? Jay Worsley: Man, there's so many things about it. There's ... First of all, it's gorgeous. It's beautiful, it's on the very eastern side of the Greater Phoenix Area, and a lot of hiking trails, a lot of desert beauty. But like I said, just looking [00:05:00] at the mountains, they're massive, there's a lot of story, a lot of history. It's just one of those really iconic places. It takes a lot of time and a lot of work to get to the top. Once you get to the top, you can just see everything from there. It's really high and you can see Camelback Mountain, you have Four Peaks, South Mountain, you can see downtown Phoenix, Scottsdale, Gilbert ... you can just see everything. Angie Avestruz: We should mention we didn't spend a lot of time in Phoenix. One, because why would you when you have beautiful landscapes like this, but how [00:05:30] is it droning in the city? Or would you just recommend people stay kind of on the outers parts of it? Jay Worsley: Well, with Phoenix it's very beautiful. We have great weather, it's a little hot, there's a lot of palm trees. But because it's so hot we don't have a lot of tall buildings, and that's just because of architecture, [inaudible 00:05:48] heating causing metal to bend. So the architecture is just kind of okay, there's some pretty areas, but for the most part it's just more worth it just to drive a little bit out of the city to see places [00:06:00] like this. Angie Avestruz: Well, you have a lot of experience flying. What are some of your favorite spots that you've ever flown? Jay Worsley: Ever? Oh, my gosh. That is tough to say. There has been some really cool places here in Arizona, up north, in Flagstaff area. And Page, Arizona, where Horseshoe Bend is, and Vermilion Cliffs. Those are some pretty areas. Angie Avestruz: Well Jay, if people are interested in checking out more of your work that you've mentioned, where should they go? Jay Worsley: Easiest place, [00:06:30] if I'm updating it consistently, would be Jayworsley.com, I've got links to all my social media on there and my other platforms for sharing videos. And of course, the AirVūz profile. Angie Avestruz: Well, thank you so much for taking time and especially on this hot summer day here in Phoenix ... Jay Worsley: [crosstalk 00:06:47] Yeah. Angie Avestruz: ... you've showed us around, we appreciate it. Jay Worsley: Yeah, thank you. Angie Avestruz: Now we're heading to the infamous Camelback Mountain. It's a difficult climb, but it's definitely worth it for the view. We're signing off this episode [00:07:00] at the summit of Camelback Mountain. We just hiked up here and it is gorgeous. We hope you've enjoyed all the beautiful views this Greater Phoenix Area has to offer. We know we sure have. Until next time, see you later.