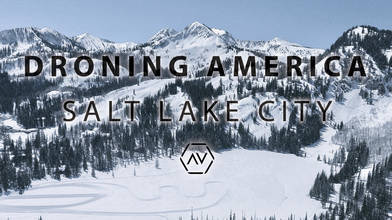 Droning America: Salt Lake City, UT
AIRVŪZ STAFF NOTE :
In this episode of Droning America, host Angie Avestruz heads to Salt Lake City, Utah. The city sits on the far (western) side of the Rocky Mountains and is the region's second largest urban area after Denver. The show's "local expert" is George Matus, founder of a local drone company that is achieving worldwide recognition. Join them as they take in the sights and sounds of this city and its surrounding areas by drone. It includes footage of areas used for the 2002 Winter Olympics which were held here.
over 4 years ago
4.6k VŪZ
27

14
Report
Hello from Utah! We met up with a very special (and young) guest in the beautiful mountains surrounding Salt Lake City. We check out some of the world-class ski spots in the area as well as some of the major downtown attractions. There's even a special demo of a new drone coming to market this summer!

You won't want to miss this special episode of Droning America!

Gear used to film this episode:
DJI Phantom 4
Panasonic Lumix G7 (with Rokinon Lenses)
Sony PXW - Z150

AirVūz would like to remind everyone to fly safely and to check your airspace rules before flight. To keep up on current UAV rules and regulations, visit KnowBeforeYouFly.org

To find out more about the Teal Drone, visit www.TealDrones.com

More episodes of Droning America:
www.airvuz.com/user/Droning-America VIDEO TRANSCRIPTS: Angie Avestruz: Hello, and welcome to Droning America. I'm your host, Angie Avestruz. Today we're in the beehive state, in a city bordered between the Great Salt Lake and the Wasatch Range. And it's where the LDS church is headquartered. Welcome to Salt Lake City, Utah. [00:00:30] To kick things off, our special guest is meeting me right here in downtown Salt Lake City. We are so lucky to be joined by George Matus, CEO and founder for Teal Drones. George, thanks for making time for us. George Matus: Yeah, thanks for having me. We are in the heart of Salt Lake City right now, downtown, just on top of the city library. And it's a beautiful day out here today. Angie Avestruz: It is one of the most magnificent libraries I've ever seen and I've heard it's even been recognized [00:01:00] and won an award possibly. George Matus: Exactly. Exactly. The architecture's just absolutely beautiful and a great place for flying an FPV. And if you look around us, we've got the mountains on that side and we've got just a bunch of really cool things around us here. We've got the state capital over there, the jazz team and the arena just behind us. And then the Leonard Museum, which actually has a flight expo and an exposition happening there now. Angie Avestruz: Very cool, and appropriate. George Matus: Really cool place. Yeah, exactly. Angie Avestruz: So when I think of Salt Lake City, I think of the large Mormon population. [00:01:30] It's kind of known as the Mormon mecca and you guys have a beautiful 10 acre temple over there. What can you tell us about that one? George Matus: Yeah, so I was born in Salt Lake City. I'm not Mormon, but about 50% of the population here is and overall Utah just has some of the best people. Angie Avestruz: Yeah. George Matus: And definitely a lot of history over there as well. Angie Avestruz: There are some seriously stunning views all around us and I cannot wait to go east and check out the mountains. George Matus: Oh, absolutely. You know, let's head up into the mountains, maybe go up to Silver Lake and do some flying. Angie Avestruz: Sounds great. George Matus: Awesome. Angie Avestruz: [00:02:00] We're heading up Big Cottonwood Canyon to get a feel for what outdoor life is like in Utah and check out one of George's favorite flying spots. George, we took a short drive east and now we're in the mountains. Where'd you bring us? George Matus: Yeah, so I mean not only is Salt Lake a great place to start a business, but the other perk is you're so close to the mounts. Angie Avestruz: This is one of the more popular hiking trails. Is this one of your favorite spots? George Matus: Yeah, so this is Donut falls. About a 40 minute hike up [00:02:30] there and you get to a Lake and some waterfalls, so just a beautiful area. Angie Avestruz: You mentioned one of the nice perks of living in Salt Lake City is you have so many world class ski resorts nearby. What are some of your favorite ones of those? George Matus: Oh my gosh. Well we're never more than, what, 15 or 20 minutes from any resort. I mean Snowbird, Solitude, Deer Valley, there's just so many to choose from here. And I mean they're all world class. Angie Avestruz: Yeah. George Matus: The snow here, because the humidity and the density, we get this really nice powdery texture and it's perfect for skiing and snowboarding. Angie Avestruz: Yeah, this is some of the most beautiful snow I've [00:03:00] ever seen. George Matus: Yeah, absolutely. Angie Avestruz: You brought your cool new drone. Which one is this? George Matus: Yeah, so this is our flagship product that we'll be shipping later this summer. And this is the one with the super computer inside, the 4K camera, and the app store that's built around it. So we'll go ahead and give it a spin. Angie Avestruz: Yeah, we'd love to see it fly. Let's put it up. George Matus: Awesome. Angie Avestruz: [00:03:30] Now that we've seen the Teal Drone in action, we're continuing on into the mountains to an alpine lake that offers year round activities. George, you brought us to yet another beautiful location. George Matus: Absolutely. Angie Avestruz: Where are we hanging out now? George Matus: So we're at the top of Big Cottonwood [00:04:00] Canyon now at a place called Silver Lake. Just a gorgeous location to fly and get in the air. Angie Avestruz: Yeah, it looks like there's some people snowshoeing and cross country skiing. Is that [crosstalk 00:04:09]? George Matus: Yeah, we're actually not able to go out there unless we put on snowshoes or skis so we'll stay here for now and then go from there. Angie Avestruz: I got to say, it is beautiful and snowy out, but also warm. Is this what a day in the life is like out here? George Matus: I know, I almost want to take off my jacket right now. It's hot, but brisk and cold. It's great. This is just the perfect weather. Angie Avestruz: Beautiful. Now you mentioned this is Silver Lake. It's covered with snow right now. George Matus: Yeah. Angie Avestruz: [00:04:30] There's also another lake we should talk about here, your namesake, the Great Salt Lake. George Matus: Yeah, definitely. Angie Avestruz: What do you know about that? George Matus: So the Great Salt Lake, massive lake in Utah. You can see it from space. You've got the Spiral Jetty that you can see when the water level goes down a little bit. You've got Black Rock nearby, and just a cool place to go and check out. Angie Avestruz: Yeah, we'll definitely have to drive over there and throw a drone up. George Matus: Definitely. Angie Avestruz: George, if people want to find out more about the Teal Drone or where they can get one, where should they go? George Matus: Yeah, feel free to check out or social [00:05:00] sites on Facebook, Instagram, Twitter, and then our website is just tealdrones.com. Angie Avestruz: Awesome. Well we know you're a super busy guy, but we really appreciate you taking time to show us around. George Matus: Likewise. Thanks for coming out and letting me show you around. Angie Avestruz: Since there are so many world class ski resorts near Salt Lake City, we have to check one out. We decided to end our visit here by heading to the mountains and Park City seemed like the perfect place to go. It's home to some of the major ski and snowboarding locations from the 2002 Winter Olympics. [00:05:30] As always, thanks for hanging out with us on Droning America. Catch you next time. Bye bye.