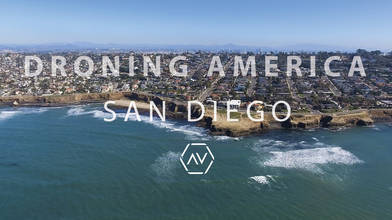 Droning America: San Diego, CA
AIRVŪZ STAFF NOTE :
In this episode of Droning America, host Angie Avestruz heads to sunny San Diego, California. Accompanied by local drone pilot and AirVuz contributor KaptureDM, they will bring you aerial views of some of the top spots from California's third-largest city. Featured locations include the famed cove of La Jolla, Torrey Pines Golf Course, Pacific Beach, Ocean Beach, Balboa Park (home of the famous San Diego Zoo), the historic Gaslamp District, Balboa Park, and more spots from one of the USA's finest cities.
over 4 years ago
4.2k VŪZ
41

26
Report
On this episode of Droning America, Angie and the crew head west to San Diego, where the average yearly temperature is above 70 degrees!! There they meet up with Kevin Powers, aka KAPtureDM, who gives them a tour of the city! Starting off at Mount Soledad, the crew has a beautiful, panoramic view of "America's Finest City." Taking in sights in La Jolla, Torrey Pines golf course and the Veteran's Memorial. From there the crew heads to the beach for some surf and sand! We walk the pier at Pacific Beach and get aerial views of Ocean Beach, surfing and some dolphins! You can't visit San Diego without checking out some of the attractions and Balboa Park is the place to go to do that! From museums, gardens and zoos, there's something do for people of all ages! Sea World isn't too far away either! With stops in the historic Gaslamp Quarter downtown and Petco Park, there's so much to see and do in San Diego you don't want to miss this episode capped off at breathtaking Sunset Cliffs!

Gear used to film this episode:
DJI Phantom 4
DJI Phantom 4 Pro
DJI Inspire 1
DJI Osmo
Panasonic Lumix G7

Click HERE to see more of KAPtureDM's drone work.
Click HERE to see more episodes of Droning America!

Additional aerial footage was obtained legally via KAPtureDM LLC and VideoBlocks.com.

AirVūz would like to remind everyone to fly safely and to check your airspace rules before flight. To keep up on current UAV rules and regulations, visit KnowBeforeYouFly.org. VIDEO TRANSCRIPT: Speaker 1: Hello everyone, and welcome to Droning America. I am your host, Angie Avestruz. Today, we're hanging out next to the Pacific Ocean. It's a place where the average yearly temperature is above 70 degrees, and it's known as America's finest city. Welcome to San Diego, California. [00:00:30] To help us get our barrings of San Diego, we're heading to the top of a pretty prominent hill to meet our guest, and enjoy a panoramic view of the city. To show us all around San Diego, we are lucky to be hanging out with drone pilot and Boston sports fan, Kevin Powers, also known as KaptureDM. Kevin, thanks for [00:01:00] showing us around your city. Speaker 2: Thank you so much for visiting. Speaker 1: Tell us a little bit about yourself. How long you've been flying? How'd you get your start? Speaker 2: So I was in the Marine Corp. through 2013. I did a combat deployment to Afghanistan. There, I got off the helicopter one day and I saw my first drone. It was an actual Military Predator. Right there, I was just like, hmmm that's kind of a futuristic thing and as soon as I got back I started flying the commercial ones. Speaker 1: Well, you've chosen Mount Soledad as our first stop here in San Diego. Why this place? Speaker 2: Just because it's all encompassing [00:01:30] of San Diego and as you can see, today, it's perfectly clear and just gives you a perfect view of all of San Diego. 360 degrees, so. Speaker 1: Yeah, that is a pretty prominent landmark here in San Diego. Tell us a little bit more about that cross. Speaker 2: What it is basically, it's just a memorial. It's similar to those in Washington D.C. The Vietnam Memorial. And it has the faces and names of service members from all organizations that have served in combat. [inaudible 00:01:54] presidents on there. Speaker 1: Yes, there's a strong military presence here in San Diego. You guys have a few bases near here, and the USS [00:02:00] Midway. What can you tell us about those? Speaker 2: So, San Diego is actually home to the largest population of marines in the world, US Marines. And then there's also well over 100,000 sailors here. Speaker 1: And the USS Midway is now a museum, but they also host major events there like NCAA basketball games, and other popular shows have been filmed out there. You actually have some footage of that too, right? Speaker 2: We did. The Midway asked us this year to film the lights that were on it leading up to the holidays so they can use that as video on their website. Speaker 1: Yeah, definitely something [00:02:30] to check out if you are in San Diego. Speaker 2: Absolutely. Speaker 1: Where we are now it's a beautiful clear day. You can kind of see the entire lay of the land up here. And you're saying back there you can see those green peaks, and that's Torrey Pines, the golf course? Speaker 2: Yes, Torrey Pines is right behind us up on top of those cliffs there. Speaker 1: Also, not too far from here is La Jolla, which has some pretty nice houses I hear. Speaker 2: It does. We are in La Jolla right now, which is also right below us, and also includes the cove behind us. And, you know, if you look down below us here, you'll just see one after another 20 million [00:03:00] dollar house, 25 million dollar house. You just don't see that anywhere anymore, so ... Speaker 1: And you'd mentioned it's what, the most expensive zip code to live in, in the country? Speaker 2: So I have heard, many times over. Speaker 1: Now it's time to hit the beach. And we've chosen a popular one to check out. Kevin, San Diego is known as a beach city and it has miles and miles of sandy beaches. Where are we walking right now? Speaker 2: We are in Pacific Beach, San Diego. One of the most popular beaches in California. Basically PB is [00:03:30] all college students and young professionals that maybe still have a little party left in them and want to enjoy life. Speaker 1: What are some other popular beaches in this area? Speaker 2: So, a couple miles south of us here we have Ocean Beach, which is very well known for San Diego ... Just the atmosphere, the type of people you find there, and you know, just the overall feel you get there at Ocean Beach. It's very California. Speaker 1: Oh yeah. Definitely a popular place to be. I'm sure surfing is pretty popular down here? Speaker 2: Yes. We are also just a couple [00:04:00] hundred feet from Tourmaline Surf Park, which is one of the most famous surfing areas in the US. You know, during times when it's not so stormy or cold, I mean, you could see anywhere from 100 to 300 surfers in the water right where we are right now. So ... Speaker 1: Wow. Speaker 2: Yeah. Speaker 1: And another thing you've captured is drone videos of whales and dolphins in this area, right? Speaker 2: Absolutely. Speaker 1: Not too far off the coast. Speaker 2: Yep, so I got some dolphins a couple weeks ago, and believe it or not, they were swimming about 100 yards from where we are walking right now, right under the pier. Speaker 1: This [00:04:30] is a pretty unique pier, and you actually got a video of this not too long ago. Speaker 2: I did. So, last week the pier was actually closed, which only happens a couple times a year when there's really high surf. So if you're standing on this during big waves, it's actually gonna sway back and forth. So, last week, I was able to get out here on the beach when it was closed. There was nobody on it. And we had about, you know, 10 foot waves coming to the pier, and I was able to capture that in slow motion and get it up on air views. Speaker 1: Yeah. Well, the beaches definitely bring people from all over the world here to San Diego but that's not [00:05:00] it. You guys also have some major attractions, so, let's check out some of those next. Speaker 2: Absolutely. Sounds good. Speaker 1: What better place to do that, than Balboa Park? A historic national landmark filled with museums, gardens, and, you called it, attractions. Kevin, San Diego is known for having so many attractions, and really, for things to do for people of all ages. And right now we are hanging out in the middle of an area that has a lot of that. Explain kind of where we are. Speaker 2: So, we are in Balboa [00:05:30] Park, a very large section of San Diego that is basically set aside for entertainment. Whether it be the art history museum behind us, the interspace museum on the other side, 18-hole golf course ... You know, basically, like you said, anyone of any age can find what they want to do here in Balboa Park. Speaker 1: And Sea World, well not in Balboa, but it's pretty close to here as well? Speaker 2: Sea World is also about 3 miles away. And, you know, at that point now you have the zoo, Sea World, and it's all coming together, you know, within 3 to 5 miles of each other and you can do it all [00:06:00] in one day if you want. So ... Speaker 1: Now you'll notice we are droning right here in this location so it's important for people to know if they're thinking of traveling in San Diego, there's very specific places you should not be droning. Why don't you tell us about those. Speaker 2: Absolutely. So, you know, over the past few years, we've realized and learned that there are very blatant no fly zones and Balboa Park is a prime example of that because we are right under the landing path for Lindbergh Field in San Diego. So, if you take a drone off here, you're gonna be three, four hundred feet from a landing commercial airliner and [00:06:30] that is just a no-no in today's drone world. So, you know, I'm very happy we're not flying here and passing this message along. Speaker 1: Well, another cool place we want to check out is downtown, also a little difficult to drone, but there's a very historic area known as the Gaslamp District. Speaker 2: So, the Gaslamp started a long time ago, and it was actually lit by gaslamps downtown and now it is evolved into the convention center, Petco Park, all the bars and restaurants, a major tourist attraction. Speaker 1: Kevin, thanks so much [00:07:00] for showing us around and giving us a little bit of education on the dos and don'ts down here in San Diego. We really appreciate it. Speaker 2: Thank you guys. I appreciate it. Speaker 1: We had to check out the ocean one last time while in southern California. And Kevin recommended stunning Sunset Cliffs. We hope you enjoyed the beautiful views of sunny San Diego. There really is so much to see and do here. But now, it's time for us to explore a new city. So, see you next time on Droning America. [00:07:30] Bye bye.