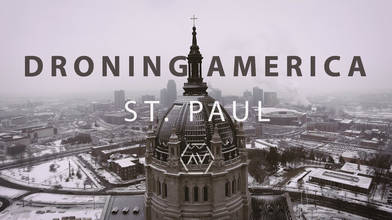 Droning America: St. Paul, MN
AIRVŪZ STAFF NOTE :
St. Paul, Minnesota lies east of Minneapolis, just a few km/mi downstream on the Mississippi River. Older than Minneapolis, Minnesota's capital city was surpassed in population by the newer city late in the 19th century. In this episode of Droning America, host Angie Avestruz meets up with AirVūz contributor Mike Welsh from Sky Candy Studios to give you a tour of this historic city. Using a DJI Inspire drone, they explore Grand Avenue, Lowertown, Rice Park, Xcel Energy Center, and other spots in this Midwestern river city.
almost 5 years ago
48.7k VŪZ
29

18
Report
Check out the winter wonderland that is St. Paul, Minnesota! This week Angie visits our sister city and meets up with AirVūz contributor Mike Welsh from Sky Candy Studios. They explore Grand Avenue, the Twin Cities premier destination for shopping, dining, service and entertainment! Next they head downtown to check out the Xcel Energy Center where the NHL's Minnesota Wild drop the puck. Next, Mike shows Angie another hot spot downtown known as Lowertown, where the St. Paul Saints play ball. The trip is capped off on the ice in Rice Park, where the annual Winter Festival takes place!

Check out all the other cities we've visited on Droning America by visiting us at AirVūz.com!

Tweet at us @DroningAmerica.

More of Sky Candy Studios Drone Videos:
The Open Road
Duluth Sea Smoke
St. Paul Saints All Star Game READ THE FULL VIDEO TRANSCRIPT HERE: Angie Avestruz: Hey everyone this is Droning America and I'm your host, Angie Avestruz. Today we're in the saintly city. It's in the North Star state and it's known as the most livable city in America. Welcome to St. Paul, Minnesota. [00:00:30] To show us all around the city of St. Paul we're hanging out with a familiar face to Airvuz, Mike Welsh from Sky Candy. Mike thanks for joining us on this beautiful, snowy day. Mike Welsh: Yeah, thanks for having me on. Angie Avestruz: So this looks like a pretty fun area, where are we walking right now? Mike Welsh: So we are on Grand Avenue, which is kind of a hotspot for St. Paul. There's a lot of shops, there's a lot of good restaurants. A lot of events take place here. [00:01:00] You have Grand Ole Days, just a lot of fun stuff happens on this block. It's a very fun, trendy area. Angie Avestruz: Yeah, and running parallel to this street is Summit Ave., which is another big, popular area. Mike Welsh: Yeah, Summit Avenue has the Governor's mansion, it has all these awesome mansions from the early 1900's and yeah it's really cool to see. Angie Avestruz: Well tell us a little bit more about yourself and how you got your start in droning and your company. Mike Welsh: Yeah, [00:01:30] so I started my company about three years ago and it just kind of escalated quickly. I bought a small quad-copter from Sharper Image and from there I started buying drones about every three months and before I knew it I had six drones and a business. Angie Avestruz: What are some of your videos that are on Airvuz.com that you've done? Mike Welsh: You know some of the coolest videos I've done are The Open Road, which is basically just a tour in the Southwest of the United States, following two motorcyclists around. We recently shot [00:02:00] a video in Duluth, Minnesota, which shows the sea smoke coming off the lake. Definitely worth checking out. Angie Avestruz: We'll have to check it out. Next, we're continuing on to the heart of downtown St. Paul, the hub of the city's music and sports life. Well Mike we are in the state of hockey so it's only appropriate that we come check out the Xcel Energy Center where your Minnesota Wild play. Is this a pretty popular place? Mike Welsh: Yeah, we love our hockey [00:02:30] here. I mean kids skate before they walk here in Minnesota so yeah, it's a great event. A lot of people come from the burbs and bring business to St. Paul and we're awesome this year. We're always playoff contenders and it's a really big part of St. Paul is the hockey here. Angie Avestruz: Yeah, it's right here in downtown St. Paul. What else is there to do in this area? Mike Welsh: Yeah, there's a lot. There's 7th Street has a great line of bars, before and after the games, it's a really hot spot. And then the Science Museum is also attached right over here [00:03:00] to the Xcel. It's the most popular museum in the Upper Midwest. Angie Avestruz: Looking straight ahead across the street there's a pretty impressive church, what's that all about? Mike Welsh: Yeah, so that's our cathedral it's named after St. Paul, which is where we got our name, which is pretty cool. It's also one of the largest cathedrals in the U.S., so it's pretty neat. Angie Avestruz: And you guys host a pretty popular event there. Mike Welsh: Yeah, so Crashed [00:03:30] Ice comes here every year and it's awesome. It's a big downhill ski race and all of St. Paul goes, it's a really cool event and worth checking out. Angie Avestruz: Finally, Mike is taking us to the edge of downtown, to an area known as Lower Town, an old warehouse district, turned trendy bar scene and artist quarter that attracts locals and visitors alike. Mike, we've moved to the edge of downtown, in Lower Town, what's cool in this area? Mike Welsh: Yeah, so [00:04:00] this is a hot spot for young professionals. We have the Farmer's Market here, which is a great place in the summertime where people are walking around and getting fresh produce. There's also the train depot where the train line connects from Minneapolis-St. Paul, so its easy access to both cities. Angie Avestruz: Right now we are standing in front of CHS Field, who plays here? Mike Welsh: This is the home of the St. Paul Saints, and they're actually owned by Bill Murray, which is kind of cool. We had the chance [00:04:30] to livestream their All-Star Game this last summer, which was really fun. A great opportunity, just a great experience all around. Angie Avestruz: Yeah, I bet it looked pretty different here in the summer? Mike Welsh: Yeah, it was a little nicer weather-wise. Angie Avestruz: Well Mike we really appreciate your time, thank you so much for showing us around St. Paul. Mike Welsh: Yeah, thanks for having me. Angie Avestruz: We're ending our trip in St. Paul by checking out Rice Park, which gets all decked out for the annual Winter Carnival, the nation's oldest and largest winter festival. [00:05:00] Thanks for hanging out with us today in St. Paul, we had to end our visit where else but here on an ice-skating rink. I think for the next episode we'll head south to somewhere warmer. Bye for now.