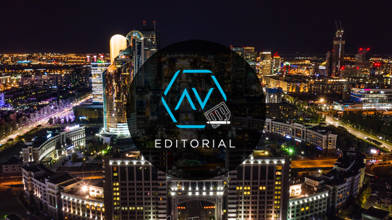 Editorial: DJI Mavic 2 Drone Video Shows Off Ultra-Modern Kazakhstan Capital City
Published 12/26/2018 08:46

Astana, capital of Kazakhstan, is home to over 1 million people.

Using a DJI Mavic 2 and Inspire 2 Christopher Fenton captures the uniqueness of the city built in 1997.

See the Baiterek Tower, Khan Shatyr Entertainment Center, Kazakhstan Pavilion and Science Museum and more.
almost 3 years ago
488 VŪZ
16

4
Report
A drone pilot created a stunning night aerial tour of one the world's most impressive yet least-known capital cities. Christopher Fenton of Octovision Media in the UK took a DJI Mavic 2 Pro drone out over the gleaming skyline of Astana, the capital of the Central Asian republic of Kazakhstan. His video captured the ultramodern look of this urban area of over a million inhabitants, which was essentially rebuilt as a planned city to house the nation's capital after Kazakhstan became independent from the former Soviet Union in 1991. The city and the monumental building boom which created it was profiled in a 2016 GQ article called Inside Astana, Kazakhstan: The $40 Billion City. The video opens with a shot of the Baiterek Tower, whose observation deck height of 97 meters corresponds to the year (1997) in which the country's capital moved from Almaty to the more centrally located Astrana. From there it goes on to show the city's spectacular colored water fountains, the tent-shaped Khan Shatyr Entertainment Center, and Independence Square, the visual center of the city which is home to landmarks such as the Palace of Peace and Reconciliation and the Kazakh Eli Monument. Virtually everything shown in the video, including the brilliantly arrayed thoroughfares, was built in the space of about 15 years following the transfer of the capital. During this period, the former provincial city of Akmolinsky (the city's original name) was transformed into a modern day version of other planned capital cities like the USA's Washington DC, Brazil's Brasilia, or Australia's Canberra. SOURCES: "Inside Astana, Kazakhstan: The $40 Billion City," Jake Miller, GQ Australia, 26 Dec. 2016, www.gq.com.au/lifestyle/travel/inside-astana-kazakhstan-the-40-billion-dollar-city/news-story/1a3b7b9ac1c751efb23f827e456385d8 "Astana," Wikipedia, Wikimedia Foundation, 13 Dec. 2018, en.wikipedia.org/wiki/Astana