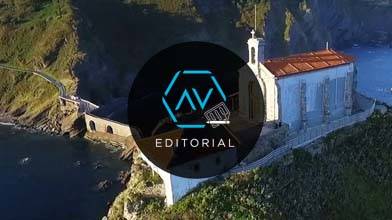 Editorial: Drone Video Shows off the Real Life Dragonstone Castle from HBO's Game of Thrones
Published 12/29/2018 03:08

Game of Thrones fans might recognize the bridge and walkway in this real life Dragonstone Castle from Season 7 of the HBO series.

Gaztelugatxe is off the coast of Northern Spain in the Bay of Biscay.

The lone structure on the small island is an 11th century hermitage.
over 2 years ago
365 VŪZ
16

5
Report
Description: A video uploaded to the AirVuz drone video sharing site shows a tiny islet off the coast of Spain's Basque Country that has become a highly south-after tourist spot, thanks to HBO's blockbuster TV series Game of Thrones. Gaztelugatxe is a small rock of an island just a few feet off the coast of northern Spain in the Bay of Biscay, a short distance northeast of the Basque capital Bilbao. Its sole structure is a small 11th century hermitage which is accessible by a walkway consisting of about 230 steps. This once-obscure spot burst into public consciousness in the summer of 2017 when it appeared (in computer modified form) as Dragonstone, a fort on the fictitious continent of Westeros. Given the popularity of the fantasy/historical series, Gaztelugatxe has become a popular tourist destination for GoT fans, who have similarly flocked to other show shooting locations in Iceland, Croatia, Northern Ireland, Spain, and Malta. As anticipation builds for the landmark show's eighth and final season (which is scheduled to air in the summer of 2019), it's not known whether Gaztelugatxe will make further appearances; HBO has kept the details of the final seven episodes tightly under wraps. SOURCES - "San Juan de Gaztelugatxe," Basque Country Tourism, Eusko Guide Ltd., 27 Dec. 2018, www.euskoguide.com/places-basque-country/spain/san-juan-de-gaztelugatxe/ "Where 'Game of Thrones' Season 8 Was Filmed Around The World," James Medd, Condé Nast Traveller, 27 Dec. 2018, www.cntraveller.com/gallery/game-of-thrones-season-8-filmed Gaztelugatxe, Wikipedia, Wikimedia Foundation, 14 Sept. 2018, en.wikipedia.org/wiki/Gaztelugatxe