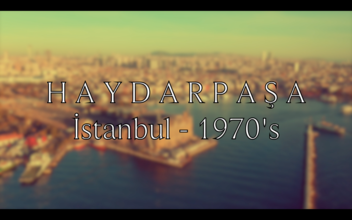 HAYRDARPAŞA Train Station - İstanbul 1970's
AIRVŪZ STAFF NOTE :
The ancient neighborhood of Haydarpaşa in Istanbul, Turkey is home to several internationally-recognized public structures. Named after an Ottoman Vizier, the area is located along the banks of the Sea of Marmara (just west of the Bosphorus) and home to the Haydarpaşa Train Station. Drone pilot jesus_tr shows us what the station, as well as the surrounding area, looks like in this two-minute piece. To learn more about this historic station, check out Jesus' detailed description below.
almost 4 years ago
3.2k VŪZ
18

18
Report
Haydar pasa is Turkey's largest and most magnificent railway station which was built in the early 20th century by the German architects Otto Ritter and Helmuth Cuno. A monument to the close Turkish - German relations of the time, the station is in neo-renaissance style and has a U-plan. The inauguration ceremony took place on 19 August 1908, just after the proclamation of the Second Constitution. Haydarpasa train station in IstanbulThe façade is covered in textured sandstone, and the main façade overlooking Kadiköy Bay rests on a foundation of 1100 timber piles. The steep pitched roof is slated, and the interior is decorated with trailing foliage cartouches and garlands, and stained glass window. The ceiling of the circular room at the base of the southeast tower has ribbed vaults, and the upper landings have groin vaults. Flights of marble steps lead up from the quay to the monumental façade flanked by circular turrets with conical roofs, clock tower rising in the form of a crest at the center, baroque decoration, balconies, molded cornices, and pilasters. This fantastic station building welcomes those arriving in Istanbul from Anatolia by train, and is the last sight of this enchanting city for those leaving. Since 1908 Haydarpasa Station has witnessed many memorable events, both tragic and joyful. During World War I troops boarded trains for the front from here, many never to return, and in 1917 it was badly damaged in a bomb attack. Crowds welcomed Mustafa Kemal Atatürk here on many occasions when he arrived from Ankara. Once upon a time, passengers of the Orient Express arriving at Istanbul from Europe and those who wanted to continue towards Baghdad, had to take a boat across the Bosphorus and board the train from Haydarpasa station. With the increase in road transport and air travel, Haydarpasa Station has lost its former importance but it is still a landmark on the Asian side of the city, together with the nearby Selimiye Barracks (of Florence Nightingale fame) and Haydarpasa Medical School.