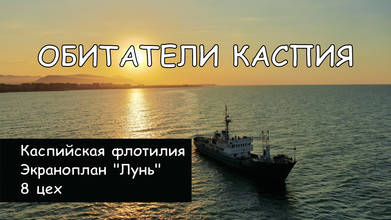 Inhabitants of the Caspian Sea (Caspian flotilla, ekranoplan "Lun", shop 8 of the Dagdizel plant)
AIRVŪZ STAFF NOTE :
While the Caspian Sea is an inland body of water, its area covers territory of five states: Russia, Kazakhstan, Iran, Azerbaijan, and Turkey, all of which deploy Caspian naval forces. The largest of these is the Russia's Caspian Flotilla, which dates to the time of Tsar Peter the Great. The fleet consists of over three dozen ships, including frigates, corvettes, missile-equipped patrol boats, and minesweepers. In this drone video by VadimUshKa, you'll see this fleet on display for Navy Day in the town of Kaspiysk, Dagestan.
about 1 month ago
472 VŪZ
15

11
Report
Description: The video shows footage of the Caspian flotilla, which this year was redeployed to the city of Kaspiysk and will celebrate Navy Day in Dagestan for the first time. Project 903 missile ship-ekranoplan "Lun" - Soviet strike ekranoplan-missile carrier of project 903. The Lun made its first flight in 1985. The car was built at the Rostislav Alekseev Design Bureau. The dimensions of the ekranoplan were staggering: the wingspan was 44 meters, the length was 73.8 meters, and the take-off weight was 380 tons. American intelligence watched the missile carrier's tests from space and named the unknown object "Caspian Monster". The "closed" eighth workshop of the Dagdizel plant in Kaspiysk has long ceased to function as intended (testing steam-gas torpedoes) - for many years it has been abandoned and is not guarded by anyone. Technical progress played a fatal role in the fate of the eighth workshop. In the late 50s, the torpedoes became deep-water, and there was no sufficient depth to test them in this area. In 1966, work stopped altogether. For another 10 years, the workshop was empty under guard and in 1976 it was finally closed. Now he is in a deplorable state. After the rise of the Caspian Sea (1978-1995), waves of ice broke its base. And ekranoplaners shot him from a cannon - they were shooting.