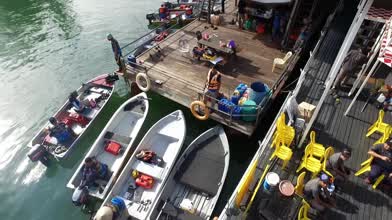 Lake Series [Tasik Kenyir Fishing Retreat 2]
almost 5 years ago
362 VŪZ
3

2
Report
Malaysia is one of the exotic land lies that at the heart of Southeast Asia. The country is located between 1-degree latitude to 7-degree latitude and 99 degree longitude to 120-degree longitude. To the south lies Singapore and to the north is Thailand as our neighboring country. To the west of the Strait of Malacca is Sumatra and Southern part of Borneo (Sarawak and Sabah) is Kalimantan.

Terengganu facing towards South China Sea is among the 13 states in Malaysia. It has the longest crystal sandy beach in the East Coast of Peninsular Malaysia. Well known for her emerald sea, golden sunlight and coral island rich in marine life. Bordered by Kelantan to the northern part and Pahang to the western and southern part.

Kenyir Lake became one of the most magnificent tourist sports in Terengganu as well as in Malaysia. Kenyir luxurious forest is located in the district of Hulu Terengganu, which lies at a longitude of 102 degree 40 minutes and 4 degree and 40 minutes in latitude. It is believed that the rain forest is the world oldest tropical rainforest. The forest also serves as a part of Malaysia National Park.