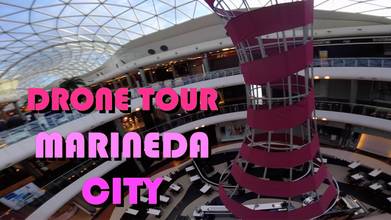 MARINEDA CITY - FPV DRONE TOUR AT THE MALL
over 6 years ago
224 VŪZ
7

5
Report
When someone call you to fly at the biggest Mall in your country, that is on your own city, you don´t think it twice, even if you have to be there at 8:00 on a sunday morning.

We spent just one hour on the mall and another hour having fun at the Karting (Go Karts). After watching the footage i realize more and more lines to fly through, but not enough time :(
I had to replace on arm super fast, and changed a few props too, on those few crashes i had there.
We had a lot of fun for sure!!

Thanks to TabanoFPV Team and Oscar at Karting Marineda.


Let me know what do you think


MORE AWESOME FOOTAGE TO COME, BETTER AND BETTER ALWAYS

Set up:

DARC XR Frame https://desdeelairerc.es/es/
FPV Cam HS1177
Tramp IRC VTx
KissFC
Kiss24A RE esc
DARC motors 2205 2600kv
GoPro Session Thanks to MM insurance LOL
RaceKraft 5040x3


Set up:
LRC RaceX custom plates
FPV Cam HS1177 2.5 Foxer lens
TBS Unify Pro VTx
GoPro Session Thanks to MediaMarkt insurance
Creativedex Gopro Mount
ZMX Fusion 2300kv
RaceKraft 5040x3

Music By:
Mr. Ours
Gorillaz - Clint Eastwood (Mr. Ours Remix)
https://soundcloud.com/mr_ours-1/gorillaz-clint-eastwood-mr

DISCLAIMER:
You are hereby notified that the stunts and tricks displayed in this video are performed by professionals in controlled environments.. Do not attempt to duplicate, re-create, or perform the same or similar stunts and tricks at home, as personal injury or property damage may result. The producer of this video is not responsible for any such injury or damage.


Copyright Disclaimer Under Section 107 of the Copyright Act 1976, allowance is made for "fair use" for purposes such as criticism, comment, news reporting, teaching, scholarship, and research. Fair use is a use permitted by copyright statute that might otherwise be infringing. Non-profit, educational or personal use tips the balance in favor of fair use.