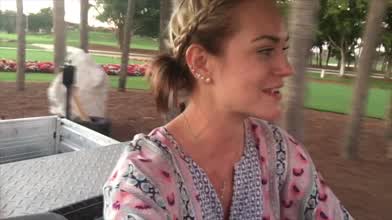 Mavic Pro vs Wildlife- The Queen's First Dlog or "Drone Vlog"
almost 5 years ago
543 VŪZ
16

5
Report
Getting overwhelmed with the daily video editing. Feeling like I'm hitting a wall…

The magic, as always, comes alive when the RIGHT PERFECT song goes along to my footage. I wasn't even going to make a video like this, I was looking for a 25 minute long COOL song to go along side of 20 solid minutes of flying over 18 holes of a golf course… A video I produce for this course every 2 weeks during the repair of the golf greens… Tonight, I went to gather some sunset shots as the Golf Course Repair is upon the Grand Opening. I brought my new DJI Mavic Pro and this was the third flight ever with it, and a great way to compare the Mavic to my Phantom since I have been flying the same patterns for the past year with the Phantom. So as you can see, I was a bit excited… Plus theres a thrill being on an CLOSED golf course, sun setting, a cool Florida Winter breeze in your braid, and finding all sorts of wildlife. While editing the fly over, I just kept getting distracted thinking, "Whats my next step? How can I raise my creativity" and then… Boom. It hit me, I record my daily life, I don't know why, maybe because I'm a visual person… But I have always loved photos and my family's old school home videos.
Hence, my first Drone Vlog… Or Dlog… or what do the people call them these days? haha…
The music means everything…Even for my real estate videos, golf course videos, and of course my FUN videos... Somehow in a binge of crossed eyes and ear plugs in listening to soundcloud… I found @ DJ Quads and without hesitation began downloading like a crazy person… Visualizing ALL my footage, but since i was in the process of editing a golf course, I said, "Let me make this mundane video really stand out."
SO, I would have to say, Thank you DJ Quads for the inspiration, and thank you DJI for making yet another amazing flying PASSION that I cherish with all my insides. You have changed my world. Oh yeah, and its the first week of January. I'm wearing shorts. My daughters, still home with me on Winter Break. First time ever having a sitter come watch the girls during the daytime so I could work. Weird Mom moment… Oh… and Yes, thats an alligator. Maybe if I didn't grow up seeing them on a normal basis, I would have included more drone footage of my new Mavic Pro getting awfully close to this jaw crunching creature… Allllsoooooo, those birds... They come down to that area of SWFL every winter! I used to live close by and every year at this time they would come in the thousands! I believe someone even wrote a book about them... So as cool as it is that I finally got to capture a good shot of them... It was a bit nerve racking when I was flying my new Mavic Pro and they came swarming in all around me!
Happy New Year, let's see how we can all better ourselves!