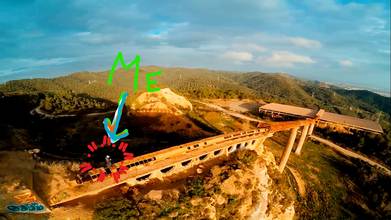 ORBITAL - FPV Freestyle, Bando Quarry
over 6 years ago
173 VŪZ
10

3
Report
Después de 2 meses sin poder volar casi nada, me he pasado a Kiss en los 2 quads y muy contento la verdad, los deathroll ya son historia.
Estos vuelos son en una cantera abandonada en las afueras de Barcelona, justo al lado de mi trabajo. Es un spot brutal aún no le he sacado todo el partido, pero volveremos!!

Gracias DDC por todo el increíble apoyo y por mantenerme en el aire! http://dronesdecarreras.com/
Gracias Matty por la inspiración y el engorile https://www.youtube.com/user/mattybik...




Thank you DDC for all the incredible support and for keeping me in the air! Http://dronesdecarreras.com/
Thanks Matty for the inspiration and motivation https://www.youtube.com/user/mattybik...


Happy Flights!

Setup:

Xiaomi Yi (Superview on! Yuhuu)
Frame Realacc
EMAX RS 2600KV Redbottom
GEPRC 5040x3
ESC T-motor f30
Kiss FC
Tattu 1300 4s 75c
Runcam Swift, 2.5 gopro lens, 50º tilt
FrSky XSR, Taranis


DISCLAIMER:
You are hereby notified that the stunts and tricks displayed in this video are performed by professionals in controlled environments.. Do not attempt to duplicate, re-create, or perform the same or similar stunts and tricks at home, as personal injury or property damage may result. The producer of this video is not responsible for any such injury or damage.