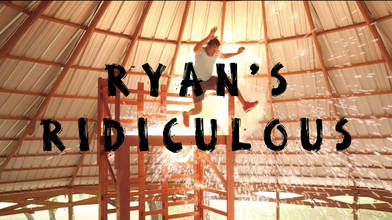 Ryan's Ridiculous: Cool Guys (Don't Look At Explosions)
over 4 years ago
2.3k VŪZ
20

12
Report
Description: Ryan might have a football background, but that doesn't stop his producers from worrying he's going to hurn

When Ryan is on screen, he's out of his element...a lot. His producers are concerned he's going to hurt himself on one of his shoots, so they send him to the Stunt Ranch to learn the ways

As Ryan's stunts get wilder and more out of his element, his producers are are getting concerned he's going to hurt himself. So what better place to learn the ways of the stunt man than from Stunt Scientist Steve Wolf? At the Stunt Ranch, Ryan learns the ways drones can help keep him out of harm's way as they catch unique aerials traditional camera equipment can't. He also finds out why UAV's are so critical to the future of the action movie industry - and how fireballs look from above! VIDEO TRANSCRIPT: Steve Wolf: When you're looking at movie stunts and special effects, what you're really watching is physics and chemistry. I'm a scientist who works on movie sets. Ryan Hoag: I'm tired of him blowing stuff up behind me. My producers were a little concerned that I might get hurt without any professional stunt training, so I decided to come to the place where they train people how to become professional stunt artists here in [00:00:30] Austin, Texas, at the Stunt Ranch. Steve Wolf: We get stunt people who want to learn more stunts, we have actors who'd like to learn the stunt side of it. Ryan Hoag: Now, I have some concerns. I don't know if I'm authentic enough, and I don't want to get hurt. Steve Wolf: Well, I've been a stunt and special effects coordinator for 29 years, done lots of TV shows, Tom Cruise movies, lighting people on fire, crashing cars, blowing up buildings. Today, we're going to throw you off of a 20 foot tower, we're going to have you dive away from an exploding vehicle, and we're going to show you how we make enormous Hollywood-style [00:01:00] fireballs. What do you asy we get started on the airbag? You're going to learn to fall today. We're going to prove the existence of gravity. The other thing that we're going to demonstrate here, of course, is the compressibility of gasses. The reason that this system works is because air is a gas, gasses are compressible. When you land on them, it squeezes them, and it's like landing on a big spring. You want to land on your butt or your back, you want to spread the force out as much as possible. Of course, being able to film things like this with drones and UAVs is fantastic. It means that [00:01:30] we can start the camera right next to you, camera can travel down, camera can travel alongside with you. Ryan Hoag: All right. Let's give it a go. Steve Wolf: Great. Fire in the hole. Three, two, one, action. Ryan Hoag: Oh my goodness. You didn't tell me there was going to be some missile being shot at me. Steve Wolf: It looked really good, and we got that authentic fear on your face, [00:02:00] as if you were really being shot at. Ryan Hoag: I can't wait to see it. In this adult playground that you have, the thing I've been looking forward to most is learning how to fall the correct way. Steve Wolf: You're going to do the launching. Gravity's going to do all the work of pulling you down. What you want to do is distribute your body over as wide an area as possible. Ryan Hoag: There will be an explosion going on behind me. This one, you're actually telling me about. Steve Wolf: Right. Fire shoots out the truck, and it makes it look like you dove away from the truck moments before it blew up, which is very exciting. [00:02:30] Very important, when you get up in the air, you want to keep your face up, because we don't want people thinking, "Oh, that was just his stunt double." So we're not really using the drones aerially for this, but what we're doing is we're using them as trackless cameras, so we're able to get that nice, long tracking shot, without having to lay track. Otherwise you'd be jumping on the track, the mats would [00:03:00] be on the track. Again, it makes everything much easier for us, even if we're not using it for altitude. Ryan Hoag: All right Steve, the heat is on. Literally. Steve Wolf: Yeah. The finale of any big action hero movie is, of course, something has to explode. So we're going to teach you how we set up the explosion, then how to look cool swaggering away from it. In order to have fire, you have to have fuel, that's something that burns, you have to have oxygen, that's a gas that we need to breathe to stay alive, you have to have heat, and you have to have a chemical reaction. We've got in here diesel [00:03:30] and gasoline. In order to get this reaction to go really fast, we want the fuel mixed with the oxygen as much as possible, before the heat comes in. That's what this device, it's called the air cannon, allows us to do. Ryan Hoag: Movie explosion. Right there. Let's try it out. Steve Wolf: [00:04:00] So, you don't want to cook your drone, obviously, but the drones really, in filmmaking terms, aren't that expensive. In Hollywood, if we had to blow up 20 drones to get an amazing shot, as long as we save the cards, we're good. Ryan Hoag: I've never felt more like a boss in my entire life. I did my best Rambo stare down, and I think I nailed it. Steve Wolf: Stunts and special effects, action hero stuff, it happens in a 360 degree world. A drone is really the best way [00:04:30] to get every different point of that, to be able to change your camera angles from one side to the other. Get aerial shots, ground shots, tracking shots. Basically, it takes a whole film crew, and it puts it into this one machine, so saves us time, saves us money, and gives us great creativity. I don't think we could do this without it. If your producers say you're not trained for this, you show them any of the footage from today, it's going to be pretty clear that you're very safe, you're very conscientious, and you know what you're doing. Ryan Hoag: And I loved every minute of it. Thanks a lot. Stunt Ranch. [00:05:00] Come on down, Austin, Texas. My boy Steve. Check him out.