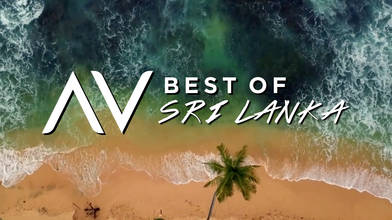 Sri Lanka from Above
Published 04/03/2019 08:21

Planning a vacation this year? Travel Guide, Lonely Planet, named Sri Lanka the #1 country to visit in 2019! Drone pilots have already discovered the beauty this island paradise in the Indian Ocean has to offer. Check out this aerial compilation to see some of the breathtaking drone footage captured by some of the world's top content creators.

Traveling by train is the way to get around Sri Lanka. The train ride from Ella to Kandy is considered one of the most beautiful and scenic train trips in the world. Outside of the major cities like the capital, Colombo, there is plenty more to experience. In fact, it's one of the best places in Asia to see wildlife because of its diverse landscapes. There are 26 national parks where you can see elephants, leopards, monkeys, deer, water buffalo, crocodiles and more.

Sigiriya is a towering rock fortress that formerly served as a king's palace. Today it is a UNESCO World Heritage Site. Sri Lanka is rich in cultural heritage and has countless religious buildings and temples. Religions in Sri Lanka include Buddhims, Hinduism, Muslim, and Christianity. The local Sri Lankan people (Sinhalese) are very warm and welcoming to tourists.

Sri Lanka is called the "Jewel in the Indian Ocean." If you visit you'll want to take an ocean safari to see the marine life near the coasts. Sri Lanka has great whale watching. It is also a popular year-round surfing destination. The island is literally surrounded by endless beaches so you're never far away from the water and a palm tree. Expansive botanical gardens cover the rolling green hills on this island nation.

If you want to see more drone videos of Sri Lanka, check out the full curated collection on AirVuz.com.
over 3 years ago
499 VŪZ
19

4
Report