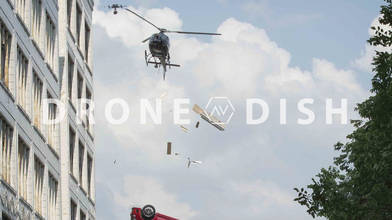 The Drone Dish: Aerobo
almost 5 years ago
12.1k VŪZ
27

16
Report
The CEO of Aerobo Brian Streem talks to AirVūz's Tyler Mason about his epic short film called "At the End of the Cul-De-Sac" which is comprised of a single long shot done from a drone. Hear about what it took to accomplish such a feat, and how the NYU Film alum Brian got his start in the drone biz.

You can check out the Aerobo profile by clicking HERE.

For more highlights from the world's best drone pilots, click HERE.

And for more amazing aerial views, check out AirVūz.com FULL VIDEO TRANSCRIPT: Tyler: Joining us on the Drone Dish today, we have Brian Streem from Aerobo. Brian, thanks for coming on. Brian: Thank you for having me, I appreciate it. Tyler: I was first made familiar of Aerobo's work by a video called, At the End of the Cul-de-Sac, which is a ten-minute, short film shot with one continuous drone shot.Tell me a little bit about that project and how you guys got involved and what it was like to put that together. [00:00:30] Brian: Sure. So the genesis of that is my background is I went to NYU film school, so for me, the drone is cool but I've never actually really been ... I'm not interested in the drone really. I'm more interested in kind of being able to move a camera anywhere in 3-dimensional space. That's what kind of had been very appealing and sexy to me since I got into drones. And, if the camera was on a magic carpet ride or an anti-gravity machine, I really wouldn't have cared. It happens to be on this multi-rotor thing that needs batteries and has like a gimbal. That's all an unnecessary by product, so for me, I think of it as kind of just a way to show people unique perspectives that they haven't seen before. And we work on this project with my very good friend. I guy name Paul Trillo and we both were very interested always in this idea of a floating camera that you could just move anywhere in space. So it stuck ... The first time I ever bought a drone, probably about four or five years or so ago, it's about the same time I met Paul, the first meeting we ever had, we discussed a project like At the End of the Cul-de-Sac, where we just wanted to be able to move a camera anywhere and have it just watch all the actors kind of perform and so, it's been a long time coming. Tyler: I imagine probably a lot of takes with that, cause you make one mistake with the drone and, you know, start all over again. What was that process like? Just kind of filming it and doing that continuous shot? Brian: Oh it was the hardest thing ever done by mankind, is what it was. I mean, it was ... Multiple location scouts. Obviously getting all the neighbors, all the people who actually live there onboard with what we were doing. I think we did one or two days of rehearsals with as many actors as we could and blocking and placement. I think we did three takes ultimately. Just as the sun was setting, and I think we shot this in Fall of last year, so days were very short, so we didn't have a ton of time and, you know, the sun setting to it being completely dark is actually only like, 30 minutes, so you actually have an incredibly small windows of time to actually get it. And I think we did it two or three times. I think the third time was the charm. And there was a lot happening. There was ... Obviously there's a guy peeing his pants, there's people talking, there's car maneuvers, there's ... You know, we tried to kind of embed it with as much complexity as was reasonable. Tyler: Well the end result was awesome. I really enjoyed watching it. [00:03:00] You guys did a fantastic job with that so congratulations with that. Brian: Cool. Thank you. Tyler: Take me back to the beginning of Aerobo. How did it start? You mentioned you had a filmmaking background, but how did you decide to start your company. Brian: I decided to buy, before I knew anything, I decided to buy a very big, big, expensive drone before it was kind of reasonable to do so, ended up kind of getting a nice job, a nice big project, where they wanted us to fly two red cameras and this was in Dubai, fly two red cameras on a drone. And this was way before it was definitely like ... I didn't know at the time you shouldn't do that. The technology wasn't ... I mean, my ignorance was definitely my best friend there. I didn't know you ... I'm just like, yeah, sure. The guy says it'll do it, great. So, we did a couple projects and started to realize that people were paying us a lot of money to get this very stuff and not only is it replacing a helicopter, but it's a purely visual business. They're not paying us for drones, they're paying us for pretty pictures. Tyler: You mentioned just kind of some really big-time clients. When you look at the list of people you've worked with, from movies and TV and commercials, do you ever just pinch yourself and kind of think about how cool it's been to work with the people you've gotten to work with? Brian: Yeah, I mean, the ... No, because the unfortunate thing [00:04:30] is, like, you know, we just did a movie with Brian Cranston, we just did a movie with Samuel L. Jackson, and a movie with Kevin Hart and it's like I'm never on location, so my crew is always out there so I'm actually a couple steps removed from it, in a sense. And it's definitely cool when I'm watching trailers on TV for Fast and the Furious 8 and I see some of the shots that we did of cars exploding and failing out of buildings. I'm going, wow, there you go, look at that. Yeah. We're in show business, who would've known. Tyler: Right. Right, cause you've done some big-time stuff. It's pretty cool.on your website too, it says you've shot more live-action footage with a drone than any other company. How did that start and what do you guys feel is the best use of live-streaming from a drone? Brian: Sure. We got very heavily into news broadcasts, so we spent a lot of time and energy in training operators across the country, so the news happens, you know, the news is unpredictable, it's inherent in its nature, so we've kind of built up a roster of people and equipment and have ... You know, we're in New York so we have relationships with all the news agencies and they know where we have people and when something happens and a lot of times it's snowstorms, tornadoes, a lot of it's natural disasters, they know where we have people and they call us to kind of execute that stuff. Going live from a drone, you know, the pressure is heightened, as you can imagine. We've also and that's typically on smaller drone systems. Tyler: Very cool. You kind of eluded to the network of pilots that you guys have throughout the country. What does it take to become an Aerobo pilot? Brian: Sure, so there's a submission form online. We ask probably about 20 questions or so and we want to know everything about, kind of, name to we want to look at a pilot's license if you have one, to what kind of drones do you own? What kind of drones have you operated on? To a reel. Ultimately we're performing high-end video stuff so proof is ultimately in the pudding. Having a good reel is paramount. Tyler: Hopefully some of the pilots that are watching this maybe reach out to you and will be flying for you some day. Brian: Sure, yeah, we're definitely always looking for new pilots. Tyler: Great, well Brian, I appreciate you chatting and teaching us a little bit about your company and the work that Aerobo has done. Thanks for joining us on the Drone Dish. Brian: My pleasure. Thank you.