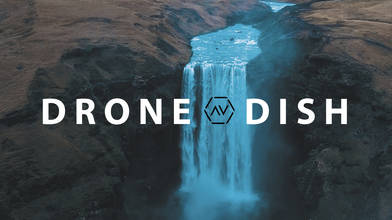 The Drone Dish: Dominick Anskis
AIRVŪZ STAFF NOTE :
After using GoPros to capture video for years, Dominick Anskis, of Fujiabra Films, started flying drone around 2 years ago. He says he was inspired to do so on a trip to Las Vegas because he was tired of his work not having any type of depth perception. Now, he's been around the world - from Utah to Japan, Canada to Iceland and more - with his drone! Check out this episode of The Drone Dish to hear more from Dominick and why he loves to fly.
over 2 years ago
1.2k VŪZ
24

13
Report
Description: On this episode of The Drone Dish, Tyler chats with Dominick Anskis, a.k.a. Where's Fuji. Over the course of several years, Dominick has been involved in videography using GoPros in his travel videos. It wasn't long before he added a drone into his travels, and the results speak for themselves! Be sure to check out Dominick's AirVūz Profile to see more of his videos! And to see more videos from the world's best drone pilots, click HERE! VIDEO TRANSCRIPT: Tyler Mason: Coming to us today from the center of Pennsylvania, Dominick Anskis. Dominick, thanks for coming on The Drone Dish. Dominick Anskis: Yo, thank you for having me. Tyler Mason: Absolutely. I was reading on your website, I know you said you started filming just with GoPro for fun a couple years back and then things kind of changed for you when you started using a drone for your filming. What was that epiphany like when you had a drone and kind of started using that to film stuff? Dominick Anskis: Years ago when we just had the GoPro, it was just all about the POV, point of view and like, you know, just getting the in-close and the action and you never really got a sense of what was going on around you. Dominick Anskis: It wasn't until I think when I was in Las Vegas where instead of having just a Go Pro to look down at the ground or just standing on the edge of a cliff and looking down, you don't really get that depth of perception. But when I sent the done out really far away, and you could see that I was a couple thousand feet off the ground, that's when you're like, "Wow!" You know, stuff like that really makes you appreciate what a drone can do for filming. Tyler Mason: Do you remember when that was that you first got your drone? Dominick Anskis: I got my first ... The first drone that I got was the Phantom 3 and I got that shortly after it came out. So that was like maybe two years ago. Three years ago. Tyler Mason: Now you use a drone and other cameras for your company Fujiabra Films. You do weddings, corporate videos and all sorts of other stuff too. Do you have a favorite type of shoot that you do, be it with a drone or the other cameras? Dominick Anskis: Yeah, I mean, I like to pretty much do anything. I like challenging stuff, getting out and trying something new. I haven't, like I've never tried a music video. I hope to try that some day. My favorite is probably travel films. I get that people say that my films make them feel relaxed and so I like to ... Those are definitely my favorite kind to do. Tyler Mason: Speaking of beautiful places, I know you traveled a lot and you flew at Iceland, which has become a pretty popular place for drone pilots. I've talked to some other pilots about their experience here, but I'd like to know what you enjoyed most about flying there and what you thought that experience was like of flying a drone in Iceland? Dominick Anskis: When you get of the plane, it's like stepping into another planet. It's just amazing the sense around you of like being in the wide open with just stuff that you've never even seen before, because Iceland looks like no place else on the planet. Dominick Anskis: A lot of people go to Iceland in the warm times, Summer and Spring. I always go in the wintertime where I'm faced with rain, harsh wind, snow, and every time I set my drone up in the air, I never knew if it was coming back. Tyler Mason: Speaking of other unique locations you've flown, there's some cool places in the United States including your graffiti highway, an abandoned concrete city. How do you go about finding those type of locations and what's it like to fly at some of these more unique kind of urban settings? Dominick Anskis: The graffiti highway actually is like 20 minutes down the road from me, and it took me 35 years to get there, but I finally made it. As for the concrete city, I had a friend on Instagram tell me about it and that's only like 40 minutes away. The bulk of them are abandoned, and they're very unique and people that were there, I mean, most of the people are just walking around with their cameras. And you know, you only have that, like, look down at the ground for step, and you know to send the drone up in the air and see the half-mile stretch of graffiti road or the, you know, the go up in the air and see like all 14 to 16 concrete city buildings that are there. You know to see the environment and how apocalyptic it looks in that place. Just having a drone is great. Tyler Mason: Last question for you. You've flown some pretty cool places already, but where is on your drone bucket list that you would love to fly? Dominick Anskis: Australia. Australia or New Zealand. Probably New Zealand I would love to get to. Dominick Anskis: I've seen a lot of footage online. It looks amazing. I love any place that you can go and just have wide open area, no people, no restrictions, and just be with nature. I love it. Tyler Mason: And Norway's on top of the list for me. That's my number one drone bucket list item. But those places sound great too, and Dominick, we hope you get there some day and take lots of great footage, but for now we enjoyed having you on the Drone Dish and keep up the great work. Dominick Anskis: Hey, I appreciate it. Stay tuned for Norway. Tyler Mason: Alright. Dominick Anskis: Enjoy.