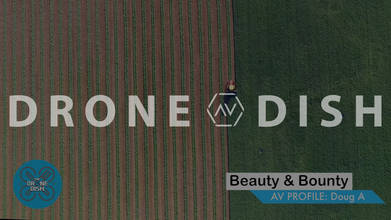 The Drone Dish: Doug A
AIRVŪZ STAFF NOTE :
On this episode of The Drone Dish, Tyler chats with Kansas-based pilot Doug Armknecht. Doug was a finalist in the news/documentary category at the 2017 New York City Drone Film Festival for his film "Beauty & Bounty." He talks with Tyler about that film, what it was like to be a finalist in the festival, and about his favorite parts of showcasing harvesting and other farm activities from a bird's eye perspective.
about 5 years ago
2.5k VŪZ
19

10
Report
On this episode of The Drone Dish, Tyler chats with Kansas-based pilot Doug Armknecht. Doug was a finalist in the news/documentary category at the 2017 New York City Drone Film Festival for his film "Beauty & Bounty." He talks with Tyler about that film, what it was like to be a finalist in the festival, and about his favorite parts of showcasing his home state of Kansas with a drone.

You can see Doug's profile by clicking HERE.

For more highlights from the world's best drone pilots, click HERE.

And for more amazing aerial views, check out AirVūz.com READ THE FULL VIDEO TRANSCRIPT HERE: Tyler Mason: We're thrilled to have another New York City Drone Film Festival finalist join us here on the Drone Dish. Doug Armknecht. Doug, thanks for joining us. Doug Armknecht: Thanks for having me. It's really good to talk to you. Tyler Mason: We met out in New York and I got to see your film, "Beauty & Bounty," which was a finalist in that festival. What was it like for you when you found out that your film had been accepted as a finalist in the festival? Doug Armknecht: It was pretty awesome. I was amazed. I actually applied the first year, the first time I ever hear about the Drone Film Festival. I was like, "Man, this would be awesome to be in." But [00:00:30] the first it was going, I didn't have a very good drone and wasn't very good at editing, so it didn't make it in. But this year I put it in, I knew there were tons of entries, so I knew it was still a long shot, even if I had a good film. So, I was really surprised but really glad to be in. Tyler Mason: You're from Kansas and it looked like the reaction back home in Kansas was pretty awesome. What was it like to get that recognition and have people see your work and really appreciate the work that you did? Doug Armknecht: it was good. The harvest [00:01:00] videos I make have been pretty big around Kansas. When I found out I got into this film festival, I put it out to a few places and a lot of places approached me and said, "Can we do a story about this?" It was front page of The Wichita Eagle, which is one of the biggest newspapers in Kansas. Yeah, people are really glad to see Kansas recognized in New York City. Tyler Mason: Tell me a little bit about that film. It was obviously some aerials and some ground footage as well. What was the idea behind that and how did you execute that video? Doug Armknecht: Yeah, well, I've been making harvest videos since 2012, so each year I make a longer one. But this one is tailored more for the Drone Film Festival, so it focuses more on the drone shots. Additionally, I had my father-in-law, who farms on the farm featured in the video, I had him just do some voiceover work about how drones are useful to get different views, and how we're able to share those with the world. It's a combination of just talking about drones on the farm [00:02:00] and it has a nice edit of the 2016 wheat harvest. Tyler Mason: I know you have a company, Kansas Farm Imagery, I believe is the name. How did that start and then how did you decide to use drones and show agriculture and farming in Kansas? Doug Armknecht: Yeah, it's called Kansas Farm Imagery. That's just what I call it for now, just so I have a place where people can come to and watch the videos and watch the films. As far as using drones in agriculture, I think I first saw [00:02:30] a drone used for harvest maybe back in 2013, 2014. I don't know if it was a drone or it might have been a powered parachute or something. Whatever it was, it was a low aerial shot and it brought a whole new perspective. I'd been doing harvest videos already and seeing the harvest from that angle, I thought, man, I got to get one of those. My father-in-law actually bought the first drone because he said, "Here, you can fly this and see what kind of angles you can get with this." It just kind of took off from there. Since then, I've been doing [00:03:00] drone shots of agriculture ever since. Tyler Mason: When we hear drones and agriculture, we usually think of maybe mapping or thermal imaging in terms of monitoring crops, but obviously you use it for a different purpose. What's your favorite part about really showcasing some of the imagery and the farming in your area? Doug Armknecht: Yeah, I really enjoy showing it because a lot of people don't get to see it. Even if they see it, they might just see a combine or a tractor going by along [00:03:30] the side of the road. This shows the whole picture of what's involved with harvest, what's involved with farming, and really the great views you can get and how amazing it is to see a sunset or just to be out in the field. I think it really gives scenic value, even to people that have no idea about what farming is or don't really get to see it much. Tyler Mason: What kind of equipment, drone-wise, are you using these days? Doug Armknecht: Right now I'm using a DJI Phantom 3 [00:04:00] Pro, which is about two years old now. It's a really solid piece of equipment. The winner of the Drone Film Festival this year actually used a Phantom 3 Pro. It's getting a little outdated, so maybe I'll be upgrading soon, but yeah, it's really amazing. Tyler Mason: Still a pretty solid drone, all things considered. I know a lot of people still use it. You have another film that you put together, "Surprisingly Scenic Kansas," which includes a lot of aerials of Kansas, obviously. The title, was it something that you were surprised by or how did you decide on [00:04:30] that name and what was the idea behind that film? Doug Armknecht: I think I decided on that name because I'd seen these surveys of the different states and where they rank as far as scenery. Seems like Kansas always gets number 50. Nobody thinks Kansas is scenic, which it really is when you get to spend some time here. But I think the drone really shows off the Kansas scenery, because it's not like when you're in Colorado and the mountains are up there and you can see them all. A lot of times, since it's fairly flat, you don't get to see all that great [00:05:00] scenery. But you get that drone up in the air and you get to see all the fields and hills and the green and the gold. I think it really lets it shine. Tyler Mason: Now, what's next for you in terms of drone work? Do you think more people in the farming and agriculture industry are going to use it for these type of aerials? Doug Armknecht: Yeah, people have started to use it a lot more for these types. You can go on YouTube and you can find all kinds of harvest videos with drone aerials. Some are really good and some are just getting started. But as far as what's [00:05:30] next for me, yeah, I'll probably be doing some more, some video of some spring activities, which I haven't really done before. Things like planting and spraying, those kinds of things. I will be doing the LaRosh harvest again, which is my annual video that's the most popular. I've got a few other projects I might be working on, too. Maybe some promotional type things for Kansas and some other harvests. Yeah, we've got a few things [00:06:00] in the pipeline and I'm pretty excited. Tyler Mason: We look forward to seeing more of your work. Congratulations again on being a finalist in the New York City Drone Film Festival. Thanks for joining us today, Doug. Thank you, appreciate it.