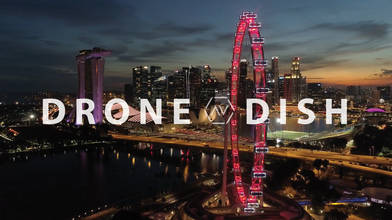 The Drone Dish: Fabio Knoll
AIRVŪZ STAFF NOTE :
Like many great aerial cinematographers Fabio Knoll first started flying drones when he was hired to work on a popular TV show in his home country, Brazil. He says he likes using drone shots as establishing shots and that he loves using his UAV to capture the experience of a location. With videos from Singapore, Turkey, Brazil, Jordan, his "Singapore" video was chosen as a Finalist for the first Drone Video Awards. Check out this episode of The Drone Dish to hear more about Fabio's aerial passion.
over 4 years ago
2.4k VŪZ
35

13
Report
Fabio Knoll got his first drone in his home country of Brazil in 2014, and he hasn't looked down since. With a background in videography and photography, Fabio was hired to help with a travel show in Brazil, but as a prerequisite he was required to learn how to drone before he could work.
His focus on the narrative has always defined his approach to filmmaking, and including drone shots can be the perfect complement for a strong narrative.
Fabio's travels have taken him all over the world, including places such as Singapore, Turkey, and the Wadi Rum Desert, just to name a few.
You can see the rest of Fabio's work on AirVūz HERE.
For more highlights from the world's best drone pilots, click HERE.
And for more amazing aerial views, stay tuned to AirVūz.com.
VIDEO TRANSCRIPT: Tyler Mason: All the way from Brazil, Fabio Knoll joining us. Fabio, how's it going today? Fabio Knoll: Very good. Tyler Mason: Great, great. Well thanks for joining us on The Drone Dish here. I know you've been into videography and photography for quite a while, but when did you first add drones into your work. Fabio Knoll: Well, in 2016 I was called to be part of a group, a TV show, a very popular TV show in Brazil. I never had even touched a drone before, so I had to learn it very fast. Tyler Mason: Do you remember what kind of drone it was? The first one you flew. Fabio Knoll: It was a Phantom 4. Tyler Mason: Okay. Really nice. I know on your website you say that you like to tell stories. How does using the drone in some of the work that you do help you tell stories? Fabio Knoll: Well, it's a very important narrative. When you see a movie, there are establishing shots that easily are the first shot of a new scene. It's usually a wide shot or an extreme wide shot, so the drone is very useful in that sense. Tyler Mason: Now I know based on watching your videos you travel all over the world and take some pretty cool videos from a lot of different locations. What's your approach and your philosophy when you travel with a drone? Fabio Knoll: For me it's all about experience. The use of the drone improved a lot my experience of the world. It's a very privileged way of seeing the world. It helped me a lot to experience fantastic places, and it helps me a lot to share it. Tyler Mason: I wanted to mention one video in particular of yours that you did. It was of Singapore, and it was in the Drone Video Awards contest we did here at AirVuz. What was it like to film those kind of unique structures? I don't know what they're called, but what was that like to fly in Singapore? Fabio Knoll: Oh, it was amazing. It really was like flying over a sci-fi movie. Singapore's like a door to the future. Was truly amazing. Tyler Mason: And my last question for you. I mentioned you've flown a lot of really cool locations. Do you have a favorite place? A favorite city, or country, or just a destination that's been your favorite to fly? Fabio Knoll: I think Wadi Rum Desert in Jordan. It really made a huge impact on me, kind of a spiritual experience, and also Pia Glacier in Chile. It's like worship, the place, it's fantastic, and the drone gives me a very good possibility of experience that in a way that would be impossible without it. Tyler Mason: Awesome. Yeah, I've been a fan of your work for quite a while Fabio. Keep it up, and we really appreciate you joining us on The Drone Dish today. Fabio Knoll: Very good. It's very nice to be with you.