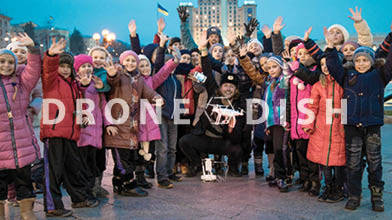 The Drone Dish: Global Degree
over 4 years ago
5.7k VŪZ
22

10
Report
On this episode of "The Drone Dish," host Tyler Mason is joined by Mike Graziano of Global Degree. The idea of Global Degree is to visit every country in the world before Mike and his friends turn 30. Along the way, they've brought a drone (and other cameras) to document their adventures. Hear from Mike about some of his favorite locations in the world that he's flown his drone.

To see Mike's videos, check out the Global Degree profile!

To follow along with more of Global Degree's adventures, visit their website.

For more episodes and highlights from the world's best drone pilots, check out the The Drone Dish main profile page!

And for more amazing aerial views from all of the world, check out AirVūz.com READ THE FULL VIDEO TRANSCRIPT HERE: Tyler: We're excited to be joined by Michael Graziano from Global Degree. Michael, thanks for coming on the show. Michael: Thanks for having me. Tyler: You know, I like to think of myself as someone who enjoys traveling, but you and your friends at Global Degree take it to a whole other level. Tell me about how you guys came up with that idea for Global Degree. Michael: Yeah, sure. We came up with it three years ago. It started with just a simple, three-week trip to Thailand. I realized a couple of things. How cheap it is to travel when you do it through [00:00:30] the hostels and kind of the backpacker style. I overcame a fear of loneliness traveling on my own. I realized I could make friends everywhere I go and how easy it is to make friends, again, at hostels. And then just misconceptions. Really, people said, "Don't go to Thailand on your own. You're going to get drugged. You're going to get robbed. You're going to get kidnapped." Just all these scary things from people who have never really ... [00:01:00] never really left ... or traveled very often. And I will ... I was afraid at first. But then I went down there and just realized how wrong they were. And when I tell this story to other people, they're like, "Well, you think Thailand's cool. Come to Kenya. Come to Israel. Come to South Africa." So I said, "Well, wait a second. What if the whole world is this awesome place? And how many misconceptions are in my mind?" So on the last day of the trip, I just made a promise [00:01:30] I was going to go to every country in the world before I turned age 30, or I was going to die trying. And made this kind of ancient style sacrifice. And four months later, I got a couple of sponsors to back us and then we were off. We did ... started by doing all Central, South America four months after that Facebook post. Tyler: I imagine there's a lot of challenges that you encounter along the way. What's been maybe the toughest part so far about doing this and traveling to so many countries? Michael: [00:02:00] Toughest part. We're traveling so fast, so experiencing the best of each country at this speed. There is not much down time. Any down time you have, we're just editing videos and photos, or managing the Facebook pages and social media. So it's just constantly go, go, go. It's all one big blur. Luckily, we have the cameras on at all times so that we can kind of recall all the moments and experiences we had and kind of relive the [00:02:30] adventure. Tyler: And I imagine having a camera rolling at all times, in a lot of cases, that includes a drone. You're the guy flying the drone. How did you decide to incorporate that into the footage that you guys are taking on your travels? Michael:Yeah. So there's three of us this year. It's funny, I got a drone last year for Asia. And I think I flew it about three times before I crashed it at the Full Moon party. I flew it and the wind got ahold of it and a couple of propellers had been chipped, but we didn't have any propeller replacements. So the wind just blew it out. It was so far away, I [00:03:00] couldn't even tell if I was flying toward or away from myself. And the camera was just pitch black. So I didn't know what was going on. And then it just ... wind got hold of it and I was just watching this thing go into the water and kind of give it a final salute on the way down. That was the Phantom 3. But then season four, we go the Phantom 4, you know, right after its release. And yeah, this time around, I just ... you know, Alex ... Alex is our videographer and Andrew also is a videographer, but [00:03:30] also is helping with photos. And then I just kind of took the position of the drone pilot. And I was flying it every day for about nine months. And somehow this thing survived the journey. I think I have 870 drone shots from Europe. Tyler: And of all the places you've flown, do you have a favorite either location or favorite shot that you've captured with the drone along your travels? Michael: There's a couple legendary ones. One of them is the spiral tower in [00:04:00] Sintra, Portugal. Really narrow tower and we had to get it all the way down and just raised it up. There was a little bit of rain that was falling, but we just went for it anyways. And that was a nerve-wracking shot. And our guides said that they'd never seen anyone get that drone shot before. Tyler: Congratulations. Michael: I really liked ... we did a ... we did a hike in Bosnia, which we got some really interesting shots from. I enjoyed that. We did the Trolltunga [00:04:30] Cliffs over in Norway. I got some just spectacular stuff there. And yeah, just any real landscape, any heights, any, you know, kind of cliff shots, those are the ones ... usually the ones that do really well. Cappadocia, Turkey, I got all the hot air balloons in the morning. That was spectacular. Tyler: I know that just flying where I live, I get people questioning all the time and interested in the drone. I'm sure in your travels, you've had people kind of wondering maybe what it is, or what it ... how it works. Has that been pretty [00:05:00] cool to kind of educate people about the drone and maybe show them views of their area that they haven't seen before? Michael: It attracts a lot of attention. In Asia, especially, you get crowds forming. And yeah, especially the kids always come running up to us. And they wanted to see ... see the screen. They want to see the drone. And yeah, it definitely gets a lot of attention. There's no way around it. And every now and then, I see other drone pilots flying their drone and all I can do is watch. So now I know how it feels. Tyler: And where are you guys off to next? Michael: [00:05:30] Yeah, we're going to head off to the Pacific Islands. So we're gonna start off in probably Fiji. And then head off to all the small [spawns 00:05:38] there, too, [Lutonga 00:05:39], Micronesia, Vanuatu. I know we're going to try to fly into Russia, and do Trans Siberian. And then head into Kazakhstan and all the 'Stans. Probably flying from Dubai over to Miami. And there we're going to go take the Caribbean Islands from Bahamas all the way down to Trinidad-Tobago. Tyler: Well, I'm very jealous of your travels. [00:06:00] I've lived vicariously through the videos and the drone footage that you guys have shot. So it's been fun to chat with you, Michael. And best of luck and safe travels the rest of the way on your journey. Michael: Awesome, man. Thanks so much for your time. And it's an honor to be a part of the community and look forward to meeting the members and, hopefully, collaborating with some people in the future.