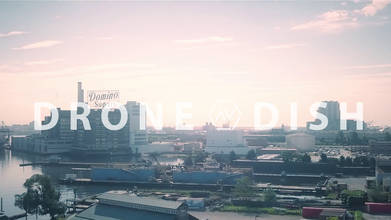 The Drone Dish: Jeff Walrich
AIRVŪZ STAFF NOTE :
In this segment of the Drone Dish, Tyler catches up with top contributor Jeff Walrich (profile: Jeff Walrich - TK-421). Hailing from the Baltimore, Maryland area, Jeff has emerged as a multi-talented drone pilot and aerial videographer. His cinematic videos feature footage from some of America's great cities and unusual sights), and lately he's picked up the fine art of flying micro-drones as well. His videos are featured in the Mid-Atlantic as well as numerous city collections on AirVuz.
about 3 years ago
1.3k VŪZ
21

13
Report
In this episode of the Drone Dish, our host Tyler Mason chats with Jeff Walrich, a long time user of AirVūz, about his passion for drone cinematography and Tiny Whoops. This Washington D.C.-based drone pilot needs to travel outside of the area to fly drones legally because of the large no-fly zone in D.C. Some of his more popular destinations for drone footage include Baltimore and Virginia. Jeff also talks about how he got into flying FPV (first-person view) drones, specifically the popular Tiny Whoop style of quad. Watch the episode to find out more! To see more of Jeff's work, check out his AirVūz profile HERE. To watch more interviews with drone pilots from around the world, click HERE. VIDEO TRANSCRIPT: Tyler Mason: We're excited to have longtime interviews contributor Jeff Walrich on the Drone Dish today. Jeff, thanks for coming on the show. Jeff Walrich: Thanks, Tyler. I'm looking forward to this. Tyler Mason: Absolutely. I remember, one of the first videos of yours that i was drawn to was of a bunch of statues of the presidents' heads. It was something that I'd never seen before. I thought it was pretty unique. First of all, what and where was that? When you saw that, did you know that you had to drone that? Jeff Walrich: Yeah. I was going down to, my family was going down to Great Wolf Lodge in Wilmington. One of my friends, Juan, was like, "You've got to check out these president heads". It's not anywhere on the map. You go to this gas station and you turn right. Then there's this long driveway to this place. If you've ever seen Hills Have Eyes or anything like that, it's a little sketchy. But we rolled up in there and we talked to the folks. They let me back there. It was getting towards late at night so I didn't have a whole lot of time to drone. I went back to the hotel and I was like, "I have to go back in the morning". What I've heard is that they usually don't take visitors on the weekdays. But I went up there and actually got to meet the owner. He told me this whole history lesson about the place and how he got them, and what he's going to be doing with them. He goes, "Yeah, go ahead and drone all you want back there". That's when I got a lot of that footage. But seriously, when you go to those, they're like 30 feet high of all cement. It is just a huge massive display. It's awesome, and I was like, "Yeah. We've got to do this". I was trying to get as many shots as I could. It's still one of my favorite places to, the videos that I created on that. Tyler Mason: Another one of your videos I really liked was of an abandoned asylum that was I think from the 1800s. Kind of an eerie place. What was it like to film a location like that? Jeff Walrich: Yeah. Me and three of our friends that are real close, Juan, Robert Birgey, James Pickerson, we were all together. We go on some trips. We headed and scoped out some places in West Virginia. Because if you don't know, we're in DC, which is the strictest airspace in the country. When we go to drone some things, we head out. We went to West Virginia and mapped out this place. When you kind of rolled up to it, it just happened to be that day where it was kind of overcast. It kind of made the place surreal. Tyler Mason: A lot of the videos you've done are of Baltimore. You got some pretty cool shots there of the Domino Sugar sign, which I thought was cool. The Under Armor headquarters. That was pretty unique. How is the city of Baltimore from a drone pilot's perspective? Jeff Walrich: Baltimore is unique. It's totally different from DC or northern Virginia. My good friend Robert Birgey is up there. He lives up in Baltimore and he's been there for his whole life, so he knows all the cool spots. We've done some in town a little bit, and outskirts of Baltimore. There's just a lot of industrial type buildings and things there. The docks are there. There's a lot of cool things to film. It's about a 40, 45 minute drive for me. A lot of times we'll head up to Baltimore. They have a really cool spot, this graffiti ally that we did. There's just some unique spots up in there. Tyler Mason: My last question for you, Jeff. We don't get many guests on the Drone Dish who also fly tiny whoops. But as someone who, I personally fly tiny whoops as well. I think it's pretty cool. How did you get into that, and how do you enjoy that versus flying the camera drones? Jeff Walrich: Yeah. You know, I'm actually, I'm addicted to those little drones. I mean, I have I think 13 tiny whoops right now. More than I need. But we started getting into them. Our group started getting, our group of four started getting into them. Actually on the West Virginia trip we all started talking. Since you can't fly an FPV outside that's around DC and that, we've decided, what if we got these whoops and started making races? No one in DC was doing it, so we kind of just took that ball and started running with it. I love flying those. I can fly them inside. They don't hurt if you get hit by them. You can pop on your goggles anywhere and start flying indoors. That's the cool thing. I have some five inch racers also, but you need a big space for those. You need to travel outside, definitely outside of here, to fly those. The tiny whoops just make it real easy to fly, and we can get a bunch of them. We can get it in the house and set up a course in a matter of minutes and start flying. Tyler Mason: Well Jeff, it was fun having someone on the Drone Dish who flies camera drones and tiny whoops. I enjoyed chatting with you about that. Thanks for coming on the Drone Dish today.