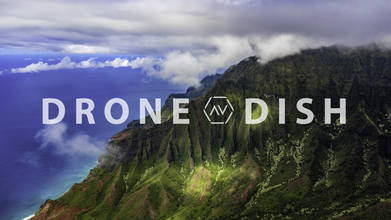 The Drone Dish: Majestic
Updated 12/15/2019 08:00

In this segment of the Drone Dish, host Tyler Mason catches up with Noel Thomas aka Majestic. Winner of one of the first Drone Video of the Week awards, Thomas is known for his epic hyperlapses and timelapses of cities and landscapes around the world. His work is featured extensively in the New York City, Miami, Hawaii, Toronto, Hong Kong, and numerous other City and Country collections on AirVuz. He'll share what it takes to create one of those videos, cities that are on his "hit list', and more.
almost 3 years ago
1.5k VŪZ
22

13
Report
On this episode of The Drone Dish, Tyler Mason catches up with Noel Thomas - AirVūz profile Majestic - to talk about his work. Noel, who started flying about 5 years ago, says that he got into the hobby just to have fun flying. It took about a year for him to start flying as a cinematographer. He's now best known for his incredible hyper-lapses of cities and landscapes. Noel talks about his Phantom 4 Pro and his new DJI Mavic 2 Pro, and even gives a few tricks of the trade when it comes to picking a location for a great time-lapse or hyper-lapse. He'll also talk about camera settings and editing techniques for creating the best hyper-lapses with your drone. His favorite locations he's flown? Hawaii and Bermuda. Find out why by watching! Thanks for joining us, Noel! You can watch more of his work by following this link - www.airvuz.com/user/majestic/videos Catch up with other talented pilots on past episodes of The Drone Dish HERE