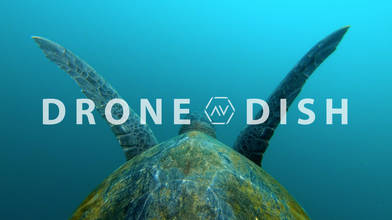 The Drone Dish: Mike Sember
AIRVŪZ STAFF NOTE :
A firefighter from Florida, Mike Sember doesn't use drones for a living, but as a way to show people all the exciting places he's been fortunate enough to explore. Showing the Galapagos Islands, Peru, Costa Rica, and more via a DJI Mavic by air and a GoPro underwater, Mike's videos are always full of adventure, color, and animals. Hear more about Mike's favorite trips and how he uses his drone footage in this episode of The Drone Dish.
almost 5 years ago
699 VŪZ
20

6
Report
Firefighter and paramedic Mike Sember brings his drone with him on his world travels, which includes trips to Peru, Costa Rica and more. Hear about some of his favorite locations he's flown his drone, and find out what it took to put together his Galapagos Islands video (which was nominated for the AirVūz Drone Video of the Week contest). To see more of Mike's work, click HERE. For more interviews with drone pilots from all over the world, see additional Drone Dish episodes HERE. VIDEO TRANSCRIPT: Tyler: On the Drone Dish today, we have a firefighter from Florida, Mike Sember. Thanks for coming on the Drone Dish. Mike: Thank you for having me. I'm really honored. Tyler: As I mentioned, you are a firefighter and a paramedic, a job that I'm sure keeps you pretty busy, but how did you get into flying drones in the first place? Mike: Well I've always had a passion for traveling and adventure, and I'm blessed to have a career that allows me to travel and live my dream with days off. I also enjoy capturing my experiences, and sharing. So in 2015, I bought my first drone, which was a 3DR Solo drone, and that's just another tool in the toolbox to use to capture those experiences and share. So I utilized that drone. It used a GoPro camera, and it was ... had a big backpack, and it was sometimes hard to lug around and travel and do long hikes with, but now I'm using the more user friendly DJI Mavic Pro drone that is super friendly to travel with. Tyler: In one of the videos on AirVuz of ... caught my eye of yours, was of the Galapagos Islands. It was up for the drone video of the week contest here at AirVuz. Tell me about that experience, to not only visit the Galapagos, but also to be able to capture the images that you did. Mike: Yes, thank you. That was an absolutely amazing experience, and I went there with my best friend. It had been on her radar for a really long time. We did the research before the trip, and we utilized the resources on the island to get out and capture the shots, and try to put together a lot of cool footage to share. Tyler: Well the end result was worth it. It was a pretty awesome video. I'd encourage people to check it out. Mike: Thank you. Tyler: Another one of yours that I really liked was from Costa Rica. You visited eight waterfalls in a 24 hour span, pretty quick trip there, pretty packed in there. What was the idea to visit those in that short of time, and also to film them while you were there? Mike: Yes, I did some research, and logistics, and I thought it was possible to do these eight waterfalls. And then I thought it was possible to do it in 24 hours, so I got a car and I was able to do the eight waterfalls. I did three in one day, and four in the next morning, and I was done. But it was a truly amazing experience to fly the drone and hike in the jungle pretty much by yourself. It was definitely hard because I was having to fly the Mavic under a canopy, and I almost lost the drone twice due to low satellites, and it actually got attacked by a hawk at one point, and almost got knocked out of the air. But everything worked out, and I was super excited on that trip. Tyler: You had another awesome trip it looked like, to Peru, a place I had to visit last year, but I didn't bring my drone. You did on your trip. Tell me about flying there. I know you said you were kinda blown away by the scenery and the landscape of that. What was it like to fly in Peru? Mike: One word for you, intense. That was probably one of the best trips I have ever done as far as adventure and the experience. And flying the drone on that trip was very intense. We had a changing environment on one of the drives, it seemed like every ten minutes. And it was kinda scary. We were going on roads that were switch backs. You had 20 to 25 mile an hour winds at some points, and your elevation reaching 15,000 feet, and I was flying the Mavic from the backseat of a car because that was what I wanted to capture. So I think we did a good job of capturing it, and I recommend it to anybody. Tyler: My last question for you. I mentioned off the top that you are a firefighter. Has your unit at all, used drones for anything, you know, rescue situations, or that type of thing? Or is it something that you think fire departments could be using in the future? Mike: My department, no. We have utilized it unofficially. The answer to the second part of your question, a lot of fire departments do use drones. It has worked out very well for them, and I think it's another tool. If used right, it's absolutely going to be an asset for emergencies and first responders, and reporting to any major incident. Also, which is overlooked for us, is using a drone to capture training. It's a very good tool to have up there when we're doing any kind of training, whether it's on the ground, or on a high rise, or on a ladder, to see a different perspective and go back and watch it. Tyler: Do you have any travel plans coming up? I know you said you go to the Bahamas a lot. Anywhere else that's on your list coming up shortly here? Mike: Yeah, the Bahamas is ... I'm going to go to the Bahamas in a couple weeks I believe. I do a lot of short trips to the Bahamas, but I have a long bucket list. I wanna do the Azores. I wanna do Baja, Indonesia, New Zealand is on that list, and then yeah go from there. But, one at a time. Tyler: Hopefully you bring the drone with you so we can live vicariously through your travels 'cause you get to go to some pretty cool places. Mike: I really appreciate it. Tyler: Yeah, we really appreciate you coming on the Drone Dish today. Thanks again Mike. Mike: Thank you. Thanks for having me.