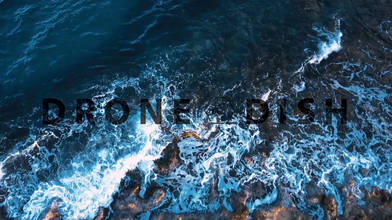 The Drone Dish: Oliver Astrologo
AIRVŪZ STAFF NOTE :
Top content creator and drone pilot Oliver Astrologo has been flying drones since 2014 but creating films for much longer. In his films of places like Malta, Myanmar, and Catalonia, he focuses on combining epic aerials with ground footage of both people and places. On this episode of Drone Dish, you'll hear more tricks of the trade from the impressive cinematographer, whose video "Venezia" has been chosen as a Finalist in the Cities category for the second annual Drone Video Awards.
over 3 years ago
1.5k VŪZ
30

13
Report
London-based filmmaker Oliver Astrologo joined "The Drone Dish" to talk about some of the breathtaking films he's worked on, many of which include aerial footage. Watch the episode to hear how Oliver believes drones can be used to accompany ground footage, and find out where his favorite location is that he's ever droned. To see Oliver's drone work, click HERE. To hear from more spectacular drone pilots, check out the rest of "The Drone Dish" episodes HERE. VIDEO TRANSCRIPT: Tyler: Coming to us all the way from London today, we have Oliver Astrologo on the Drone Dish. Oliver, thanks for coming on. Oliver: Hi Tyler, thank you for inviting me. It's a pleasure to be here with you and all the viewers so I have views. Tyler: Absolutely, we're glad to have you. Now, I've been following your work for a little while now, but I'm curious, when you started using drones in your filmmaking. Oliver: I started very early. Basically, my first drone was back in 2014. I've got to be honest, the person that influenced me to the drones was my brother Neils, he is also a video maker. I definitely suggest to have a look to his portfolio. I do remember this drone. It was a Phantom Pro 2. It's quite different than the drones that we have today, especially from the technical side. I do remember that we didn't have the screen and so basically, we were flying completely blind. It is the first time that we experienced the different point of view that you can achieve just using the drone. Tyler: And you obviously use a lot of drone footage in your work. What's your philosophy and your approach when using drone videos in your films? Oliver: I believe that the drones should not be main element when you are producing a video. The drone, they are just a tool, a creative tool that you can use to integrate some aerial footage, some stunnings point of view inside your videos. For this reason, all my videos are mainly with a part of drone. I use the drone mainly for to establish shots and to introduce the locations. And then I integrate some ground shot with my camera. Because sometimes the drone give a great overview of the location, but they are too far from the people or the things that you can see when you are on the ground. Tyler: I looked at your website before we chatted, and it says that, "Any piece of work you do should stir the emotions of the viewer." Why is that important to you, and how do you attempt to do that in your films? Oliver: If you look at my videos, you will never see elements that are not related to the destinations. In my videos, you cannot find tourists, garbage, or any things that isn't authentic, original. I'm really take care when I shooting to focus only the local people. Basically, my concept is to show the destination from the point of view of the local people. The point of view of the people that are living in the destinations. Tyler: They did that in your video of Myanmar, which is one of my favorites of yours that I've seen. Tell me about putting that film together and what that was like. Oliver: Oh, thank you Tyler. The video of Myanmar was a personal project. I'd been in Myanmar back in 2018, in January. And, in this case, since it is a personal project, I tried to travel as light as possible. So, I brought with me only one camera and my Mavic Pro for the drone. This way of traveling give you more freedom to have creativity because you can move in between another location to another without planning in advance. I followed it a lot on the local artisan people. I believe that the local artisan, they represent in a certain way, the tradition and the culture for a country that I am visiting. Tyler: I believe you said you're currently using the DJI Mavic as you travel? Oliver: It depends. When I'm doing my personal project, I'm also using the DJI Mavic Pro. I prefer the DJI Mavic Pro compared, for example, to the Mavic Air because of first, longer ranges in term of the flight where you can distance. It's more affordable for that. For my commission project, usually I prefer to use the Phantom 4 Pro because, as a better camera, offer better quality of video footage. Tyler: They're both a lot better than that Phantom 2 you were using, a lot better drone. Oliver: Yeah, it is a big difference. But, I have to say that sometimes it's not only the camera that provides the quality. A very important thing when you're using the drone is to find the right moment to use it. From my side, the best moment use the drone is the sunrise or the sunset. You have not to be lazy, you have to get up early, especially in the early morning, the places are not crowded. So, for you, is easier to fly with the drone without bothering the people. And, the light is absolutely perfect. Of course, the drone's camera has some technical additions, but if you find the way to get the best from the camera, the result absolutely satisfying. Tyler: We talked about the fact that you use a lot of ground footage in your videos to go with the drone footage. What equipment are you using for that ground footage? Oliver: I'm also using the Sony cameras. My favorite camera actually is the Sony a7R III. The reason, because I love this camera, because I can capture video, also use the camera for capturing some high resolution photos. And the Sony 7R III offer plenty of megapixel for resolution. Tyler: Of all the videos I've watched, you've been to some really cool places, and I know you've got some travel coming up as well. Of everywhere you've been, and have been able to fly, is there a favorite? Oliver: I have a very good memory of Malta. Malta is a beautiful island in the south of Mediterranean. And, I love this place because it's not very big, and offer a very rich landscapes. My Malta videos, you can see a good mix of landscapes, also cities, human environment. And also, it's not very complicated in terms of laws to fly and to obtain the permits to fly in Malta. Tyler: Well Oliver, I appreciated learning a little bit more about your work, I can't wait to see more, and we're thrilled that you're on the Drone Dish with us today. Thanks for coming on. Oliver: Thank you, Tyler. It's my pleasure.