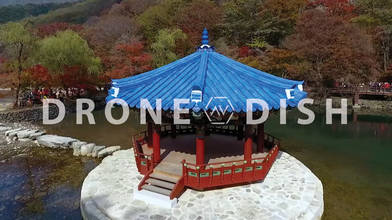 The Drone Dish: RoamwithJohn
AIRVŪZ STAFF NOTE :
Contributor John Lee, aka RoamwithJohn, hails from Seoul, South Korea. While he travels the world making drone videos, some of his best come from his home country, including his videos of Seoul, Neejangshan National Park, and other spots. His videos are featured prominently in the AirVuz South Korea collection, among others. In this episode of the Drone Dish, host Tyler Mason chats with John about his interest in aerial videography, his travels, and his favorite spots to fly in South Korea.
over 4 years ago
2.4k VŪZ
19

9
Report
Description: On this week's Drone Dish Tyler talks to John Lee, who was gracious enough to chat in the wee hours of the morning all the way from South Korea! We learn some of his techniques and tricks of the trade for how he gets fabulous shots while roaming on his travels!

Check out John's profile, click HERE.

For more highlights from the world's best drone pilots, click HERE.

And for more amazing aerial views, check out AirVūz.com VIDEO TRANSCRIPT: Tyler Mason: For the first time on a Drone Dish, we travel to Korea, where John Lee, known on AirVuz as Roam with John, tells us about the footage he's captured in South Korea. John, thanks for joining us. John Lee: Hey, thanks for having me, Tyler. Tyler Mason: Now, you're a travel Vlogger. Tell me a little bit about what that is and how you incorporate your drone videos into being a travel Vlogger. John Lee: Yeah. So, as a travel Vlogger, or before I started traveling, I [00:00:30] noticed that there wasn't a lot of videos of, you know, footages outside of Seoul. So, my goal was to, actually, capture the beauty of Korea, that, you know, other people didn't capture. So, yeah. Also, the biggest mindset is, can my drone take footages of things that I can't do by foot? So, a good example [00:01:00] is the Seoraksan waterfall. You know, you can't get to that by foot, but with my drone, I was able to capture this beautiful scenery. The second thing that I think about is, can my drone give me more perspective on top of my GoPros that I take around? Tyler Mason: Right. You, kind of, mentioned the fact that we don't see a lot of drone footage of South Korea. Are the regulations there tough, or is it a pretty good spot to fly? John Lee: As far as Korea goes, I believe, [00:01:30] drones is relatively new, but it is a very popular activity and hobby. Regulations, it's just same as the FAA in the States. So, you know, you can't fly over 400 feet, or you can't fly within airports and so forth. As for me, I take extra precautions, because there are a lot of hidden military bases here. So, I have to double or even triple check different apps [00:02:00] to make sure I'm not flying in those restricted areas. Tyler Mason: Right. Now, what kind of ... I'm curious about your technology ... Do you use the drone and also editing software, what do you use for both of those? John Lee: So, I have a Phantom 4, right now. Hopefully a Mavic will be coming in soon. Just waiting on DJI. As far as softwares, I use Premiere Pro. Tyler Mason: Okay. Very cool. That's similar to me too, so, it's the same things I'm using right now. Based on your footage, South Korea looks [00:02:30] like it has a lot of different interesting scenery, a lot of beautiful natural scenery. Do you have a favorite type of scenery that you like to capture? John Lee: Yeah. You know, so, the beautiful thing about Korea is, is that it's a small country, so I can go to any National Parks or any beaches or any rivers or forests within four hours. Now, as far as my favorite scene, I love the coastline. Something about the waves and beaches, it's just really calming for [00:03:00] me. Also, not to mention, you know, when I fly my drone and I can see all these beautiful islands in the distance, it's just awesome. Tyler Mason: In your video, Garden of the Morning Calm, it's kind of a pretty interesting scene there. Tell me a little bit about what that was that you filmed and how you, kind of, decided to shoot that. John Lee: Yeah, so, Garden of the Morning Calm, is a really popular garden just outside of Seoul. Every year, during winter, they do a light festival and showcase about 500 thousand lights. [00:03:30] When I went, I happened to have my drone, so I took a chance and flew my drone at night and captured this amazing view that I don't think anybody had see before. Tyler Mason: Yeah, that was pretty cool. That was one of the first ones you uploaded that, kind of, jumped out to me a little bit. It was something I hadn't seen. Another one of your videos, Blue Crystal Village, there's some unique architecture in that video. Did you know much about that area before you flew there, and what was it like to see it from the drone perspective? John Lee: [00:04:00] So, luckily, Blue Crystal Village is right next to where I live. The first time I went I saw it. The second time I took pictures of it. The third time was video, and the fourth time is when I had the drone, and I flew it up. It was pretty amazing to see something different and unique. What I love about it, is you don't really see this unique architecture here in Korea. In fact, the only other place I [00:04:30] can think of is called Petite France, which is right next to Garden of the Morning Calm. Tyler Mason: Cool. Well, John, we thank you for staying up late in your time here and joining us on the Drone Dish, all the way from South Korea. We enjoyed having you and thank you for giving us a little tour of where you're living. John Lee: Yeah. I appreciate you having me on and thanks, Tyler.