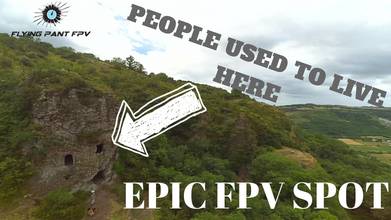 UNREAL FPV LOCATION! RAIN + WIND! Don't Crash - FPV FREESTYLE - Flying Pant FPV
over 4 years ago
134 VŪZ
3

2
Report
~~~~~~~DESCRIPTION LEVEL IMBA~~~~~~~

CAVE RIPPING! This spot is called Balmes de Montbrun in Ardèche, France. People used to live in those caves and it was really amazing flying there. I was shaking the whole time because it was SUPER windy and raining!

Hope you guys enjoy it let me know in the comments and by hitting that like button!

Please follow me on Instagram and Facebook: @flyingpantfpv

Gear:
Vortex Pro 250 http://amzn.to/2sd6zm4
Motors: Lumenier 2204/2300kv http://amzn.to/2rn95s7
Flight Cam: Runcam Swift 2 http://amzn.to/2rninV6
Camera: Xiaomi Yi http://amzn.to/2rntpJX
Bag: Lowepro CS300 http://amzn.to/2rj4jJT
Props: DAL Cyclones http://amzn.to/2szBuwn
Goggles: devention Goggle 2

Please share, like and comment :D You guys rock and keep me going! Share our hobby and infect the people around you with the fpv virus.