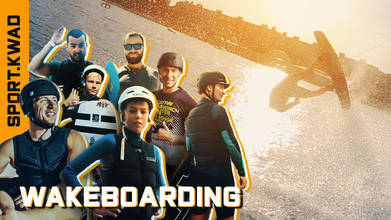 Wakeboarding - Quadcopter Chase | Sport.KWAD
AIRVŪZ STAFF NOTE :
First-person-view pilot S.KWAD is sending it in this action sport, tracking video. He caught up with a local wake boarding crew to see if they'd be interested in being filmed by him. The ensuing footage was sure to make them happy with their decision. He's done a fabulous job tracking the extreme athletes as they hit a variety of man-made jumps with their boards. S.KWAD said there were a few crashed, but none of them ruined the day's shoot, inspiring him to try it again another day.
over 2 years ago
217 VŪZ
9

8
Report
Full video link: https://www.youtube.com/watch?v=bgTMi9aTQ5I In this video, we've pushed our limits again to capture amazing wakeboarders. We've waterproofed our drones and did a series of test runs to even get close to shooting something. Multiple crashes into the water with no apparent influence on the drones showed us that this method is eligible for future use. Then we've reached guys from the local wakeboarding community (some of them are IWWF and UWF champions) and did 2 sessions to compile this video. Shout out to all of the riders from the video and their courage to swim in the water while it's 18 degrees Celcius outside! Stas Ozhyganov (https://instagr.am/stason_wake) Alexander Ryadno (https://instagr.am/sanek_wakeboarder/) Irina Zharnosek (https://instagr.am/irazharnosek) Vladimir Lysenko (https://instagr.am/wakeboardteacher) Anton Zimarev (https://instagr.am/anton.zimaryov) Nikolay Lisnyak (https://instagr.am/niko22lis) Special thanks to Sentosa Cable Park and its chairman Yuriy Rikter for the very warm welcome of our idea to shoot the video and continuous support on every stage throughout the whole process! You guys are awesome - it was a pleasure to shoot this video!