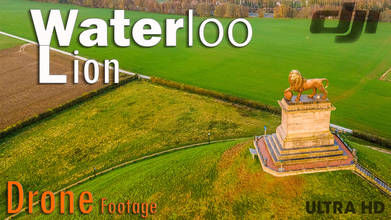 Interested In This Footage?
Waterloo | Waterloo BattleField Monument | Butte du Lion | Waterloo Lion | Leeuw van Waterloo
AIRVŪZ STAFF NOTE :
AirVuz contributor RIK Fotos brings us this excellent drone view of the Lion's Head Monument on the battlefield of Waterloo in Belgium. The 4.5 meter (15 ft.) lion statue sits atop an artificial hill. The monument commemorates the great battle which took place here in June, 1815 between the forces of Napoleon Bonaparte and those of the Seventh Coalition led by the British general the Duke of Wellington and the Prussian general von Blücher. The smashing Coalition victory led to the final downfall and exile of the French Emperor.
about 2 years ago
411 VŪZ
13

9
Report
The Lion's Mound (French: Butte du Lion, lit. "Lion's Hillock/Knoll"; Dutch: Leeuw van Waterloo, lit. "Lion of Waterloo") is a large conical artificial hill located in the municipality of Braine-l'Alleud (Dutch: Eigenbrakel), Belgium. King William I of the Netherlands ordered its construction in 1820, and it was completed in 1826. It commemorates the location on the battlefield of Waterloo where a musket ball hit the shoulder of William II of the Netherlands (the Prince of Orange) and knocked him from his horse during the battle. It is also a memorial of the Battle of Quatre Bras, which had been fought two days earlier, on 16 June 1815. The hill offers a vista of the battlefield, and is the anchor point of the associated museums and taverns in the surrounding Lion's Hamlet (French: le Hameau du Lion; Dutch: Gehucht met de Leeuw). Visitors who pay a fee may climb up the Mound's 226 steps, which lead to the statue and its surrounding overlook (where there are maps documenting the battle, along with observation telescopes); the same fee also grants admission to see the painting Waterloo Panorama.