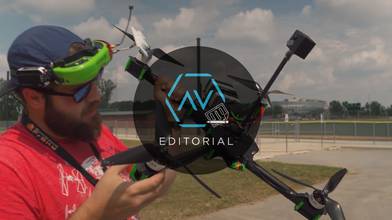 X-Class Mega 4K Cinematography Drone
Published 07/18/2019 07:58

The 2018 Drone Racing League Champion is committed to pushing the boundaries of first-person view cinematography. Professional drone racing pilot and content creator Paul Nurkkala, known as NurkFPV, built a custom $4,000 mega drone.

Drones of this caliber are considered X-Class. Per standards established by the X-Class Racing League in 2019, this type of drone must be a multi-rotor aircraft measuring between 800-1200mm at the widest point. Nurk's goal was to bring together the world of performance drones with digital single-lens reflex cameras.

To do this, he needed to build a drone capable of carrying a large camera. The footage this drone is capable of obtaining is blending the boundaries between traditional filming, camera drones, and high-speed racing drones. Creators like Nurk are redefining what it means to be both an aerial cinematographer and an FPV drone pilot.

To learn more about Nurk and his X-Class drone, click the links in the video description.
about 2 years ago
344 VŪZ
18

6
Report
Description:
To watch the full X-Class Drone video featured above CLICK HERE
To follow NurkFPV CLICK HERE
To learn more about the X-Class League CLICK HERE
To follow NurkFPV during the 2019 Drone Racing League season CLICK HERE