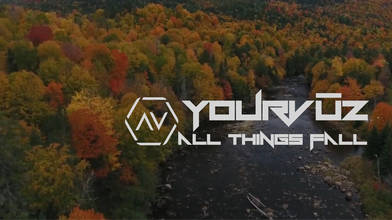 YourVūz: All Things Fall
about 7 years ago
2.9k VŪZ
28

17
Report
On this month's episode of YourVūz, hosts Rusty Kath and Allie Krings visit an apple orchard! They show a variety of your beautiful colored views, fall activities, and even some adorable farm animals! Allie attempts to be funny and Rusty... well, he just really likes to drink.

Who wins the $500? Watch the episode to find out!

Want to enter next month's contest? The next topic will be given at the end of the episode! Make sure to use the keywords that are mentioned (yourvuz and thankful) to be eligible next episode! To see all of the best aerial footage on AirVūz, visit www.airvuz.com/user/YourVūz. VIDEO TRANSCRIPT: Rusty Kath: Welcome to Yourvuz. I'm Rusty Kath. Allie Krings: And I'm Allie Krings. Now, last episode we challenged you to submit your best drone footage of fall. Rusty Kath: My favorite fall activity, hands down, coming to an apple orchard because you know what they have? Allie Krings: Apples, hayrides, pumpkins. Rusty Kath: Hard cider. Allie Krings: Oh, well, how kid friendly of you, Rusty. [00:00:30] So, we're here at the historic Minnesota Harvest Apple Orchard. Rusty Kath: This place is loaded with all sorts of autumnal fun. You can pick your own apples, you can check out the sunflower maze. They even have a petting zoo with goats. Allie Krings: Now, you didn't submit us any aerial footage of goats. Rusty Kath: Unfortunately. Allie Krings: I agree. But we did get some great fall footage like this. [00:01:30] So Rusty, what's your favorite side of fall? Rusty Kath: I don't know. Football season starting, I guess. Allie Krings: Okay. Rusty Kath: [00:02:00] Yours? Allie Krings: It's a toss up, but I guess I like to see all the drones flying south for the winter. Rusty Kath: Funny. That's funny. Allie Krings: I know. Rusty Kath: Speaking of football. This next video submission is about as sad as Allie's joke. Allie Krings: [00:03:00] Hey, Rusty. Think fast. Here's some more videos. These are some of [00:04:30] Rusty's favorites. [00:06:00] So clearly, you like apples. Rusty Kath: Yeah. Allie Krings: Well, B. Dumas just won $500. How do you like them apples? Rusty Kath: I actually like them quite a bit. That was my favorite video. Allie Krings: Yeah. Me too. He just won. Rusty Kath: I know, like I'm agreeing with you. Allie Krings: I burned you Rusty. Rusty Kath: Way to go, Allie. [00:06:30] Way to go B. Dumas. You just won $500 bucks. Time now to give you your next challenge topic. Allie Krings: Here in the US, Thanksgiving is right around the corner, so we want to see what you are thankful for. Rusty Kath: Yeah, maybe it's good friends, or a favorite sport, or hard cider. Allie Krings: Whatever it is, we want to see it. Rusty Kath: Get those videos uploaded by November 30th [00:07:00] to have them considered in our next episode. Allie Krings: When you do so, use the key word YourVuz, and the key word thankful. Rusty Kath: I'm Rusty Kath. Allie Krings: I'm Allie Krings. Rusty Kath: And we can't wait to see your aerial views of what you're thankful for.