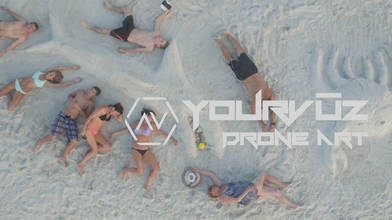 YourVūz: Drone Art
over 5 years ago
2.0k VŪZ
19

18
Report
This months episode of YourVūz, an AirVūz Original Programming show built to show off our users best drone videos, is all about drone art! Our hosts, Rusty and Allie bring you this months episode from Brush Studio in Saint Louis Park, Minnesota.

We start off showing the most artistic landscapes, as seen by drone. You showed us Kuwait, an abandoned amusement park, a wildlife sunrise and a perfect hidden beach... all from the view of your drone!

Next, you took us through a familiar scene from a big Hollywood movie... but with the drone matrix!

You also showed us some of the best drone art we could find on the streets and walls in Long Beach and other places. The urban graffiti that was shot with a drone was breathtaking!

Finally, as we learn about Allie's worst criminal offense, our winner, Josh Williams (joshwms) showed us some amazing beach art where he and his friends lounged for the day. Congrats Josh for winning this months YourVūz prize of $500!

This opens up our next episode... and we're looking for your best aerial video of your favorite pastime! Sports, horseback riding, working out, laying out at the beach... whatever it is, shoot it with your drone and most importantly, make sure you #yourvuz and #pastimes for your shot at winning next months $500!

Thanks to everyone who submitted their drone art to this episode of YourVūz! VIDEO TRANSCRIPT: Rusty Kath: Welcome to YourVuz, an AirVuz Original program. I'm Rusty Kath. Allie Krings: And I'm Allie Krings. On YourVuz we give you a challenge topic, you submit your unique aerial view, and we choose our favorites. Rusty Kath: Do well enough, you win a cash prize. Now last episode we asked for your best drone art, which is why we're coming to you from Brush Studio in St. Louis Park, Minnesota. Here [00:00:30] to tell us about it is Jodi Karn. Tell us about Brush Studio. Jodi Karn: Well basically people come in and paint and drink. Rusty Kath: This is my kind of a place. All right so in other words a great social experience. You get people coming out on first dates and bachelorette parties. What actually happens here? Jodi Karn: An art instructor takes you step by step through a painting and at the end of the evening you leave with your painting. Allie Krings: Can we paint? Jodi Karn: Absolutely. Rusty Kath: So again, we asked for your best drone art footage. Allie Krings: Our first submissions are some beautiful artistic [00:01:00] landscapes. [00:01:30] Wow. Those were gorgeous. Rusty Kath: They were. A lot of different ways to shoot art. Our next submissions went dancing with drones. [00:02:30] Nice dancing. Allie Krings: And next up some amazing shots of urban graffiti. Rusty Kath: [00:03:00] Cool shots. You ever painted any graffiti? Allie Krings: Do I seem like I would? Rusty Kath: Have you ever done anything bad in your life? Allie Krings: I got a speeding ticket once. Rusty Kath: We're gonna get to our winner in just a moment. But first we wanna [00:03:30] share with you A Guy and His Drone. An AirVuz Original program. Our pilot Eric Perkins took on this challenge and it didn't go particularly well. Eric Perkins: Hey did you see what they're doing on that show YourVuz? Yeah. They're soliciting drone art. Rusty Kath: You can catch that full episode and all of A Guy and His Drone's adventures underneath the AirVuz Originals tab. Allie Krings: We received tons of great submissions but our winner for this episode is Josh Williams. Rusty Kath: Yeah, Josh combined creative drone [00:04:00] work, fancy editing, and sand sculptures to bring us this. Allie Krings: So congratulations Josh Williams, you are this episode's winner and the winner of a $500 cash prize. Rusty, any suggestions for next episode's topic? Rusty Kath: [00:04:30] Oh let's see here. Baseball season is upon us. Allie Krings: Where were you keeping that? Rusty Kath: Not important. Anyways, baseball's America's national pastime. So next episode we wanna see your favorite pastimes. Allie Krings: Make sure to upload your videos to airvuz.com. When you do so, make sure you use the hashtag YourVuz and the hashtag pastimes. Rusty Kath: Very important you use those hashtags [00:05:00] so we can consider your video for a cash prize next episode. For pastimes, maybe it's baseball, maybe it's horseback riding, maybe it's the fitness class like the one going on next door. Whatever it is we wanna see it. Allie Krings: So make sure you upload your videos to airvuz.com by April 15th in order to be eligible. Rusty Kath: Hey, big thank you to Brush Studio for letting us come shoot here this month. Fantastic place to check out for a date, your next event. Get more information at brushstudio.net. Allie Krings: Rusty, [00:05:30] what is that? Rusty Kath: This is a totally awesome drone. What did you paint? Allie Krings: I painted a totally awesome drone. Rusty Kath: I think mine's better. I'm Rusty Kath. Allie Krings: I'm Allie Krings. Rusty Kath: And we can't wait to see your views of pastimes.