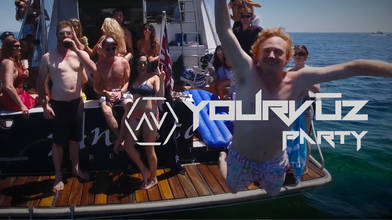 YourVūz: Party
about 6 years ago
4.3k VŪZ
30

15
Report
Party! For those of you who missed it, don't worry, here it is! We spent the evening at 56 Brewing a newly opened Tap Room in Northeast Minneapolis. We having a great time and of course, enjoyed many flavors of their locally made beer! They even have pinball and plenty of merchandise for purchase. If you've never been there, you need to stop by! After all, their motto is "we make beer we like to drink" and we sure liked to drink it.

Rusty gets a chance to talk with Nick Chute (brew master) about the types of beer they make and the "Nose Hair Bender" sparks his curiosity. He also inquires if you need a beard to make beer. Allie checks out the merch and talks about her "gallontine's day" bachelor themed murder mystery party. She continues to wonder why she doesn't get invited to many parties.

And of course, we noticed Queen of the Drone and some of her friends showing off some great AirVūz gear! We move on to the 4 finals and then announce our $500 winner! So... congrats to Sandrine Hecq for your party win! Oh... and don't mind Allie's awful accent. That's why she's loved.

Below you will find links to the full versions of the 12 featured videos. What a great variety of parties from all over the world! Did you upload? Did you use the yourvuz keyword? If so, great! You might be featured in this episode! If you didn't, well, there is always next time.

Bluff Jumping | Nashville, TN - garci1jd
Party Time in Rarotonga - NZ PILOT
Water Sports Fest #3 - OGB - Omer Gokcen
Australia Day 2017- Rottnest Island- Boat Party - Sandrine Hecq
Waiting for the 2017 Eclipse - AshevilleAerial
Wedding and Honeymoon - Najmi_AerialWork
Highline Gravatation 2017 Brazil Festival - rg drones
LIT Festival in Bogotá, Colombia - la.drones
Bikers Day 2017 - Julio Neto
Happy Birthday United States Coast Guard! - PO3SMITH
Drone Queens Party in Paradise - Queen of the Drone
FPV Drone|European Beach Fives Rugby Championship 2017 - deadloop

To watch past episodes or our weekly show TopVūz, click here.
Did you know you can upload your photos to AirVūz? See Ours!
To see more amazing, breathtaking aerial views, visit AirVūz.com.
Follow us on Instagram
Need some AirVūz gear? Get it here! VIDEO TRANSCRIPT: Rusty: Thanks for clicking into YourVūz. Party on, Allie. Allie: Party on, Rusty. Rusty: And party on to you. Allie: That was kind of a weird thing to say. Rusty: Party on to you. Yeah, it was, wasn't it? Sorry. Allie: I mean, it is party time on YourVūz. Rusty: Party. Allie: Party. Rusty: Party was our challenge topic for this episode. Allie: So we are partying it up [00:00:30] at 56 Brewing in Minneapolis. Rusty: Fantastic local brewery and trying to go from garden to growler with their own gardens and patios here. Allie: And they have a great motto. Rusty: What's their motto? Allie: "We make beer we like to drink." Rusty: Oh, I like that. And we like to drink it too. Allie: Party. Rusty: Party. Allie: So let's get this party started with some drone videos of parties on the water. Rusty: [00:01:30] Allie went to go get another beer, so I get to talk to Nick Chute, who I'm gonna call [00:02:00] the Brewmaster. Is that an okay title? Nick Chute: Works for me. Rusty: Tell us a little about the beers you guys brew here. Nick Chute: We try and do a wide range of beers. Anything from the PilsNEr that I'm drinking to some very hoppy beers like our Nose Hair Bender. Rusty: Nose Hair Bender? Nick Chute: Yeah. Rusty: What's in the Nose Hair Bender? Nick Chute: That is a double dry hopped IPA. So we've got Amarillo, Citra, Centennial, and Simcoe Hops. All the hop additions are in the fermenters so you get very little bitterness [00:02:30] and all aroma hops. So it's just super intense on the nose. Thus the name. Rusty: I have no idea what any of that stuff meant, but I wanna try it. Nick Chute: It's delicious. Rusty: And you grow some of your own stuff here? Nick Chute: Yeah, we grow some hops out back along the south side of the building which we do an annual wet hop beer with. So we'll pick 'em all at once, throw 'em in a batch of beer. Gives you a nice, earthy, dank tasting pale ale is what we usually do. Rusty: Nice, dank. Nick Chute: Yep. Rusty: Together at last. [00:03:00] You seem to be pretty good at this, so I'm gonna go check out some of your beers and you can do my work. Nick Chute: We'll check out a few more videos. Rusty: [00:04:00] I just talked to a bearded brewmaster. What were you doing? Allie: I was checking out some of their merch. And did you see all the great events they have going on over here? Rusty: Oh yeah, ole Jazz Sunday, Trivia Mafia. Speaking of great events, I heard rumor that you hosted a murder mystery party in college? Allie: Rumors are true. Rusty: Do tell. Allie: It was on Galentines [00:04:30] Day. Rusty: Galentines Day? Allie: Single girls. Twenty of my single girlfriends and I had a bachelor themed murder mystery party. Rusty: Who was the bachelor? Allie: The kicker on the football team. Rusty: That's about right. It's amazing that you don't get invited to more parties. Allie: A question I have wondered myself. Rusty: Maybe some of these drone pilots will invite you to their next party. Allie: Fingers crossed! You know, I love that [00:05:30] somebody was sporting an AirVūz hat in that Queen of the Drone video. Rusty: Yeah, I know, it looked great [00:06:00] on her too. It'd look great on anybody. Allie: You can get AirVūz shirts, hats, and more by scrolling to the bottom of AirVūz.com and clicking on AirVūz gear. Rusty, do you know what it's time for? Rusty: About another beer? Allie: No, it's time to pick our finalists and a winner. Rusty: Yeah, that's right. So our first finalist is AshvilleAerial who captured one of the biggest parties in the United States last month in his video Waiting for the 2017 Eclipse. Allie: [00:06:30] Next is a title after my own heart, LIT Festival in Bogota, Columbia. It's a five day festival with interactive art installations that la.drones captured beautifully from the air. Rusty: Our third finalist comes from the Land Down Under as Sandrine Hecq took us to Australia Day 2017 Rottnest Island Boat Party. Allie: And lastly, [00:07:00] get out the candles and the cake as PO3SMITH brings us Happy Birthday United States Coast Guard. Rusty: And our winner is ... Allie: Australia Day 2017 Rottnest Island Boat Party. Rusty: Sandrine combined great editing, gorgeous overhead shots in harbors, and one hell of a party on a boat. Allie: Good day, Sandrine, and congrats on winning $500.00! Rusty: [00:07:30] They have pinball machines too. This place is awesome. Allie: I know. This is quickly becoming one of my favorite places. Rusty: Favorite places. Favorite places. Challenge topic. Allie: That's it. Rusty: Favorite places. Whatever your favorite place is, that's what we wanna see. Allie: Make sure you submit your videos by September 24th. When you do so, use the keyword YourVūz. Rusty: So congratulations once again to Sandrine Hecq, this episode's winner. Allie: You'll be able to buy plenty of shrimp on the barbie with your $500. [00:08:00] 00! Rusty: I just love it when you do accents. Allie: I know. I'm really good at them. Rusty: You're good at lots of things. Allie: Thanks. And thank you for joining us for our party episode. Rusty: Yeah, and a big thanks to 56 Brewing for letting us have our party here. Allie: You can learn all about them at 56brewing.com. Rusty: Party on, Allie. Allie: Party on, Rusty. Rusty: [00:08:30] Are you required by law if you're gonna be a brewer to have a really great beard? Nick Chute: No, but it tends to happen in the industry. Rusty: Yeah. I gotta get busy. Well, I just talked to a bearded brewmaster. What are you doing?