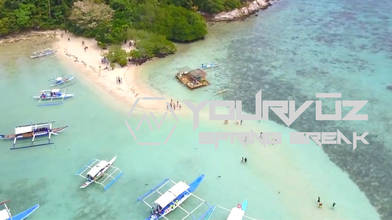 YourVūz: Spring Break
over 6 years ago
2.0k VŪZ
19

11
Report
"Sprang Break!... With the hands, sprang break! Screw it... it's Spring Break! That's why we're out here on the beach baby!"

Thankfully your spring break was much better than ours! You showed us all the fun that you guys had at the beach, castles, a glacier and even a cave! As usual Rusty and Allie make us laugh (if even just a little) and it appears that Rusty might have a crush on one of the finalists? Allie makes sure she lathers up with the correct amount of sunscreen. And at the end, the $500 goes to...!

Congrats to everyone featured in the episode! Check out their full videos!

Mesmerizing Beauty of Lakawon Island - dROneY (Drone ne Roy)
Big Island and Oahu Adventure - HD Pros
Afternoon Vibes @ Pae Phingkan, Phang Nga - wedroneasia
Spring Break at Paradise - Rensyo08
Hiking Avalanche Peak - Arthur's Pass National Park - YoumiTrip
Paraglidng Drone video - Norway - estteker
Over the glaciers of Saas-Fee - AirDroner
Trees Of Desert - DxbDrone
From Dusk to Dark at Eileen Donan Castle - SKYDRONAUTS.UK
Above Scotland // An Aerial Perspective - digitaltriangle
Medieval ruined castle in Hungary - Kris Kiszely
Spring Break in The Keys - Marshall Moyle
Abandoned Waterpark - Drone_America
A beautiful day with friends - MaceM
Sailboat Races Lake Travis Austin, Texas - dbuono
Spring Break!! - Wish U were Quad
The BEST Bali Ocean Sunset PARTY and Epic Surfing - indo eye
Terra Ronca - droneinart
Droning with the Bestie - megmichaels3
El Nido, Palawan - Island Hopping - sir_mavic

Music: G-Eazy Coming Home
To watch past episodes or our weekly show TopVūz, click here.
To see more amazing, breathtaking aerial views, visit AirVūz.com.
Follow us on Instagram VIDEO TRANSCRIPT: Rusty: Hey y'all it's YourVuz, spring break edition. Allie: Spring break. Rusty: Wait, how do they say it now? Allie: Spring break. Rusty: Spring break. Allie: With the hands, spring break. Rusty: Spring break. Allie: Spring break. Rusty: Screw it, it's spring break. That's why we're out here on the beach, baby. Allie: In Minnesota. Rusty: Not exactly a spring break [00:00:30] destination. Allie: Yeah, it's 34 degrees. Rusty: It was snowing last night. Allie: It sucks. Rusty: That's why we asked you to take us to some great spring break destinations, if only by video. Allie: And the beaches you showed us, don't suck nearly as much as this one. You know what, [00:01:00] the drone pilots who submit videos to YourVuz always show us some incredible destinations. Rusty: They really do and this next one is going to make us say, "Damn". Allie: Really? Why's that? Rusty: Because it's actually a [00:01:30] dam. The Medina Lake Dam near San Antonia, Texas. Allie: Oh, dam. Rusty: So [00:02:30] did your family ever stay at a Disney castle for spring break? Allie: I wish. Did yours? Rusty: No. But, apparently castles must be a popular spring break destination because we received a number of castle submissions. Allie: Really? Rusty: This first one actually comes from Scotland. Allie: Aye, they're after me Lucky Charms. Rusty: That's Irish. Allie: Mind the gap. Rusty: English. Allie: [00:03:00] Put another shrimp on the barbie. Rusty: Close enough. Allie: Yar fetching me my pint of grog. Rusty: That's pirate. Allie: Thank [00:03:30] you. Rusty: What was your worst spring break? Allie: This. Right here, right now. What about you? Rusty: Junior year of college, four of us decided to take a road trip to where everybody goes for spring break. Allie: Oh, Florida. Rusty: [00:04:00] El Paso, Texas. Allie: Why? Rusty: It was warm and we had a free place to stay. Allie: Okay, sounds perfect. Rusty: Yeah, except that it's a 1,400 mile trip just to get there and my car broke down exactly 30 miles into the trip. Allie: Tough start. Rusty: Then we drove into a blizzard, took us an extra day to get to El Paso and we finally got there, there were eight of us sleeping in one room. Allie: You all probably just get together and laugh about it now. Rusty: No, we don't talk to each other. Allie: [00:04:30] At least you didn't end up in an abandoned waterpark. Rusty: Do you need any of this? Allie: No, already have 75. [00:05:00] As [00:05:30] usual, we received tons of great videos from you. Rusty: Yeah, we did. But a few of them struck a cord with us and became our finalists. Allie: One of those came from Indo Eye who took us surfing and partying in Bali. Rusty: Another finalist is a newcomer [00:06:00] on the scene, Droneinart took us to a great spring break destination off the beaten path; a cave. The video doesn't have to be professionally produced or from a professional to be one of our favorites. Allie: Oh, that's right. Megmichaels3 simple combined two things we love; spring break and drones. Rusty: I saw on Meg Michael's [00:06:30] page that she is a middle school health teacher. Allie: Really? Rusty: Yeah. Allie: Interesting. Rusty: I would not have been late for her class, like I was with Mr. Olafson. Allie: I hope Mr. Olafson doesn't hear you say that. Rusty: He's not going to. Allie: How do you know that? Rusty: Because I just made up his name. Allie: Our final finalist comes from Sir_Mavic. Rusty: He combined compelling aerial images and an incredible story line to bring us to the Philippines. Allie: And the winner is ... Sir_Mavic. Rusty: I say, " [00:07:00] Good day, sir." You are this episode's winner. Allie: And now you've got $500 to put towards your next big trip. Rusty: Spring break is great, but it's always nice to get home. Allie: Oh, yeah. I'm ready to get home right now. Rusty: Yeah, this place sucks. Allie: And home is going to be our next topic. Show us what home means to you. Rusty: Maybe it's your house, maybe it's on the basketball court, maybe it's your local watering hole. Allie: That's where Rusty sleeps at night. Make sure to submit your videos by May 25th. [00:07:30] When you do so use the keyword: YourVuz. Rusty: You could win $500 if you're our top choice next episode. Allie: Thanks once again to all those who submitted and taking us with you on your spring breaks. And, of course, congratulations Sir_Mavic. Rusty: Yeah, good day sir. I can't wait to see your submissions for the next episode; home. Until then, happy spring break. Allie: Spring break. Rusty: Our spring break sucks. Allie: Yeah.