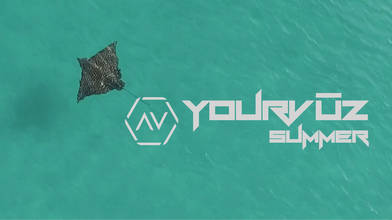 YourVūz: Summer
over 5 years ago
3.4k VŪZ
29

23
Report
It's summer! Well, at least for us. If you're in the southern hemisphere, then well, you're in winter. For this episode, we (Rusty and Allie) spend the day in Candy Cove on Prior Lake, in Prior Lake, Minnesota. Summer for Minnesotans usually means trips to the lake. We feature water fun, summer travel destinations and many other views of your summer. Rusty humors us in his usual unique way and Allie keeps us hip with her fashionable swimsuit and almost gets eaten by a snapping turtle. Ok well... maybe not almost but what a moment that was! And last but not least, we give away $500! Oh... and feel free to comment on Rusty's hat. Is it sexy? Did you upload? Did you use the yourvuz keyword? If so, great! You might be featured in this summer fun episode! If you didn't, well, there is always next time. That's right, next time! Next month's topic is... parties! Show us how you party! Show us how you celebrate!

Summertime In The Philippines - christer_isulat
Beach day...Itacoatiara - Digital Peace
Amazing waters of Miramar Beach - Birds-iview
Summer in Naples! - Drone_America
Salem Sue - megmichaels3
IZE - Study Abroad in Belize (Tropical Island and Rainforest) - DuarteDellarole
Summer Mornings - FlyLife
Seljalandsfoss, Iceland - Phantom 4 Pro 4K - PilotViking
Catanduanes Island Bicol Trip 2017 [Aerial] - gobautista
My Best Switzerland - AirDroner
Summerdays at the coastline - hopenorway
Summer - OnFocus
Dawn to Dusk at Topsail Beach, NC with the DJI Mavic Pro - Jeff Walrich - TK-421
A Short Flight - Mauro Pagliai
Mokolii Island (Chinaman's Hat) and Jurassic Park - 81sForLife
HAPL 2017 - Immekenzy
Maccagno Climbing wall HD by Ph3 Pro - teotoner
Max Patch - AshevilleAerial
Come to party and run at the Montreux Trail Festival! - Ultraprod
To watch past episodes or our weekly show TopVūz, click here.
To see more amazing, breathtaking aerial views, visit AirVūz.com.
Follow us on Instagram VIDEO TRANSCRIPT: Speaker 1: Welcome to YourVuz, and happy summer, everyone. Rusty: Happy summer, indeed. Unless of course you live in the Southern Hemisphere, then you're actually in the dead of winter right now. Speaker 1: Yeah, that is a tough break, but right now, it is our summer, and this is our summer episode of YourVuz. Rusty: We challenged you, our drone pilots, to show [00:00:30] us summer from your view. Speaker 1: Summer in Minnesota usually means a trip to the lake. Rusty: Mm-hmm (affirmative), up here we are all about that lake, about that lake, no river. Speaker 1: Rusty, you are so lame sometimes. Rusty: Most of the time, it kind of seems, actually, but we do love our lakes up here. Speaker 1: Which is why we are coming to you from Candy Cove on Prior Lake. Rusty: People out here love doing a little boating, kayaking, paddle boarding, hanging out in a raft, or doing some swimming. Speaker 1: A little drinking, which is why our first submissions come from [00:01:00] folks who love the same. [music 00:01:05] Rusty: [00:01:10] When you [00:02:00] think of summer destinations, what comes to mind? Speaker 1: I mean, the lake, a cabin, maybe Disneyland or something. Rusty: How about New Salem, North Dakota? Speaker 1: No, that wasn't at the tip of my tongue. Rusty: Apparently, it's a hit place to go if you're our pal, Meg Michaels. Speaker 1: Okay, and what is in New Salem, North Dakota. Rusty: Apparently 923 residents, one [00:02:30] of which is Salem Sue, the world's largest statue of a Holstein cow. Speaker 1: Well, Salem Sue sounds udderly awesome. [music 00:02:39] [00:04:07] Rusty, [00:04:00] you just decided to go with the fedora, huh? Rusty: Yeah, I did. You know why? Speaker 1: Why? Rusty: Because I told you I might wear a fedora, and you said it's lame, and I wanted to show you this is actually very sexy. Speaker 1: I'm going to wait for our viewers to comment and also agree with me that this is not a sexy hat. It is only adorable on like a 3-year-old, like 3-year-olds can wear fedoras. Rusty: I am not taking fashion advice from somebody [00:04:30] who wears a swimsuit that doesn't even spell Baywatch correctly. Speaker 1: Look how much attention I'm getting from this swimsuit. Okay, I see your point. Rusty: Check out these next videos. [music 00:04:40] Speaker 1: [00:05:56] People [00:05:30] love doing sporty things in the summer. Rusty: Yeah, they certainly do, which is why we're [00:06:00] kicking off our next set of videos with a little bat and ball. Speaker 1: I love baseball. Rusty: I was actually talking about cricket. Speaker 1: I don't know anything about cricket. Rusty: Pefect, because I happen to have an impromptu cricket quiz for you right now. Speaker 1: Lucky me. Rusty: Mm-hmm (affirmative), all right. First up, a bowler. Speaker 1: Overweight man, plays league Tuesday nights, throwing down the lane. Rusty: No, a bowler is what you call the pitcher, sorry. Next term is a sixer. Speaker 1: What I like to bring to the beach with me. Rusty: No, it's actually a home run [00:06:30] that is worth six runs. How about googly? Speaker 1: Like the little eyes that you put on rock pets. Rusty: No, it's actually a screwball, when you're bowling. Last thing, how about a silly midwicket? Speaker 1: Well, you are a silly midwicket. Rusty: No, it's actually another cricket term. It's somebody who stands dangerously close to the batsman, so if you're doing play by play, it would be something like, "Oh, the bowler just hurled a wicket googly, and it was [00:07:00] thwacked past the silly midwicket, and over for a sixer." Speaker 1: Well, I don't know what's worse, that accent or the play by play. Rusty: I think they're both equally awesome. [music 00:07:10] Speaker 1: [00:08:20] It [00:08:00] is time to narrow down all the videos you just saw into our four drone video finalists. Rusty: First up from Birds-iview, it's the Amazing Waters of Miramar Beach. [music 00:08:31] Speaker 1: [00:08:31] [00:08:30] Next, we head to Colorado, where the FlyLife brings us Summer [00:09:00] Mornings [music 00:09:02] Rusty: [00:09:04] Finalist number three is christer_isulat with Summertime in the Philippines. [music 00:09:21] Speaker 1: [00:09:22] Finally, one appropriately titled Summer, from OnFocus. [music 00:09:26] Rusty: [00:09:41] [00:09:30] The winner is ... Speaker 1: Birds-iview with Amazing Waters of Miramar Beach. Rusty: Congratulations, Birds-iview. They combined basically every part of a beachy summer into one short video. Speaker 1: [00:10:00] Rusty, what do you say we just keep this party rolling? Rusty: Concur. Summer is all about parties, baby, whether it's weddings, family reunion, celebrations, festivals, or any sort of party. Speaker 1: Yeah, show us how you get down with your bad self. Rusty: Our next topic is parties. Upload your videos to airvuz.com by August 26th, and when you do so, use the keyword, Your Vuz. Your video might just be featured on our next show, [00:10:30] and you can win $500. Speaker 1: Congratulations once again to Birds-eye view, our winner of $500. Maybe you're going to use that money to party and get turnt up. Rusty: What? Speaker 1: What? Rusty: What did you say? Speaker 1: Turnt up. Rusty: Like you turn up somewhere? Speaker 1: No, you party. Rusty: I don't know. Anyways, here's hoping you turnt up into our next episode. Speaker 1: No, Rusty. Rusty: Vegetable? Speaker 1: [00:11:00] Holy [inaudible 00:11:12]. Sorry. Rusty: That's about a 20-pound snapping turtle. Speaker 1: Oh my god. I am terrified. Can it jump? Rusty: No. Speaker 1: Don, that's not funny. Oh, [inaudible 00:11:28]. What do we do? What do we do? Rusty: We don't do [00:11:30] anything. He's not going to hurt you here. Speaker 1: That was one of the scariest moments of my life.