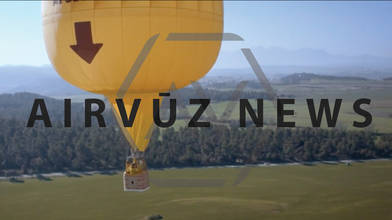 AV News: Drone Film Festival at Interdrone
about 7 years ago
591 VŪZ
8

7
Report
Aerial Film Festivals are popping up all over the country, the most recent being in Las Vegas, Nevada. The second annual InterDrone Film Festival was opening night of the InterDrone Conference and Expo.

Hosted by David and Sarah O'Neal of "That Drone Show," attendees were invited to sip wine and beer while watching finalists from all six categories on TV's spread throughout the venue.

"There were 340 entries into the InterDrone film festival this year, which is an incredible amount. As judges, we don't watch all of them, we get a lot allocated to specific sections, but we watched a lot and the quality was superb throughout. Really great."

"Well you know, we look at all of the different films that come in, and some have a whale in them, and some have a whale and a dolphin, and it's so heartbreaking to choose just one. But it's like, what are the production values like, what is the story like, does the music drive it, is the editing right, is the drone photography correct? It has to have all of those elements. I mean, all of them are good, but it has to be that one that has everything that's what we're looking for."

Nine other judges from the industry helped select 12 winners from these categories: Natural Wonders, Cityscapes and Architecture, Action/Extreme Sports, Music Videos, Short Film, and Reel.

Michael Bishop's "Into the West" was selected as the Best Overall video from the Festival.

You can watch all of the InterDrone Finalists' videos on www.airvuz.com/user/InterDroneFilmFestival.

Follow AirVūz News for the latest updates in the drone community.