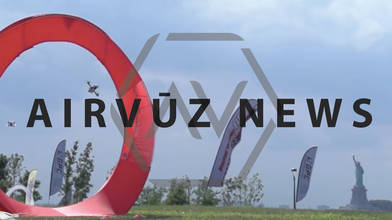 AV News: Drone Nationals Recap
over 4 years ago
513 VŪZ
9

11
Report
Description: The 2016 National Drone Racing Championship has come and gone. If you missed any of the action, fear not! We have you covered with this quick recap.

Over 170 of the world's top pilots met for the 3 day event on Governor's Island in New York City. Overlooking the Manhattan skyline, Brooklyn Bridge, and Statue of Liberty, pilots competed in 4 competitions: Wing Racing, Team Racing, Freestyle, and Quad Racing.
"You know its really awesome, I think we're all blessed to be able to execute something like this on such a large scale. But I have to say, it's definitely been more work than I've ever put into anything before. So you know, seeing the turnout, seeing the different sponsors on board, you know thats what we really sought out for. You know, drone racing is so new, we're looking to create a viable ecosystem where we have fans, sponsors, pilots all working together to help this thing grow."

Fans could sit in the bleachers, the "fish tank" a bullet proof plexiglass structure, or in the shaded VIP tent. The event was open to the public.
"I hadn't ever seen this type of drone before this fast with this kind of maneuvering. It's been entertaining and I'm interested to see if it takes off as a spectator sport."
"It's like bumble bees...you gotta be younger, I'm too old for this...I think you gotta be younger."
Nationals was covered by major news sources like TIME Magazine, the New York Times, ESPN, and CNN, showing the progress the sport has made in a very short amount of time.

"It's crazy man, it's awesome the way it's going right now. It's only going to get better from here."

"It is so exciting, it is a sport that really embraces anyone and allows anyone from any background to really use the concept of hard work pays off. I've seen people from different career backgrounds or educational backgrounds and just excel just from practice and it's amazing watching everyone getting so fast from last year to this year. I was a spectator last year at the original drone nationals and the skill has just gone beyond what I could imagine for this year."

Sunday evening the champions from each division were crowned in front of the press, fans, and teammates. Taking home the Team Racing Championship trophy was Team XDC, while Chad Nowak, pilot name FinalGlideAUS took home the Freestyle trophy. Ian Jeffrey's was the 2016 Wing Racing Champion and Drone Racing Champ Zack Thayer, aka A_Nub had this to say about taking home the trophy:
"I see the future of drone racing going all over the world, getting more serious, more intense and I think everyday people will be pushing to get better and better."

AirVuz Team Pilot Conrad Miller, aka Furadi, was one of the Top 5 finishers at Drone Nationals, earning him his ticket to Hawaii for Drone Worlds come this October.

"We're here with GoPro sponsoring...we've got Vizio here...all these huge corporations...it's pretty exciting. I think it's good for the sport, you know the more you get it out to the public eye, the more backing we're going to get."

Follow AirVūz News for the latest updates in the drone community.