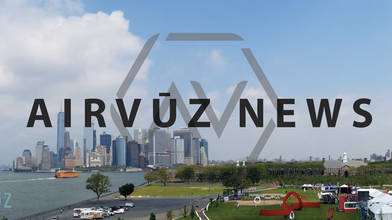 AV News: Family Ties at Drone Nationals
Published 08/11/2016 10:55

Pilots faced off against the best competition at the US 2016 Drone Nationals. Including some pilots with family ties: a father-son pairing and a husband and wife duo. Conrad Miller and his son Sorell race their quads every Sunday in Boise, Idaho and both qualified for the Nationals. Married couple Sean and Teng Taylor both competed in the event as well. Ultimately, there were no rivalries between the families but rather some quality bonding time was spent.
over 4 years ago
626 VŪZ
10

9
Report
Description: FPV flying by yourself is a good time. Flying with your friends is even better. Making it a family affair however…we could argue that's probably the best. Tyler Mason has the story.

There were plenty of interesting storylines at the 2016 Drone Nationals. Pilots traveled from Calif, Idaho, Illinois, Texas, and just about everywhere in-between to face off against the best competition in the United States. Perhaps two of the most interesting stories had family ties; a father-son pairing and a husband and wife duo.
Conrad Miller finished fourth at Drone Nationals and earned himself a spot at Drone Worlds in Hawaii later this year. What made his performance even more special was that his 12-year-old son, Sorell, was there to watch it.
"It's pretty awesome being here. We both qualified. I love the atmosphere, love the track. It's really fast, really promotes close racing and you're not just trying to survive the course kind of thing. I'm really happy to be here."
Conrad and Sorell race their quads every Sunday in Boise, Idaho. Sorell has only been flying for 10 months but flew well enough at a qualifying race to earn a trip to New York.
"It's crazy. I've never been to New York before. I've never seen buildings this tall. Being able to fly here is even better."
Sorell was the youngest pilot competing on Governor's Island. Though Conrad had the better times at Drone Nationals, he admits that between the two of them, his son is often the faster pilot.
"It kind of depends on the day who's faster. If he's feeling really good, he's hard to catch."
"I usually crash on the races, but last Sunday, I did pretty good, though."
The Millers weren't the only family duos competing at Drone Nationals. Sean Taylor, flew in both the individual and team races over the weekend. He also got to watch his wife Teng, aka JuneBug, compete as well.
"It's funny because I'm rooting for my wife. She got picked up by Immersion. I get more nervous watching her. I love her. I want her to do good."
Teng was a late addition to a team needing another pilot, but she held her own as one of the few female pilots at Drone Nationals.
"I'm just so grateful that I even got this chance to fly. I mean, Drone Nationals. I thought it would be if I were to fly or even try to be in Drone Nationals, it would be like, five, 10 years down the road. I did not think I would get to sit up there and have professionals next to me and be in the same race."
Shaun says he and Teng race each other whenever they can, which can often be tough with their busy schedules.
"If she flew near as much as I did, she'd destroy me."
Ultimately, there were no rivalries between the Millers or the Taylors. The experience of spending a weekend at Drone Nationals together was the best part of their trips.
"We get to spend more time together. That's the bottom line for me. Whatever it takes to be with him as much as I can, because our busy schedules, that just makes me happy."

Follow AirVuz News of all the latest updates in the drone community!