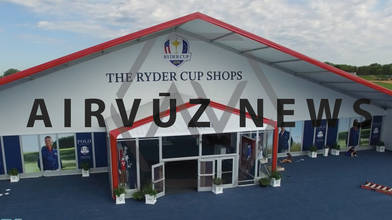 AV News: Ryder Cup Shop Flythrough
over 4 years ago
1.8k VŪZ
15

10
Report
Description: Thousands of fans will soon be arriving at Hazeltine National Golf Club for the 2016 Ryder Cup — and many will want to take home a souvenir to remember the event. Our Tyler Mason has the story on the impressive space where golf fans can soon shop until they drop.

The Ryder Cup shop in Chaska, Minnesota, is big enough to fit a football field inside it with room to spare. The 49,000-square-foot shot is the home of all the merchandise for the big golf event that begins next week.

Located at the end of the Hazeltine driving range, the shop houses merchandise from many different brands, including Ralph Lauren, the official clothing retailers of Team USA. Everything from apparel to golf balls to art can be purchased here.

"One of my favorite parts about this store is every time somebody comes in, it's just the grand massive store. The banners, the clothing, it all just kind of hits you."

The shop even has plenty of space to fly drones inside. AirVuz has showcased Hazeltine with drones over the last several months to show the progress being made leading up to the Ryder Cup. Just 10 days before the tournament began, we took the flying indoors.

"We've talked about how big it is. It's big enough to fly a drone. What are your thoughts on seeing the drone in here?
"I know. How great is that to see? With technology today, to be able to do that and have that, we've used photos for so many years. To put this program together, there's so much research we do between every event we have. So to have a drone video, not even from the marketing side of it, but also analysis and working with our 50 licensees to help build this program and make it better and better, a drone video is a big part of it."

The shop opens to the public on Friday, September 23rd from 10 a.m. to 6 p.m. and will remain open through Monday, September 26th. It's not only a chance for fans to grab plenty of Ryder Cup gear but also to see how Hazeltine looks just days before the big event — without needing a ticket.

Since this year's Ryder Cup is being hosted in Minnesota, there are a few local angles to the merchandise. Hockey jerseys with the Ryder Cup logo are available for purchase, as are pieces of artwork by Minnesota-based artists.

"So Mike, this statue caught my eye here. What can you tell me about this cool piece of art here?"
"Yeah, this is unique and exclusive. It's probably one of the best things I've seen done for a golf event. This is a bronze statue of the walking man on the globe with the Ryder Cup logo there, and then it has the team participants from both teams below. But what's great about it is Bill Mack did this. Bill Mack in the local area has done the sculptures around the Twins stadium. So to have him and have this, we feel great to have something representative of the state."

Years of planning and months of construction have led to the completion of the Ryder Cup shops — which will only be open for 10 days. But Quirk doesn't view it that way, instead relishing the opportunity for golf fans from all over the world to come and enjoy the state-of-the-art shop at one of golf's premier events.

"We're ready to go, and feel as though we've put together the best offering we can."

Follow AirVūz News for all the latest updates in the drone community!