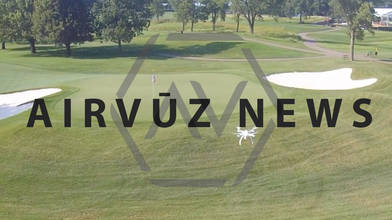 AV News: Building the Ryder Cup Course
Published 09/06/2016 10:54

When the Ryders Cup golf tournament was held at Haseltine National Golf Course outside of Minneapolis, Minnesota, AirVuz worked with the course as an official media partner. This involved many flyovers of its storied holes to give a bird's eye perspective on preparations for the big event. This AirVuz News story features extensive aerial footage of the course as well as interviews with key participants in this process.
over 5 years ago
7.6k VŪZ
17

10
Report
The Ryder Cup is on the horizon, and it's been almost a year since AirVūz began documenting Hazeltine National Golf Club's renovation in preparation for the tournament. We met with Ryder Cup director Jeff Hintz to check out the updates, and compare now-and-then drone videos of the course.

Jeff Hintz is the Director of the 2016 Ryder Cup. We spoke with him almost 1 year ago about what would be happening at Hazeltine. And a lot has happened since then.
"What you see around us is obviously all the infrastructure, but before that happened, late last fall and into the winter, we had to prep the land. So we did a lot of leveling, and a lot of back-of-house, what we call the service roads, service paths, so we can service all these tents. And then we started constructing everything in early June this year, so we've been under construction now for about two and a half months. It's the biggest build we've ever had at the PGA of America, it's the biggest Ryder Cup we've had, and it's the biggest golf event, operationally, in the world, and it's right here at Hazeltine."
"Two years ago when the Ryder Cup happened, not even in the states, drones weren't really a big thing yet. What's it been like being able to watch this from above?"
"I gotta tell you, I love seeing it. It's amazing to see the progress. I try to make it a point to go out every day, at least every other day to see what's happened. But to see it from above, it really puts another perspective on it. I quite like the drone movement if you will, it's just something that we've never had, and it's so easy, and it's fun to track it that way for sure."
Tens of thousands of fans will flock to Hazeltine come September 27th. Jeff gave us the inside scoop on the best places to view all of the action:
"I was up on the 8th hole the other day, and the play left of the 8th green is going to be a great place to watch up on the hillside. There's a grandstand on the 16th green, overlooking the 16th green, but also if you're up high on that grandstand you can turn around and look at the 17th tee, that's going to be a pretty popular spot as well.
"But if it were me, I'd say I'd want to be in that first tee grandstand, I'd want to be there in the morning to see all of the Ryder Cup come to a head, and all that emotion and everything around what the Ryder Cup is all about happens right at the first tee."
After the Cup has been won, the crowds have gone and the infrastructure is taken down, Jeff and his team will head on to the next PGA event. But the new perspective gained from this event has made it's mark.
"I would say thanks to AirVūz for coming out every week to really show the progress update. I think it's just amazing. For those of us that plan it every day, to see it from that perspective, it's really special. It's rewarding, actually."

Follow AirVūz News for all the latest updates in the drone community!