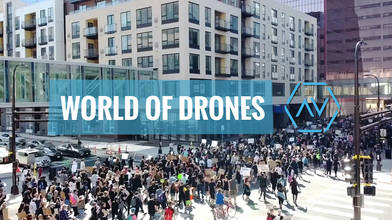 AirVūz News: World of Drones 01/04/21
Published 01/04/2021 06:39

We begin with some big news from the FAA in regards to remote ID, drone delivery, and pilots who fly under Part 107. Within the last week, the Federal Aviation Administration finalized new rules for small, unmanned drones that could pave the way for expanded commercial uses of the vehicles, including delivery services. According to these new rules, the FAA will allow small commercial drones to fly short distances over people and at night without a waiver. Small drones will also be permitted to fly over moving vehicles under limited conditions. Not only would these rules be authorized for UPS, Alphabet, Amazon, and other large drone delivery companies but also for any remote pilot who uses their drones for work or business under the FAA's part 107. Other changes that were a part of these new FAA rules, are that Pilots will have the option to take their part 107 exam online, instead of in-person every two years. Possibly the biggest change to all of this lies on the fact that Remote ID will be implemented as well. Many in the drone industry, including Wing from Google, are upset with that being a factor, as they feel it's an invasion of privacy.

Now to something on the lighter side, and by lighter side I'm talking about the awesome New Year's Eve drone light shows from around the world. We've seen the rise in popularity of drone light shows over the past year, and New Years eve was no different. From Seoul to Scottish Highland and other locations around the globe, these light shows helped ring in the New Year. Of the many negatives that 2020 brought, these light shows - and the messaging that seem to go with them - were one of the few bright spots that I hope continue to shine in 2021.

Now, to the FINAL Drone videos of the Week for 2020. Here in no particular order are the top 5 videos uploaded to AirVuz last week!

First we have,

Winter in Switzerland by wjmdronie

Switzerland in the winter… tough to beat. And this wonderful video from wjmdronie will show you why. From the top-down views of the powdery trees, to the stunning shots of the snowy mountain peaks, just a great all-around winter production.

Next up we have,

SPQR by Mauro Sciambi

It's no secret that Rome has some of the most recognizable historic landmarks in the world. Now take a tour over some of them, in this incredible flight from Mauro Sciambi. With views above the colosseum, pantheon and so many more popular locations, this is the PERFECT travel video of Rome!


Next,

4k drone showreel 2020 by Motivadrone

The new year is upon us, which means we've officially entered 2020 showreel season, and this one by Motivadrone is fantastic! Using her Dji Inspire 2 and Mavic series drones, she shares her top shots from the year. Flying over everything from flamingos, to hot air balloons, to moto cross and so much this cinematic reel has a little bit of everything!

Next up...

Twin Cities 2020 by Jay Christensen

It's no secret 2020 has been a tough, trying year for so many people around the world. Here in the Twin Cities of Minnesota that was no different. Producer and Drone Pilot Jay Christensen seemed to capture nearly every moment. In this powerful production, Jay collabs with local band YamHaus to share the footage he captured in this recap of 2020 in the Twin Cities.

Last but not least...

From shores of Ireland by Peter and Loki

If you were planning a trip to Ireland, and this pandemic put a halt to your travels, don't worry this video by Peter and Loki could be a great substitute. At least for the time being. With brilliant shots over lighthouses, cliffs and much more over the coastline of western Ireland, it reminds us all why Ireland is such a popular bucket list location.

And now… 2020's final Drone Video of the Week Honors go to…..

Twin Cities 2020 by Jay Christensen

I caught up with Jay, and lead singer of YamHaus Lars Pruitt, to discuss everything that went into creating this video. Here's some of what they had to say:

(play clip)

Cut back to broll:

Congrats to Jay and Lars for taking home 2020's final Drone Video of the Week, and now being eligible for the December Drone Video of the Month.

Also, make sure to catch the final Pilots to Watch of 2020. All who are now eligible for the December FPV Video of the Month, which will be selected by myself and Phluxy later this week. So be sure to stay tuned!
9 months ago
295 VŪZ
21

10
Report
Fung, Brian. "Drone delivery one step closer to reality with new FAA rules" CNN Business, 29, Dec. 2020, https://www.cnn.com/2020/12/29/tech/faa-drone-rules/index.html