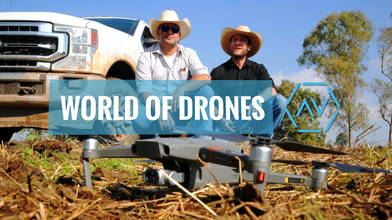 AirVūz News: World of Drones 12/28/20
Published 12/28/2020 08:03

Hello and welcome to the 'World of Drones.'

Did you just get a drone for the holidays? Wondering what to do with it now? The New York City Drone Film Festival master classes are still available. Get access to over 30 drone and filmmaking focused classes from leaders in the UAV industry. Right now you can get 50% off with the promo code VIPVUZ.

Two Israeli cowboys created a drone that herds cattle and camels. Noam Azran and his partner, Dvir Cohen, created this technology to save time and manpower in the ranching business. Their company BeeFree Agro is developing an autonomous drone named "Joe" which they are dubbing the "World's first 'click and herd' solution." Joe's main focus will be to herd cattle by having them respond to the movement of the drone. The goal is to move the animals with the least amount of stress possible. Now, instead of needing 2 or 3 ranch hands, they only need 2 and instead of 18 hour days they work 10 hour days.

Now it's time to announce the Top 5 drone videos uploaded to AirVuz.com last week:


Bayern Germany - kevinmichaeltravel

AirVuz contributor kevinmichaeltravel brings us this excellent drone video from Bavaria Germany. The aerial shots of Hohenschwangau Castle and Neuschwanstein Castle look straight out of a fairytale.


Exploring Iceland in 2020 - AndriThor

Former 'Drone Video of the Week' Winner AndriThor brings us this absolutely magnificent drone video from magical Iceland. Fly over the famous glaciers, waterfalls, canyons and black sand beaches in this scenic country.


South America by drone HD - Itay sorin

Take a tour of Latin America in this fantastic 2020 reel by Itay sorin. Combining drone and ground camera footage, this film features shots of the Huayhuash mountain range in Peru, the Salt Flats in Bolivia and Iguazu Falls on the Argentina/Brazil border.


A TASTE OF MADEIRA | DJI MAVIC 2 PRO 4K - Chris Borg

Former Drone Video of the Week Finalist Chris Borg brings us this fantastic drone video from the island of Madeira, a quote "Portuguese paradise off the coast of Africa full of towering mountains, black sand beaches and dreamy waterfalls."


Ural 2020, Autumn [4K] - CINEMADRONE

This is CINEMADRONE's second 'Drone Video of the Week' nomination and he's been uploading to AirVuz for less than 3 weeks. His latest film features the beautiful fall colors in the Ural region in Russia.


And the 'Drone Video of the Week' and winner of the $250 cash prize is Chris Borg with "A TASTE OF MADEIRA | DJI MAVIC 2 PRO 4K." For winning, this video will be featured all week on AirVuz and is now the last video entered into the 'Drone Video of the Month' contest for December where it could win an additional $500.
10 months ago
160 VŪZ
26

11
Report