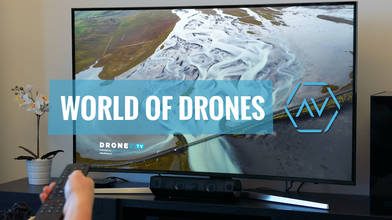 AirVūz News: World of Drones 01/11/21
Published 01/11/2021 08:49

Welcome to the "World of Drones.' Your weekly news show where we get you caught up on all things drone related.

A big announcement coming from the Drone Racing League (DRL) and sports betting company DraftKings. Betting on drone races will now be allowed in Colorado, New Hampshire, New Jersey, Tennessee and West Virginia. Residents of those states will be able to place bets using their phones and regulatory approval is pending for legalizing drone race betting in other states. The DRL currently has a deal with NBC Sports and Sky Sports to broadcast the drone races. Stay tuned to hear when the first race you will be able to place a bet on will be.

The Federal Aviation Administration (FAA) released the new members for the 2021 Drone Advisory Committee (DAC) last week and some notable names and businesses were left off that list. The FAA has been working with the DAC, which is a broad-based advisory committee that provides the FAA with advice on UAS integration issues and improvements, for the last several years. DAC membership is usually made up of CEO and COO level executives representing a wide range of UAS interests, including research, academia, retail and technology, but this year, DJI no longer has a rep on the board. DJI was one of the longest serving members on the committee and now will no longer have a voice in shaping FAA policy. Another noteworthy absence on the list is a representative from the FPV drone community. Several names were put forth, but none were selected. And finally, a member from the Academy of Model Aeronautics was dropped from the FAA Drone Advisory Committee. The AMA is the largest model aviation association whose purpose is to promote the development of model aviation for sport and recreation. You can learn more about all of these changes on the FAA's website.

And now it's time to announce the first 'Drone Video of the Week' nominees for 2021.


"Best Drone Video of 2020 by Smakadron" - smakozawr

This incredible compilation from content creator smakozawr features a great mix of urban, landscape, and action shots, mostly from his home country of Ukraine.


"Drone showreel 4K 2020" - Maxim Termote

This is the first upload to AirVuz for drone pilot Maxim Termote. This fantastic drone showreel features landscape, architecture and action shots from all around Belgium.


"Saint Petersburg. Christmas city" - kino.team

This impressive film from kino.team shows the Russian city of Saint Petersburg decked out for Christmas. See some of this historic city's landmarks all lit up during the wintertime.


"My Best Drone Clips of 2020" - andyyeung

This drone video by content creator andyyeung features unreal timelapses from Hong Kong. Fly above the towering skyscrapers in the bustling city and prepare to be amazed.


"Epic Bora Bora, Taha'a, Moorea and Tahiti in MOMENTS in PARADISE - French Polynesia (4K)" - Jus Medic

Take a stunning aerial tour of some of the most famous islands in the South Pacific courtesy of drone pilot Jus Medic. This film will make you feel like you're on a tropical vacation.


And the "Drone Video of the Week" and winner of the $250 cash prize is…


"Best Drone Video of 2020 by Smakadron" - smakozawr. For winning 'Drone Video of the Week,' this video will now be featured on AirVuz's website, social pages and email for the entire week. Smakozawr also will receive a $250 cash prize and be entered into the "Drone Video of the Month" contest where an additional $500 could be won.

Did you know you can stream drone content directly on your TV? Download the DroneTV app on the Amazon Fire TV Stick to see hundreds of curated drone video collections ranging from cities and countries to FPV drone racing and action sports. We've linked it in the description.

Watch "World of Drones" every Monday only on AirVuz.com.
8 months ago
147 VŪZ
19

7
Report