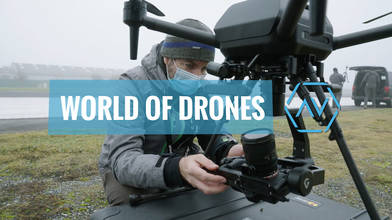 AirVūz News: World of Drones 01/18/21
Published 01/18/2021 06:09

We get things kicked off with some of the top drone headlines from last week's CES show. First, we'd like to congratulate our friends at Skydio as they took home the CES 2021 Best of Innovation Award for Drones and Unmanned Systems for their Skydio X2 drone. Other big news out of arguably the world's most influential tech event, was that Sony is entering the drone-world. Their new drone, Airpeak, is said to be equipped with their popular A7iii camera. Sony claims it will be the smallest drone of it's class that'll be able to carry that camera. According to a statement from Sony, the Airpeak will become available this coming spring.

On the topic of new technology, this latest one might upset some cowboys. At the University of Kentucky, a team of researchers have been testing the feasibility of using UAVs to help ranchers remotely monitor small herds of cattle.Back in 2018, Jesse Hoagg, a professor of mechanical engineering at the University of Kentucky, and his team, received a $900,000 grant from the USDA National Institute of Food and Agriculture to work on this drone project. Research from the experiment is set to be completed in the next two years, but the commercialization of the technology may take up to a decade due to high costs and current government regulations on drones.
Now, from wrangling cattle to wrangling the top videos of the week on AirVuz. Here in no particular order are the top-5 videos uploaded to AirVuz last week.
First we have,
Horses of White Rock, Crimea. Drone Cinematic / Лошади у Белой Скалы, Крым, съемка с дрона 4k by vitaliy.karpovich
Beauty at it's best in this spectacular video from former Drone video of the week winner Vitaly Karpovich. Nature and wildlife on full display with flights over herds of horses in the White Rock region of Crimea in Southern Russia. Very, very nice work from Vitaliy.
Next up we have,
Terribly Beautiful Chelyabinsk - CINEMADRONE [4K] by CINEMADRONE
So many things to say about this wonderful flight around the russian city of Chelyabinsk, but the first one that comes to mind is breathtaking. Cinemadrone captures absolutely breathtaking shots of various landmarks, skyscrapers and factories. This is definitely one of those must watch videos.
Next,
Terra Iceland by AndriThor
Iceland… one of the most stunning countries on the planet. Now, take an amazing aerial tour with AndriThor above waterfalls, glaciers, volcanoes and everything else that the land of fire and ice has to offer. Another great travel video of Iceland from the former Drone Video of the Month Nominee.
Next up…
Winter in the Caribbean by msember
About a month back, while a guest on our AirVuz After Hours show, Mike Sember told us that he was going to be traveling to the Carribean, and man are we glad he did. In this video Mike captures remarkable aerial footage from some of the best spots the islands have to offer. Can't wait to see where he travels to next!
Last but not least…
Aerial Hyperlapse Reel | Framework Films | 4K Footage by FrameworkFilms
Timelapses and hyperlapses have become such a popular editing style, and Framework Films have absolutely mastered them. From day to night and from the skylines to the coastlines, this is just an all-around unreal hyperlapse reel.

And now… this week's Drone Video of the week goes to...

FrameworkFilms with their Aerial Hyperlapse Reel

Once again, this amazing production team has absolutely mastered the art of aerial hyperlapses. Whenever Mike, and his team from Framework Films share their videos, we know we're about to be amazed. Congrats again to Framework Films for taking home the $250 drone video of the week prize, and now being eligible for the $500 Drone Video of the Month!
Also, don't forget to catch the latest Pilots to Watch! Some truly mind-blowing flights by incredible FPV pilots. And remember, every video that makes the weekly AirVuz Pilots to Watch is eligible for the $500 FPV video of the Month! So lets see those flights uploaded to AirVuz.
And on the latest AirVuz After Hours, hosts Jacob Blaeser and Andrew Achter catch up with the extremely talented Zimy Da Kid. We discuss everything from his jaw dropping editing style to shoots that require him to swim with sharks. This is definitely an episode you won't wanna miss!
about 1 month ago
313 VŪZ
26

11
Report