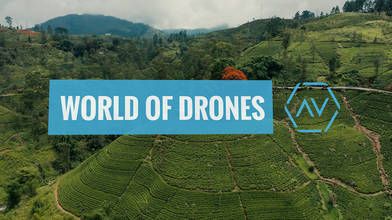 AirVūz News: World of Drones 01/20/20
Published 01/20/2020 09:46

This is the World of Drones, where we get you caught up on everything drone related.

Tech review company PCMag has rated the, "Best Drones of 2020." They flight tested drones specifically for aerial videography and took specs, price, performance and many other factors into consideration. Rounding out the top 5 are the Parrot Anafi, DJI's Mavic 2 Zoom, Autel Robotics EVO, the DJI Inspire 2 and coming in first place is the DJI Mavic 2 Pro. PCMag says the Mavic 2 has, "superior image and video quality, obstacle avoidance, and excellent battery life."

Speaking of DJI, Phantom fans can rejoice! After pulling the Phantom 4 from stores in November of 2018 because of a "parts shortage," the Chinese drone manufacturer has put the drone back on sale. The aptly named Phantom 4 Pro V2.0 starts at a cost of $1729.

After nearly 8 months, Sri Lanka has lifted its ban on drones. The ban was placed citing security reasons. Anyone found operating a drone faced up to 2 years of jail time and a hefty fine. The country's president lifted the ban amid a growing demand from the media, commercial companies and tourists. Sri Lanka had recently in the last few years become a popular travel destination for drone pilots. Now all civil drone operators will be required to have approval from the Defense Ministry to fly.

There's still no definitive answer on who or what is responsible for the mysterious swarms of drones flying over Colorado, Nebraska and Wyoming at night. First reported on December 20th of 2019, there have since been hundreds of sightings of large groups of drones flying in a grid pattern. A federal task force has been formed to investigate the drones. Their first step will be trying to capture one of the drones. As of now, there is still no reason people should be concerned.

It's time to announce the top 5 drone videos uploaded to AirVuz.com last week! Congratulations to these drone pilots: CzechTravelholics for "Central Asia - Kazakhstane and Kyrgyzstane," Bachir_Photo_Phactory with "Reel 2019," bugDreamer.com with "INDONESIA 2020 | Aerial Cinematic Drone (4k)," Paride Musci with "My Highlights 2019 - My best Mavic 2 pro shoots in Switzerland," Pushkinflyteam with "Moscow New Year 2020 Merry Christmas." And the video being named our Drone Video of the Week is… "Moscow New Year 2020 Merry Christmas" by Pushkinflyteam! Congratulations you won $250 and are now entered into our Drone Video of the Month contest where you could take home the $500 cash prize!

We'll also be giving away $500 to an "FPV Video of the Month." This video will be selected by Team AirVuz Pilot Nurk FPV from all of the Pilots to Watch videos from the month of January. There's still plenty of time to upload a video to be entered.
over 1 year ago
340 VŪZ
17

7
Report
Description:
To watch the previous episode of 'World of Drones' CLICK HERE
To see PCMag's "Best Drones of 2020" ratings CLICK HERE
To check out the DJI Phantom 4 Pro V2.0 CLICK HERE
To see drone videos of Sri Lanka CLICK HERE
To learn more about our Drone Video Contests CLICK HERE
To check out Pilots to Watch CLICK HERE
SOURCES:
Democrat Gazette. "Drone Prohibition Lifted in Sri Lanka." Arkansas Online, 19 Jan. 2020, www.nwaonline.com/news/2020/jan/19/drone-prohibition-lifted-in-sri-lanka-g/.
Fisher, Jim. "The Best Drones for 2020." PCMAG, PCMag, 17 Jan. 2020, www.pcmag.com/picks/the-best-drones.
Hambling, David. "Mysterious Drone Swarms Flying at Night Are Baffling US Authorities." New Scientist, 16 Jan. 2020, www.newscientist.com/article/2230318-mysterious-drone-swarms-flying-at-night-are-baffling-us-authorities/.
Hollister, Sean. "DJI Brings Back the Phantom Drone, a Year after It Vanished from Stores." The Verge, The Verge, 15 Jan. 2020, www.theverge.com/2020/1/14/21066261/dji-phantom-4-pro-20-back-on-sale-part-shortage-drone-available.