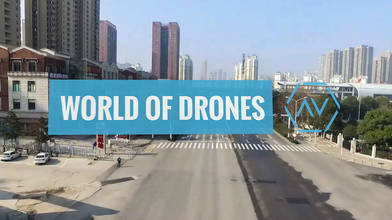 AirVūz News: World of Drones 02/03/20
Published 02/03/2020 09:17

Angie Avestruz here at AirVuz HQ getting you caught up on all things drone related. This is the World of Drones, let's get to your headlines.

The National Transportation Safety Board released drone footage of the site where NBA superstar Kobe Bryant's helicopter crashed killing him and 8 others on January 26. The NTSB flew a DJI Phantom drone to map out the area of the wreckage near Calabasas, California and review coordinates. Investigators are using drones more and more to quickly and accurately map scenes of accidents.

With the coronavirus outbreak spreading daily, people in China have found a creative way to scold those who are walking around outside without wearing masks. Footage of these drone warnings have been shared on China's popular Weibo social network. The Global Times said that these drones have cheered up Chinese citizens that have been stuck inside due to the coronavirus. According to Beijing News reports, two of the videos were created by a local social media influencer and in another video you can see a police officer using a traffic drone to call out pedestrians not wearing masks.

Haunting drone footage out of Wuhan, China shows a normally bustling city on complete lockdown, but the impact of the coronavirus outbreak has reached much further. Drone manufacturer DJI which is based in Shenzhen, China has closed their offices as a precautionary measure. In a letter sent out to its resellers, DJI said they will remain tentatively closed until February 10. No word yet on if this closure will affect the launch date of the new DJI Matrice 300 which is set to be released later this month.


It's time to announce the Top 5 drone videos uploaded to AirVuz.com last week. In no particular order, congratulations to these talented drone pilots: Seven Roads Media with "The Art of Flight: II," ArturCarvalho with "Endless Summer Memories," Iverp with "AROUND THE WORLD,"iDrone Aerials with "Planet Iceland,"and Timelab.pro with "Motosinfonia d'autumno. Alps, Northern Italy. Timelab & MV Agusta." And the Drone Video of the Week is Timelab.pro with "Motosinfonia d'autumno. Alps, Northern Italy. Timelab & MV Agusta." Congratulations, you've won the $250 weekly prize!

Now that all of our Drone Video of the Week winners have been selected it's time to announce a Drone Video of the Month for January! AirVuz Top Contributor Espen Hatleskog aka PilotViking will be selecting this month's winning video later this week. Head to AirVuz.com to see who will be taking home the $500 prize!

We'll also be crowning an FPV Video of the Month and giving away $500 to that pilot! Team AirVuz Pilot NurkFPV will be selecting 1 video from all of the FPV Pilots to Watch featured in January. That winner will also be announced on AirVuz.com later this week.

Catch World of Drones every Monday for all of your UAV news.
over 2 years ago
458 VŪZ
18

5
Report
To watch the previous episode of "World of Drones" CLICK HERE
To learn more about the Drone Video of the Week and Drone Video of the Month CLICK HERE
To check out the FPV Pilots to Watch CLICK HERE
SOURCES:
Danner, Chas. "Watch Drones Scold Civilians for Not Wearing Masks in China." Intelligencer, Intelligencer, 31 Jan. 2020, nymag.com/intelligencer/2020/01/coronavirus-watch-drones-scold-maskless-civilians-in-china.html.
Kesteloo, Haye. "Drone Maker DJI Closes China Offices Because of Coronavirus." DroneDJ, 2 Feb. 2020, dronedj.com/2020/02/02/drone-maker-dji-closes-china-offices-because-of-coronavirus/.
McNabb, Miriam, and Miriam McNabbMiriam McNabb. "The Drones Protecting One of the Biggest Parties in the U.S.: SuperFest." DRONELIFE, 31 Jan. 2020, dronelife.com/2020/01/31/the-drones-protecting-one-of-the-biggest-parties-in-the-u-s-superfest/.