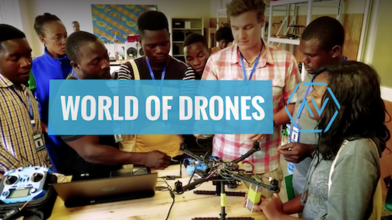 AirVūz News: World of Drones 02/10/20
Published 02/10/2020 10:05

We Begin in Malawi, Africa where a 24 year old has helped jump start Africa's first Drone Academy.

As a sophomore in College, studying for a Degree in Earth Sciences, Thumbiko Zingwe wanted to use the knowledge and skills he had learned in school to help the challenges his community was facing in Malawi.

That was when he came across the African Drone and Data academy, which opened in January. After reading about what they do and how they are helping citizens of Africa, he knew that was the perfect place for him. Zingwe became one of the first members of the academy, which now has grown to 16 Melawians, as well as 10 others from around Africa.

Now with a team of over 20 members, the Academy now has the capability to use drones for anything from delivering medical supplies to collecting aerial data that could help combat cholera and malaria.

"I remember asking myself how I can solve this problem. My idea was to use technology to provide rapid response surveillance to such people," said Zingwe

Well, Mr. Zingwe it looks like you've already found your calling, and have shown another example of Drones being used for Good!

A drone that can now help track skiers and snowboarders after an avalanche.

The powerbee, from technology company Blue Mountain out of Hamburg, has created a drone that will assist in the find-and-rescue situations after an avalanche.

A handheld drone, the Powerbee is designed to track victims using a beacon signal that's broadcasted from a wearable transceiver. It also has the capability to fly through high-wind and blizzard-like conditions. Once the drone locates the beacon it will then land within 5 meters of the victim.

Over the past couple of years we have been hearing of more and more companies using drones for delivery. The latest one tho, may just be the icing on the cake. Or shall we say sprinkles on the ice cream.

That's right… Ice cream giant Ben and Jerry's is partnering up with Terra Drone Europe - a drone tech company out of the UK - to explore a delivery system that could bring the likes of Cherry Garcia, Chubby Hubby and more of the Ben and Jerry's favorites from the sky, right to your door.


During the month of January we saw some phenomenal films.

Many extremely worthy of being named AirVuz Drone Video of the Month. But when it was all said and done, our guest judge, and AirVuz content creator PilotViking selected the stunning flight through the Alps film by Timelab.pro. So congratulations to Timelab.pro on being named January Drone Video of the Month! And thank you Pilot Vikings for partnering with AirVuz on this contest.

That wasn't the only prize from last month…. There was also the FPV video of the Month, and MAN… did the FPV community go all-out!

We saw some truly creative flights and films. Thankfully, we had Team AirVuz Pilot NurkFPV as the judge for the January FPV video of the month. After thoroughly watching all of the weekly Pilots to Watch flights, he chose the extremely epic 2019 FPV Demo Reel by Banner_Drones. Congrats to Banner_Drones, we very much look forward to what you have in store next. Thanks again to Nurk for selecting January's winner!

With both of the January contests being such a success we will be doing them again in February, with iDrone Aerials selecting the Drone Video of the Month, and Harley Queen FPV selecting the FPV Video of the Month.

So make sure to UPLOAD now for your chance at the $500 Video of the Month prize!!

Speaking of uploading now… Here - in no particular order - are the past week's top 5 videos uploaded to AirVuz.com:

Kamchatka Peninsula by Makhorov

Our year in motion [2020] by DroneHeroes

EPIC THREE YEARS DRONE COMPILATION 2.7K by Marian Peciar

Places you have to visit in Thailand (Aerial drone film) by DigitalTravelCouple

And

Above Nesebar in Winter by Mattcoq

And the winner is…

Kamchatka Peninsula by Makhorov

Congrats to Mahorov for winning Drone Video of the Week and now being eligible for Drone video of the month!!

And to our FPV community.... Make sure to stay tuned to our weekly Pilots to Watch!

It was a great week of Drone news both locally and globally! Thanks for joining us and we'll see you next week on World of Drones!!
almost 2 years ago
339 VŪZ
20

10
Report
For the previous episode of World of Drones CLICK HERE
To learn more about Africa's first drone Academy CLICK HERE
For more on the drone used in Avalanche search and rescues CLICK HERE
To find out more about the Ben and Jerry's drone delivery CLICK HERE
For all the info regarding the Drone and FPV Videos of the Month CLICK HERE
Sources:
Pensulo, Charles "Mapping the future for Africa's first drone academy" CNN, 8 February, 2020, https://www.cnn.com/2020/02/07/africa/africa-first-drone-academy/index.html
Sheth, Serang "AVALANCHE-RESCUE DRONE HELPS RESCUE TRAPPED SKIERS BY LOCATING THEM UNDER THE SNOW" Yanko Design, 6 February 2020,
https://www.yankodesign.com/2020/02/06/avalanche-rescue-drone-helps-rescue-trapped-skiers-by-locating-them-under-the-snow/
Reagan, Jason "Drones May Soon Delivery Ben and Jerry's Ice Cream" dronelife, 7 February 2020, https://dronelife.com/2020/02/07/drones-may-soon-deliver-ben-jerrys-ice-cream/